The museum of Eleftherios Venizelos in the Chalepa neighborhood of Chania in Crete is a tribute to the great revolutionary who rose to become the Prime Minister of Greece.
Venizelos Museum Chania
The Residence of Eleftherios Venizelos in the Chalepa area of Chania is a must visit for anyone interested in modern Greek history. Even if you know little about Venizelos before you go, visitors will come away with a greater understanding and appreciation of his life, career, and impact on Greece.
The museum is housed in the residence of Eleftherios Venizelos, who was born in nearby Mournies village and served for many years as Prime Minister and leader of the Greek nation.
Allow for about an hour in the museum to wander around and see what's on display. There's also a free app you download when inside which you then use to scan QR codes to find out more about the exhibits housed where Venizelos lived.
Sightseeing tip: Combine a visit here with the nearby Archaeological Museum of Chania which is just a short walk away. You'll need 3 hours or so to see both places.
Who was Eleftherios Venizelos?
Before I go into more detail about the museum, it's important to understand who Eleftherios Venizelos was and why this place is so important.
Eleftherios Venizelos was a Greek statesman and influential leader who played a major role in the formation of modern Greece.
He was active in politics during the early twentieth century and is remembered for his political achievements, including the establishment of democracy in Greece, and the expansion of the country to include the island of Crete in 1913.
I'd previously visited another museum dedicated to him in Athens, which you can read about here: Eleftherios Venizelos Museum in Athens
Eleftherios Venizelos Residence in Chalepa Crete
This historical house museum offers visitors a unique opportunity to see some of Venizelos' personal belongings, such as his personal library and furniture from his home office. There is also an amazing collection of photographs that document his life and career.
One of the most amazing things to see at the Chalepa Eleftherios Venizelos Museum is the car Venizelos was in when there was an attempted assassination on his life on Kifissias Avenue in 1933.
You can still see the bullet holes in the car. I'm not sure today's cars would have offered as much protection as the model 1929 Packard car did!
There are many other items of interest as well, including the pens he used to sign the treaty of Sevres in 1920, and Lausanne in 1923.
Visiting the House of Eleftherios Venizelos Chania
It takes about half an hour to walk from the Old Harbor area of Chania town to get to the Venizelos museum of Chalepa. You can also take a taxi ride if the weather is too hot!
Opening hours for the historic house museum are:
June 1 – September 30
Monday – Friday: 11:00 – 20:00
Saturday: 11:00 – 18:00
October 1 – May 31
Monday – Saturday: 11:00 – 17:30
Closed for Holiday: January 1, January 6, March 25, Easter, Easter Monday, May 1st, August 15, October 28, November 21, Christmas, December 26.
Admission: € 4,00 (reduced € 2,00)
The Venizelos residence museum is run by the Venizelos foundation. You can find out more about it on their website: Venizelos Foundation
Chania Travel Blogs
If you are spending any time in Chania, Crete, you might also want to read a few of my other articles.
---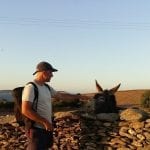 –
Dave Briggs
Dave's
travel writer
from the UK who's been living in Greece since 2015. As well as writing this guide about the museum of Venizelos in Chania, Crete, he's written hundreds of other travel posts and itineraries to Greek islands and destinations all over Greece. Follow Dave on social media for Greece travel ideas: