The new Archaeological Museum of Chania opened on the 16th April 2022, and is located in the Chalepa suburb of Chania in Crete.
New Archaeological Museum Chania
While many people visit Chania in Crete in order to see and experience the charm of the old town, there is now another reason to visit this beautiful city. The newly opened Archaeological Museum of Chania will allow visitors to explore the history and cultural history of the area in a new way.
The museum is located in Chalepa, a suburb of Chania, and there are three galleries on the ground floor and one upper floor gallery showcasing exhibits from different time periods. There's also a nice cafe where you can break up your visit with a cup of coffee and a slice of cake!
If you're looking for things to do in Chania, this is not a place to be overlooked!
Exhibits and Artifacts
The Chania Archaeological Museum houses 3,500 artifacts from the city and its surrounding region. Around 1,000 of these items have never been shown to the public due to limited space at their former location.
When I visited this museum in January, you could take an audio guide if you wanted in order to better understand the quite substantial collection. It's not needed though as everything is well marked up and explained.
The new location for the archaeological museum has been purpose built in a modern style, providing lots of light and space for the exhibits.
Inside you will find artifacts from the late Neolithic period, Minoan era, Mycenean era and Roman periods. On display in this rich collection are coins, jewelry, vases, sculptures, clay tablets with inscriptions, and stelae.
Noteworthy exhibits include a Roman-era floor mosaic depicting Dionysus and Ariadne, a late Minoan sarcophagus found in Armeni dating back to 1400–1200 BC, an ancient Cycladic style vessel from Episkopi and an unusual ceramic spherical flask from the Late Minoan III period.
Mitsotakis Collection
The collection at the Chania Archaeological Museum has also been enriched with hundreds of new artifacts, including those from the late parents of Prime Minister Kyriakos Mitsotakis.
This collection was very interesting, both in terms of what objects they contained, and how they came to be on display.
How to get to the new Chania Archaeological Museum
The new building for the Archaeological Museum of Chania is located on the east side of Chania Old Town at 15 Skra Str. Chalepa, Chania 73133.
You can reach the Archaeological Museum of Chania by taking quite a pleasant half an hour walk from the Old Venetian Port of Chania, mainly along the sea front. You can see it on the map here: Walk to Chania Museum.
It can also be reached by car, taxi or public transport, and if you are tight on time, you might prefer to get a taxi back.
By the way, also in the Chalepa area is the Residence of Eleftherios Venizelos which is another museum I think is worth visiting if you're spending a couple of days in Chania. Combining the two places for a morning or afternoon visit is recommended!
Chania Archeological Museum Opening Hours
Between April and November (when most people visit Chania), the museum is open from 08.00 until 20.00. Important note: It is closed on Tuesdays.
Between November and March the museum sign says that it is open between 08.30 and 15.30. When I visited in January though, they said it was open until 17.00. Again, it is closed on Tuesdays.
Check the latest times and information at their website: amch.gr
More Chania Travel Guides
If you're planning to spend a few days in Chania Crete, some of these travel guides and insights may be useful when planning your itinerary:
---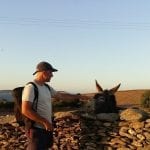 –
Dave Briggs
Dave's
travel writer
from the UK who's been living in Greece since 2015. As well as writing this travel blog about the new Archaeological Museum of Chania in Crete, he's also written hundreds of travel blog posts and itineraries for other islands and travel destinations all over Greece. Follow Dave on social media for travel inspiration from Greece and beyond: