Cycling from Balsas to Celendin in Peru was one of the more challenging days of my bike tour from Alaska to Argentina. Here's my blog from the day.
A 2000 metre ascent to Celendin, Peru
This blog post was written on the 23rd July 2010 as part of my bicycle touring trip from Alaska to Argentina.
Bike route here: Balsas- Celendin
Yesterday's glorious 60 km descent had left me with a bit of a problem this morning. Namely, that I had to make all that height back up again.
Of the few cyclists that have tackled this route, two groups had taken a ride instead of cycling, and one couple had split this next section to Celendin into two days.
With a distance of 55 km and an elevation gain of just over 2000 metres, I knew that getting to Celendin within one day was do-able, but it was going to be an extremely tough day.
Cycling to Celendin
Leaving at seven, I crossed the bridge, and started cycling uphill in the grinding gear – a gear I barely changed during the next 9 hours. The road was of slightly worse quality that that of the day before, although no where near as bad as the dirt roads in Ecuador.
The terrain had changed as well, with the cactuses (cacti ??) reminding me a lot of cycling in Baja Mexico. The gradients on the whole weren't too terrible, but even so, getting any faster than 6 km an hour was never going to happen.
Again, the views were great, but the relentless nature of the uphill cycling kind of took the shine off really.
Looking back down over some of the route I had just cycled on the road to Celendin. Yes, those white snake like tracks are actually the road!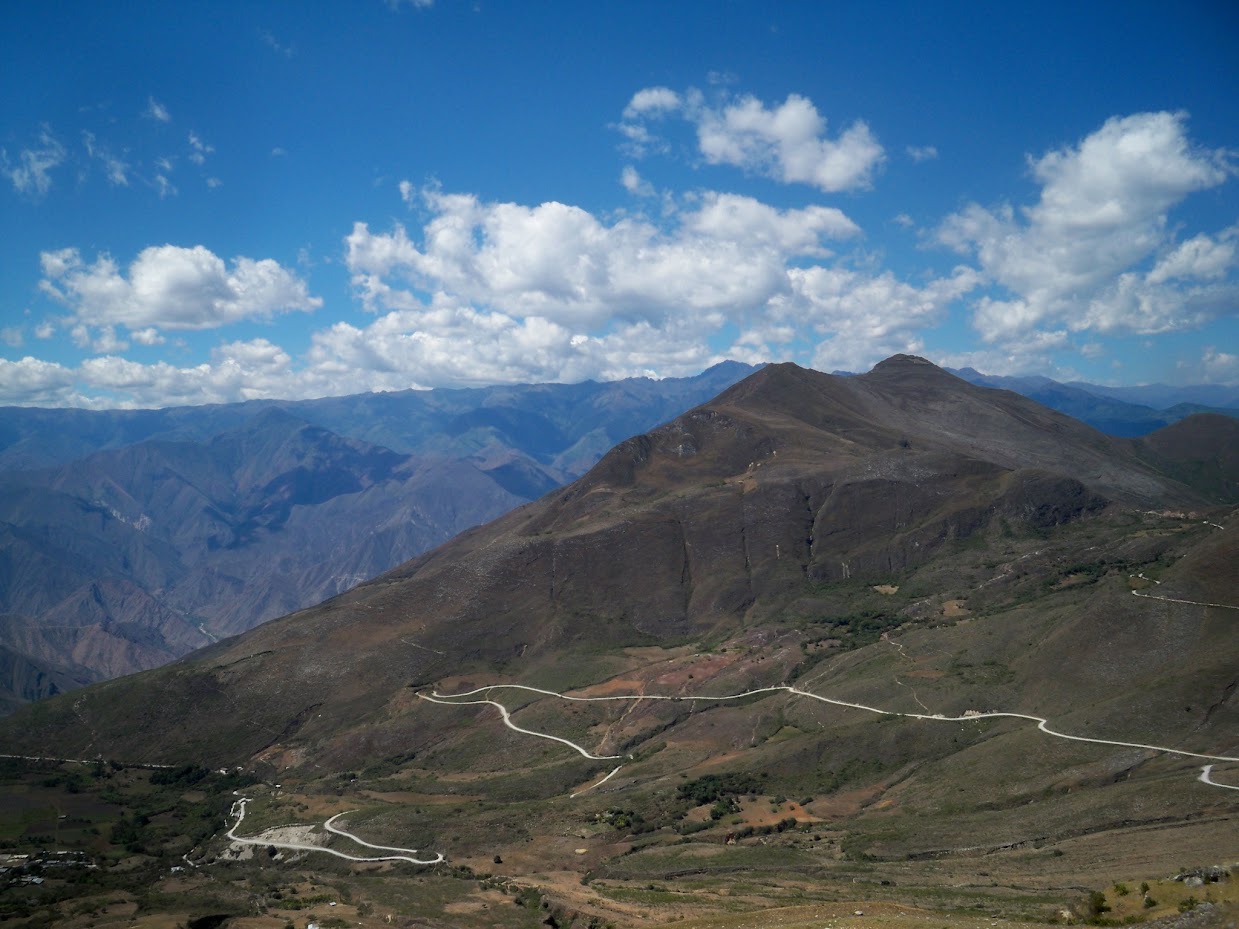 Eventually, at km 291 according to the km posts on the road, I finally reached the top, and not a moment too soon! A short 5 km or so descent into Celendin began, and I soon ended up in the centre.
A quick look at several places to stay was producing all sorts of uneven prices, mainly because there is some sort of fiesta this weekend, and most hotels are doubling their prices on Saturday.
I came to a deal with one hotel, which although provided the cheapest room, was probably not the best value for money. Not to worry though, and a beer with my chicken and chips at night helped celebrate a monumental days cycling!
Read more about cycling from Alaska to Argentina
Also read: