Visit the centre of the Ancient Greek world during a Delphi day trip from Athens. The magnificent UNESCO World Heritage site of Delphi is a must see for anyone with a passion for history, archaeology and Greek Mythology!
Visit Delphi, Greece
Once known as the navel of the world and home to the Oracle, Delphi makes a great day trip from Athens.
I've been fortunate to have visited twice now, and I wouldn't say no to a third time!
There are basically two ways you can do the Delphi day trip from Athens. You can take an organised Athens to Delphi tour, or you can do it yourself.
Each way has its pluses, and so it's entirely up to you which one you choose.
An organized day trip to Delphi from Athens gives you the benefits of arranged transport and a qualified guide who will reveal the history behind the site.
Doing it yourself means you can spend longer at the site of you wish, and allows you flexibility to avoid tour groups.
Athens to Delphi by Car
If you are planning a Greek road trip, then you should definitely visit Delphi under your own steam.
The drive from Athens to Delphi is a relatively easy (once you get outside the city), and it gives you the option of staying overnight. On a side note, Delphi has some of the cheapest hotels in Greece!
Driving also allows you to combine seeing Delphi with Meteora. Visiting Meteora after Delphi is a natural extension of your Greek road trip. What if you don't have your own vehicle though?
Delphi tour from Athens
If you are just staying in Athens for a few days, I would suggest an organised day trip is a better option.
This way you don't have to stress about bus timetables, and get the benefits of a guide.
Prices for the full day tour of Delphi are also reasonably affordable as well. Take a look at the tour to Delphi by using the link below.
Delphi Day Trip from Athens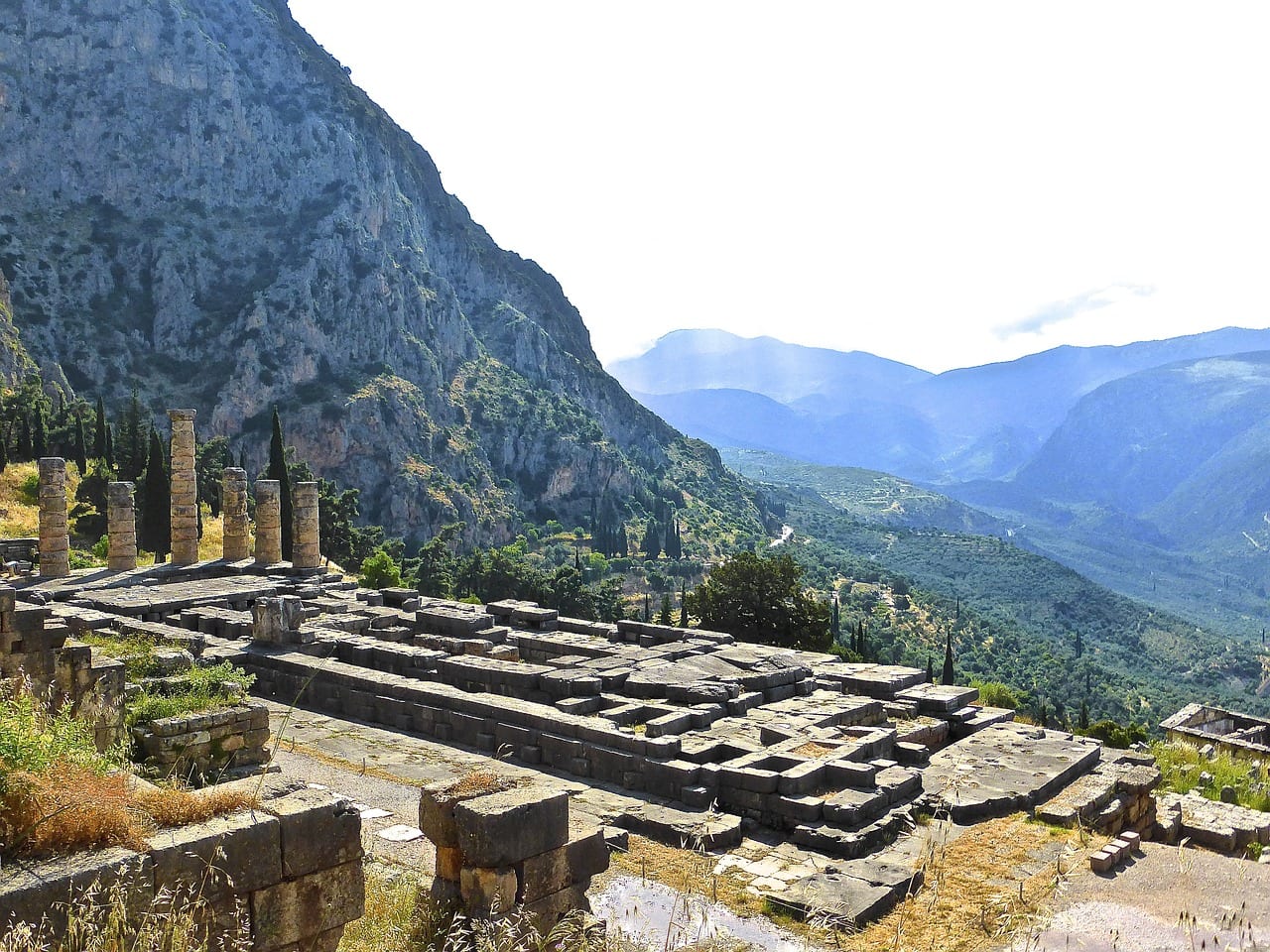 The typical highlights of an organised Delphi day trip from Athens are:
Visit the UNESCO World Heritage Site of Delphi
Visit the excellent Delphi museum
Lunch in either Delphi or Arachova
Coffee/shopping break in Arachova or Levadia
Licensed guide
Transport to and from your hotel in Athens
The organised trips to Delphi from Athens takes around 10 hours, so it can be quite a full day!
What Is There To See In Delphi Greece?
The great thing about visiting Delphi with a guide, is that you will learn a lot more when you are there. Sharing myths and legends connected with the area, they have years of expertise that brings the site to life far better than a book can.
Delphi Theatre and Temple of Apollo
Most tours of Delphi normally start in the main complex, where the theatre is the first area to be visited. I really love the views of the mountains from here, and it is quite easy to see why the ancient Greeks thought this area had a mystical energy about it!
After the theatre, the Temple of Apollo is the next port of call, and it is near here the Oracle was said to have given her prophecies. I'm sure your guide will have plenty of tales to tell about who the Oracle of Delphi was!
Don't miss the Stadium at Delphi
It's at this point that an organised tour might give people a choice. This would be between going a bit higher into the Delphi complex to see the stadium, or to go on with the guide to the museum.
If you're visiting the temple of Delphi on a hot, sun-drenched day, the idea of going straight to the air conditioned museum might seem the most appealing option!
This is a shame though, as the stadium is quite nice and worth the extra effort to reach. If you do walk up to it, don't skip the museum entirely though!
The Delphi Museum
Again, having the benefit of a guide showing your around the Delphi Museum is a bonus of taking the Delphi day trip from Athens.
They will be able to explain the artefacts and exhibitions in more detail, particularly the stand-out pieces of the bronze Charioteer of Delphi and the Sphinx of Naxos.
Lunch
Some day tours of Delphi have different schedules, but my assumption is that most would have lunch in the town of Delphi.
I know that some tour packages offer lunch included or offer one where you should buy your own. If you are on a budget do the math – A good lunch in Greece should rarely exceed 15 euros per person even with a drink.
The Temple of Athena Pronaia
After lunch there is one more area of Delphi to be visited (unless you visited before of course). This is the Sanctuary of Athena Pronaia.
In a way this place has more 'feeling' to it than the Temple of Apollo, and certainly is incredibly photogenic. It's also a rare example of a circular temple or building in Greece.
Arachova and back to Athens
Finally, it will be time to leave Delphi behind and hit the road to Athens.
On the way though, you will pass through the pretty town of Arachova, where there is normally a stop of some sort either for coffee or shopping. The views from up here are great and it's an interesting town to walk around.
After that, the road to Athens continues. In fact I cycled some of this route recently on a one week cycle tour of Greece.
Day Trip Packages from Athens
If you are interested in finding out more about this Delphi day trip from Athens, I've found a couple of tours that you might be interested in below.
Should you choose to book a tour through one of them, I will receive a small commission which is one of the ways I keep this site running. It would be much appreciated!
Please pin this Delphi travel article for later!