In this guide to the best hotels in Delphi, you'll find an excellent choice of places to stay along with travel tips.
Where to stay in Delphi
The modern town of Delphi is positioned on the slopes of Mount Parnassus in Central Greece. The town is relatively small and compact, and everything is within walking distance once you are there.
Whichever place you choose to stay in central Delphi, you'll find you can easily walk to tavernas, cafes, the bus station, and of course the Archaeological site of Delphi.
You'll find hotels in Delphi to suit every budget. In fact, I've found some of the hotels here to offer the best value in mainland Greece.
Best Hotels Delphi
Here's a look at the best hotels you can stay at in Delphi. I recommend you use Booking for reserving places to stay, including Delphi hotels.
Often, you will find that places offer a free cancellation which is important when planning traveling itineraries nowadays! You can also view the latest price, availability, and discover deals.
Amalia Hotel Delphi
If you like your hotel to come with a swimming pool, the Amalia offers just what you need. This outdoor pool is surrounded by green trees, and you get a wonderful view down on to the valley.
This hotel has modern, air conditioned guest rooms, with terraces and balconies. Make sure to take advantage of the delicious buffet breakfast before spending the day exploring the Temple of Apollo at Delphi site!
Find out more here: Amalia Hotel Delphi
Kastalia Boutique Hotel Delphi
The Kastalia Boutique Hotel is located close to the bus station and within walking distance of the site of Delphi. It has an open-air terrace are with views of Parnassos, and free WiFi is available throughout the property.
This hotel in Delphi has the best views, a fantastic restaurant, and is right in the center of town. The rooms at Kastalia Boutique Hotel have balconies and air conditioning, as well as TV.
Find out more here: Kastalia Boutique Hotel Delphi
Parnassos Delphi Hotel
Centrally positioned in Delphi, Parnassos Hotel Delphi offers comfortable rooms with free Wifi. The hotel is located approximately 500 meters from the Delphi museum and archaeological site, as well as the bus station and taxi station.
Parnassos Delphi Hotel is an ideal base for getting to the site of Delphi which is just a few minutes walk away. More adventurous people might also like to hike along the E4 path that takes you to the beach or the Corycian Cave of Pan.
Find out more here: Parnassos Delphi Hotel
Acropole Delphi City Hotel
The Acropole Delphi Hotel is a hotel located in a quiet area yet only 100 meters from the heart of Delphi. The hotel's rooms have stunning views of the Delphi Valley, and guests may easily access the archaeological site 450 meters away. A lobby with satellite TV and a quaint open fireplace are available for guest use.
Each of the well-appointed rooms in the Hotel Acropole Delphi has bespoke furniture in addition to beamed ceilings. A 22″ flat-screen television, satellite TV, air conditioning, and safe for valuables are all provided. There is a shower or bath in each bathroom, as well as a hairdryer and free toiletries.
Find out more here: Acropole Hotel Delphi
Pitho Rooms Delphi
The Pitho Hotel is conveniently located in the heart of modern Delphi. It provides modern and spacious rooms, and you can easily get to the historic site of Delphi which is close by.
Take in the panoramic view from the veranda which include sea views of the gulf, or drink a cocktail next to the warm open fire in the hotel lounge. Take advantage of free wireless internet to update your social media with photos of the temples and ruins of Delphi!
Find out more here: Pitho Hotel Delphi
Fedriades Delphi Hotel
Fedriades Delphi Hotel, in the heart of Delphi Town, is only a 10-minute walk from the magnificent Archaeological Museum and Ancient Site. It has panoramic views of the Corinthian Gulf and the Pleistos Valley. There is free WiFi available.
The rooms and suites at Fedriades offer up a comfortable atmosphere with well-chosen pieces of furniture and subtle colors. The premises include Coco-mat mattresses for sleeping on, as well as a balcony. Each unit has a hairdryer, while suites have a spa bath. A refrigerator and an LED TV with satellite channels are provided.
Find out more here: Fedriades Delphi Hotel
Nidimos Hotel
This lovely guest house has magnificent views of Delphi and the Corinthian Gulf from the room balconies. It offers modern rooms with air conditioning and free Wi Fi. There's even an electric car charge point available – the start of a growing trend for hotels in Greece perhaps?
Guest reviews praise the friendly staff, and the free parking area is useful for travelers using a rental car. The Nidimos is ideally located to walk over to Ancient Delphi and Delphi Museum.
Find out more here: Nidimos Hotel
Pan Hotel
The Pan Hotel is located just 500 meters from the archaeological site of Delphi. It was constructed in a neoclassical style and provides breathtaking views over a valley filled with olive trees to the Corinthian Gulf beyond.
Each comfortable and well-equipped room at this family owned hotel offers air conditioning and a television. Some rooms at the Pan Hotel have spectacular views of the Corinthian Gulf. Free WiFi access is accessible throughout.
Find out more here: Pan Hotel
Chrissa Camping Rooms & Bungalows
Chrissa Camping Rooms & Bungalows is a little further out from town, but useful for anyone seeking budget accommodation, or families who want a large safe space for the kids to play in.
Spread amphitheatrically on a hill, the bungalows offer accommodation with air conditioning.
Find out more: Chrissa Camping Rooms & Bungalows
Delphi Hotel Map
If you are looking for more hotels in Delphi, take a look at the interactive map below.


Hotels in Arachova Greece
If you prefer not to stay in Delphi town, you could always choose a guest house or hotel in the mountain village of Arachova. Staying in this picturesque village is best suited for people with their own transport, who will be rewarded with spectacular views over the green valley and Corinthian Bay below, and a selection of very nice places to eat and drink.
Some suggestions of hotels in Arachova include:
Hotels in Delphi Greece
Readers planning to stay in Delphi often have similar questions to ask when it comes to choosing a hotel with a great location as well as visiting attractions in the area such as the Delphi Archaeological Museum and site. Some of them include:
How far is Delphi from Athens?
The archaeological site and town of Delphi is about 100 miles (161 km) from Athens, the Greek capital.
What are the ancient Delphi opening hours?
Summer opening times for the archaeological site of ancient Delphi are 08.00-20.00 (Last admission 19.40). The Delphi archaeological museum has slightly different opening times: Wednesday- Monday 8.00-20.00 (Last admission 19.40), and Tuesday 10.00-17.00 (Last admission 16.40).
Where is the Delphi bus station located?
The Delphi KTEL bus station (sometimes marked on maps as Delfoi bus station) is located on the edge of the modern town at 8th Apollonos street.
What is the distance from the archaeological site of Delphi to Arachova?
The distance by road between Arachova and Delphi is 7 miles or 11.3 kms.
How much is the average nightly price for a hotel in Delphi?
Room rates for Delphi hotels range from 25 Euros a night all the way up to several hundred Euros a night. It really depends if you want to stay at cheap hotels or luxury hotels. A middle of the road place should average our at 40 Euros per night.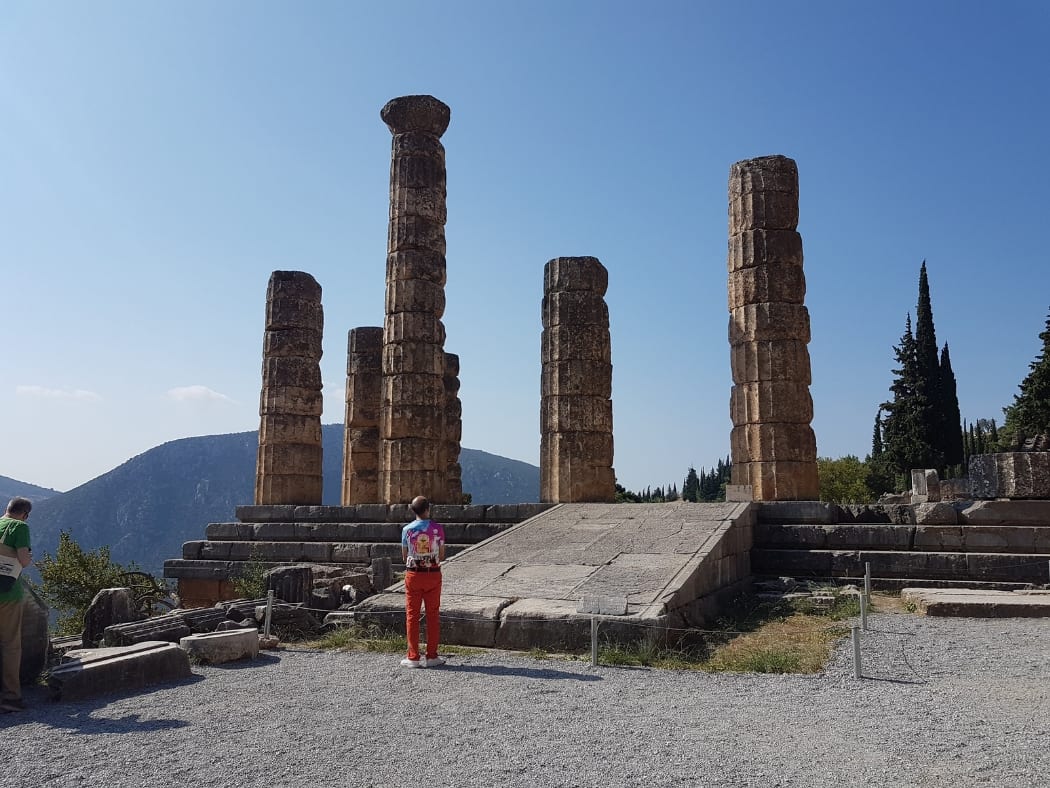 Delphi Greece Hotels
I hope this article on popular hotels in Delphi, Greece has helped you get a better understanding of the different accommodation options and their location. Choose a charming hotel within easy walking distance of the Delphi archaeological site to maximize your time!
If you've stayed in a nice hotel in Delphi Greece that deserves great reviews, please share your experience by leaving a comment below.
More Information and Travel Tips
---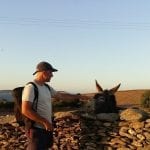 –
Dave Briggs
Dave is a
Greek travel blogger and writer
originally from the UK, and now living in Athens. In addition to writing this Delphi hotel guide, he's created hundreds of other insightful travel guides to destinations all over Greece. Follow Dave on social media for travel tips from Greece and beyond: