50 of the best nature quotes and sayings that make you want to step outdoors! These natural beauty quotes about the world are thought provoking and inspiring.
Natural Beauty Quotes
Nothing beats a good caption about nature on a lazy day to inspire you to get outdoors and enjoy more! We've collected 50 of the best natural beauty quotes and captions related to nature just for you.
Each of these nature quotes is put together with a stunning image of natural beauty. Feel free to pin any of these nature sayings to your own quotes boards on pinterest. That we, you get to share your love of Mother Nature with the world!
These beautiful quotes about nature come from all types of people, ranging from Stoic philosophers to outdoor adventurers. Let us know which one of the quotes about nature and life appealed to you the most by leaving a comment at the end of the list of nature quotes!
---
"Love the world as your own self; then you can truly care for all things."
– Lao Tzu
---
"If we surrendered to earth's intelligence we could rise up rooted, like trees."
– Rainer Maria Rilke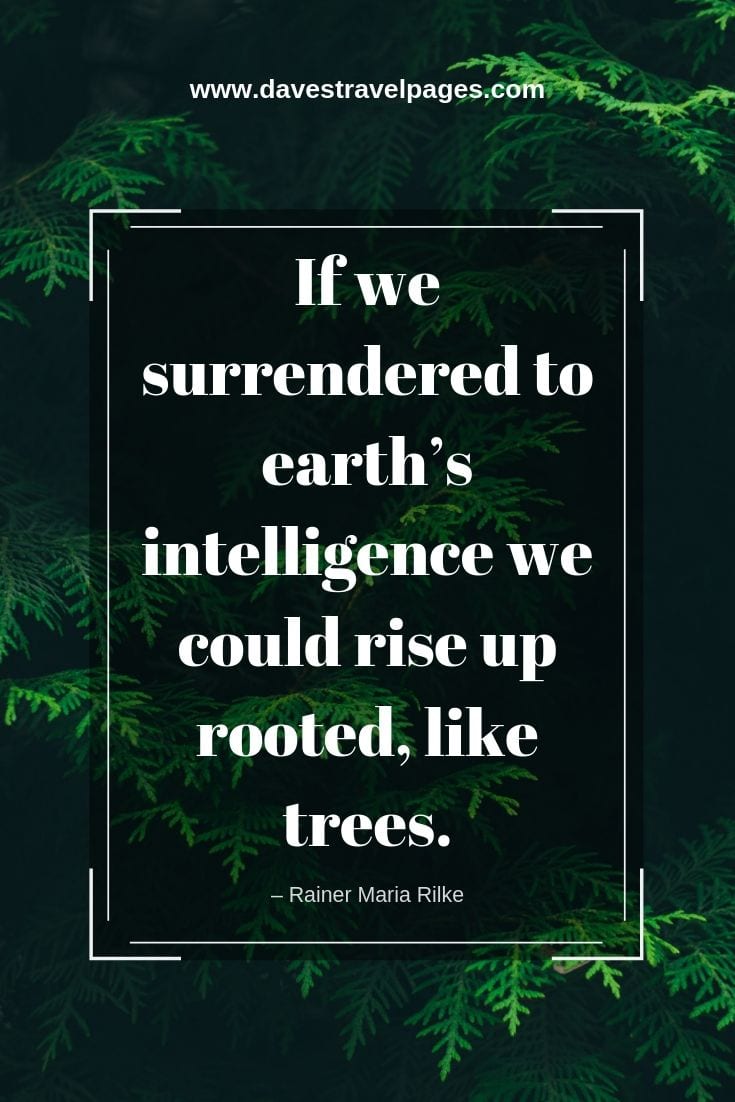 ---
"Nature is just enough, but men and women must comprehend and accept her suggestions."
– Antoinette Brown Blackwell
---
"Some old-fashioned things like fresh air and sunshine are hard to beat."
– Laura Ingalls Wilder
---
"In the spring, at the end of the day, you should smell like dirt."
– Margaret Atwood
---
"The sunlight clasps the earth, and the moonbeams kiss the sea: what are all these kissings worth if thou kiss, not me?"
– Percy Shelley
---
"I felt my lungs inflate with the onrush of scenery—air, mountains, trees, people. I thought, 'This is what it is to be happy."
– Sylvia Plath
---
"You don't need to be a doctor to immediately realize how we feel better when we are outside, in nature."
– Unknown
---
"Life sucks a lot less when you add mountain air, a campfire and some peace and quiet."
– Brooke Hampton
---
"I'd rather have roses on my table than diamonds on my neck."
– Emma Goldman
---
Mother Nature Quotes
---
"I only went out for a walk and finally concluded to stay out till sundown, for going out, I found, was really going in."
---
"The most beautiful gift of nature is that it gives one pleasure to look around and try to comprehend what we see."
– Albert Einstein
---
"The clearest way into the Universe is through a forest wilderness."
– John Muir
---
"We don't inherit the earth from our ancestors, we borrow it from our children."
– Native American Proverb
---
"It was for the best, so Nature had no choice but to do it."
– Marcus Aurelius
---
"Time spent amongst trees is never time wasted."
– Katrina Mayer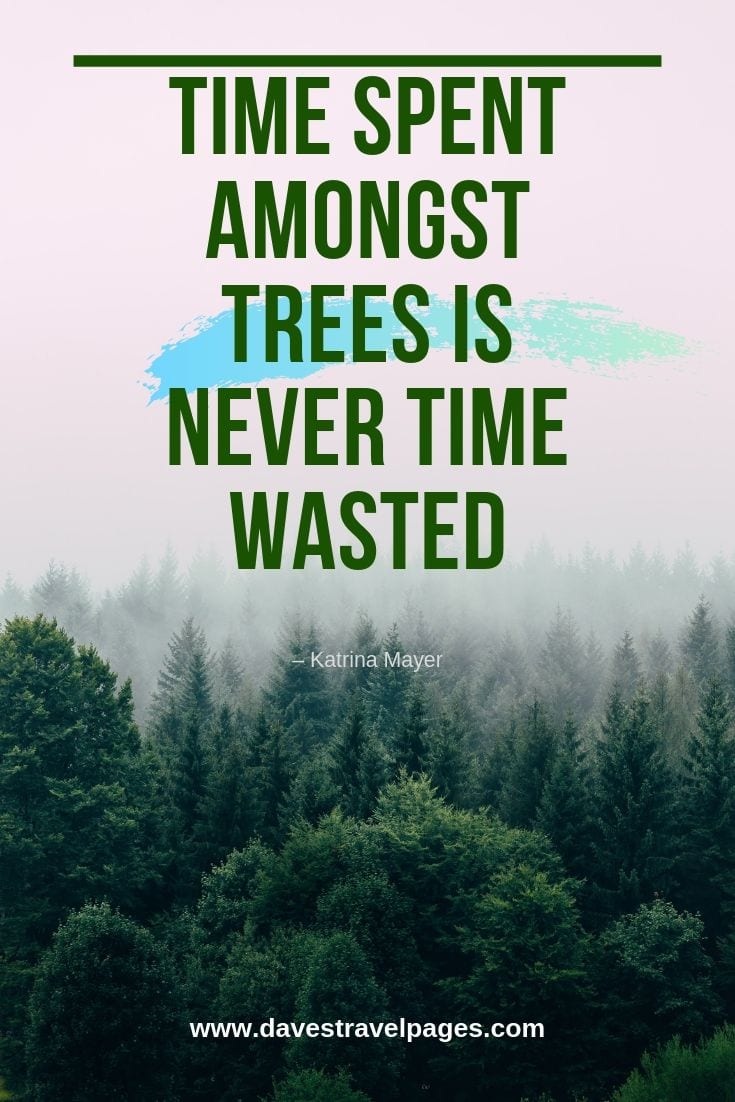 ---
"Sunshine is delicious, rain is refreshing, wind braces us up, snow is exhilarating; there is really no such thing as bad weather, only different kinds of good weather."
– John Ruskin
---
"Every flower is a soul blossoming in nature."
– Gerard De Nerval
---
"Study nature, love nature, stay close to nature. It will never fail you."
– Frank Lloyd Wright
---
"In the depth of winter, I finally learned that there was in me an invincible summer."
– Albert Camus
---
Nature Sayings and Quotes
---
"In every walk with nature, one receives far more than he seeks."
– John Muir
---
"I think nature's imagination is so much greater than man's, she's never going to let us relax."
– Richard Feynman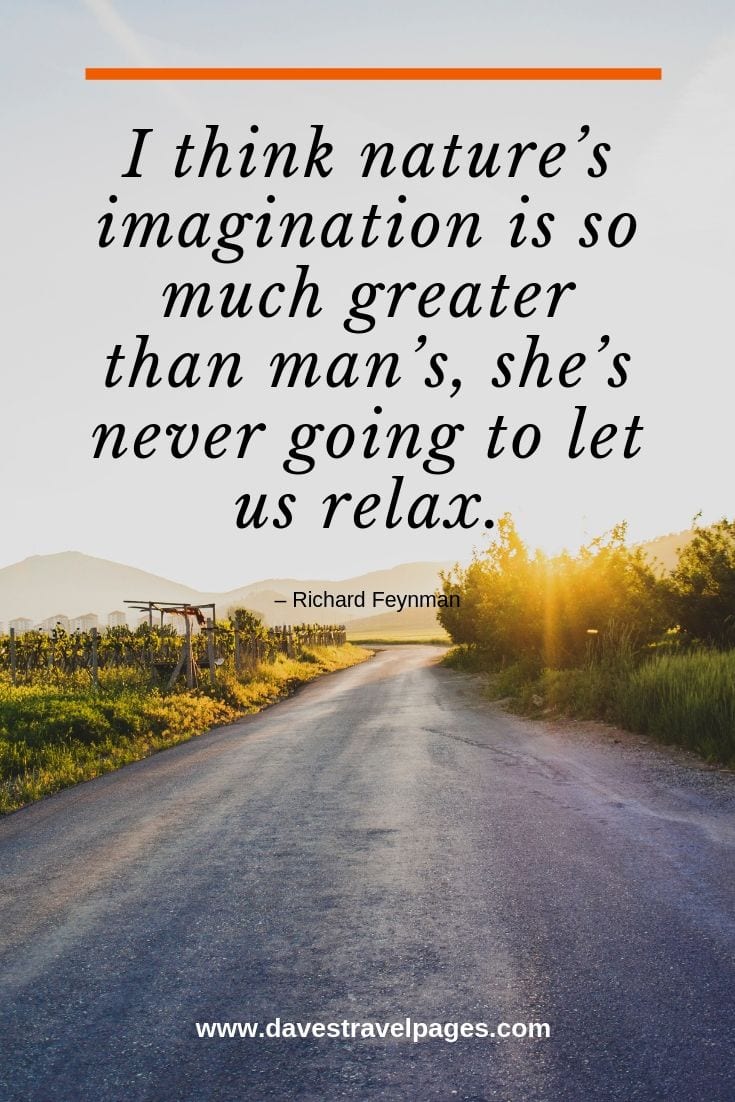 ---
I believe that there is a subtle magnetism in Nature, which, if we unconsciously yield to it, will direct us aright.
– Henry David Thoreau
---
"Wherever you go, no matter what the weather, always bring your own sunshine."
– Anthony J. D'Angelo
---
Just living is not enough… one must have sunshine, freedom, and a little flower."
– Hans Christian Andersen
---
Some of nature's most exquisite handiwork is on a miniature scale, as anyone knows who has applied a magnifying glass to a snowflake.
– Rachel Carson
---
If you truly love nature, you will find beauty everywhere.
– Vincent Van Gogh
---
I love to think of nature as an unlimited broadcasting station, through which God speaks to us every hour, if we will only tune in.
– George Washington Carver
---
Adopt the pace of nature: her secret is patience.
– Ralph Waldo Emerson
---
In all things of nature there is something of the marvelous.
– Aristotle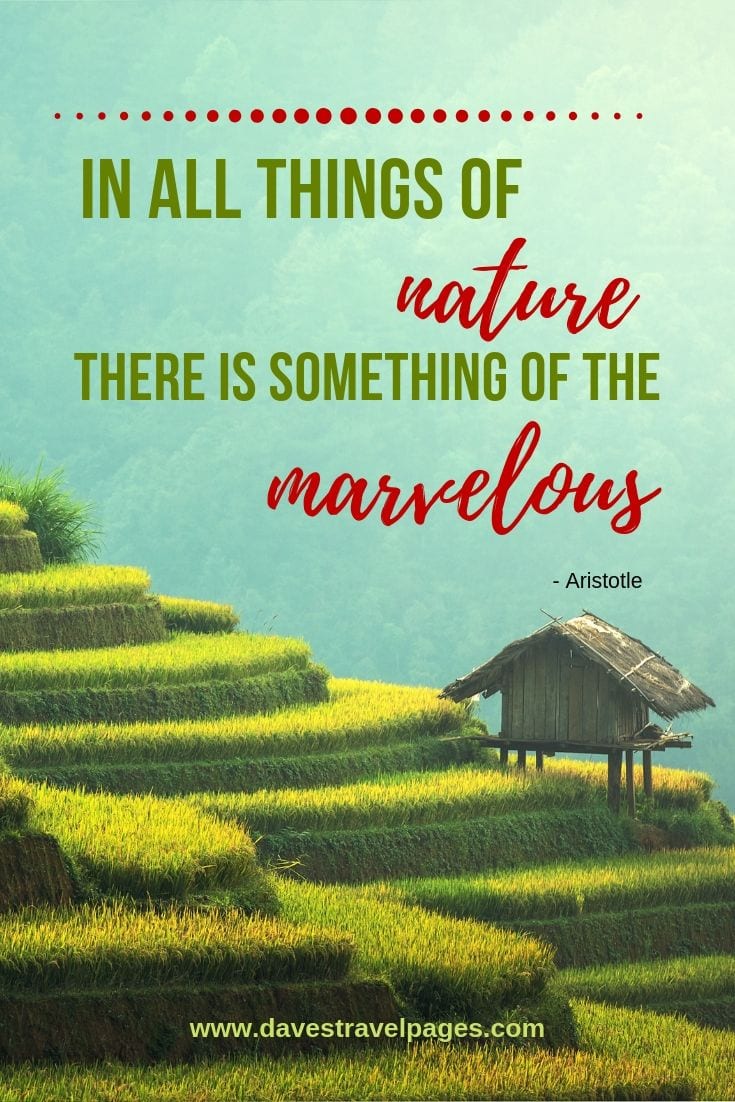 ---
Quotes about Nature and Life
---
"In nature, light creates the color. In the picture, color creates the light."
– Hans Hofmann
---
Nature always wears the colors of the spirit.
– Ralph Waldo Emerson
---
Nature does not hurry, yet everything is accomplished.
– Lao Tzu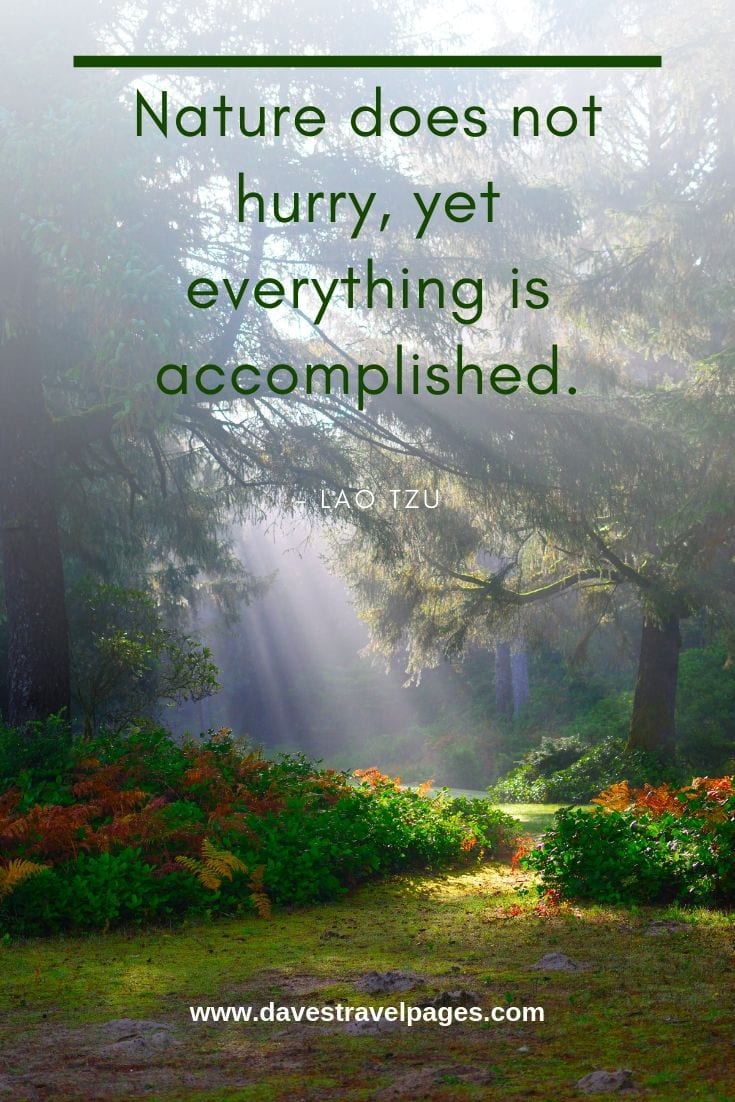 ---
Look deep into nature, and then you will understand everything better.
– Albert Einstein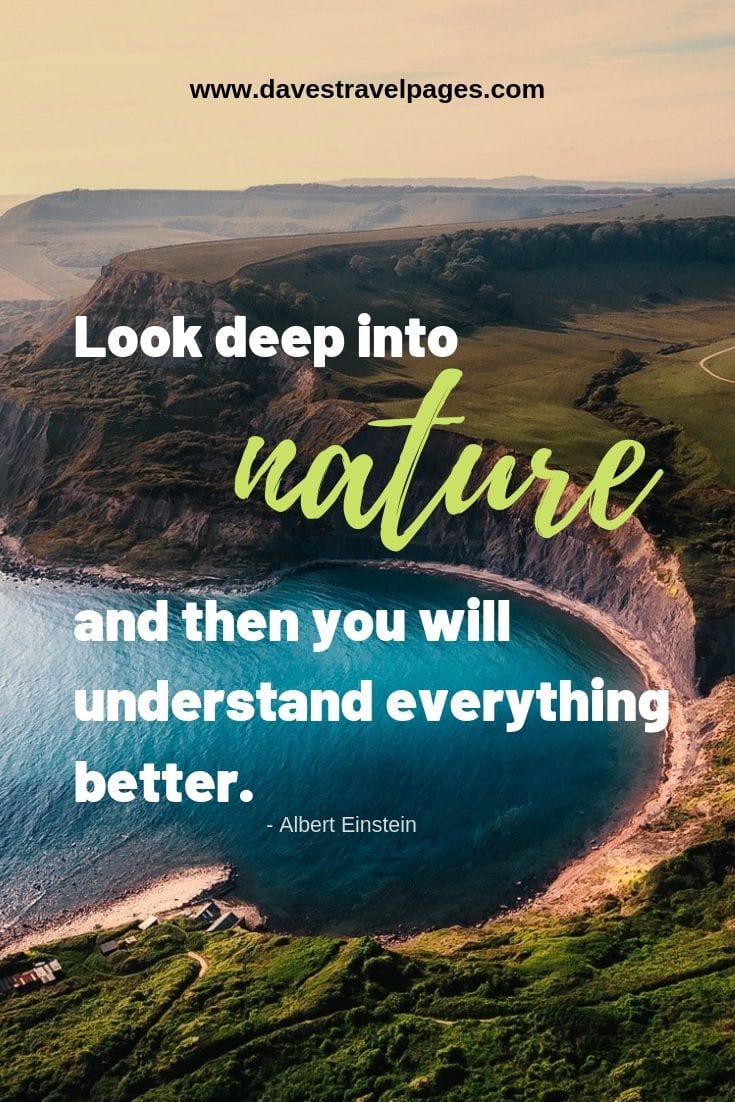 ---
The earth has music for those who listen.
---
The early bird gets the worm, the second mouse gets the cheese.
---
The day has eyes; the night has ears.
---
The afternoon knows what the morning never expected.
---
Nature is not a place to visit, it is our home
---
No man fears what he has seen grow.
– African Proverb
---
Best Nature Quotes
---
Nature is the art of God.
---
"Nature is pleased with simplicity. And nature is no dummy."
– Magda Boulet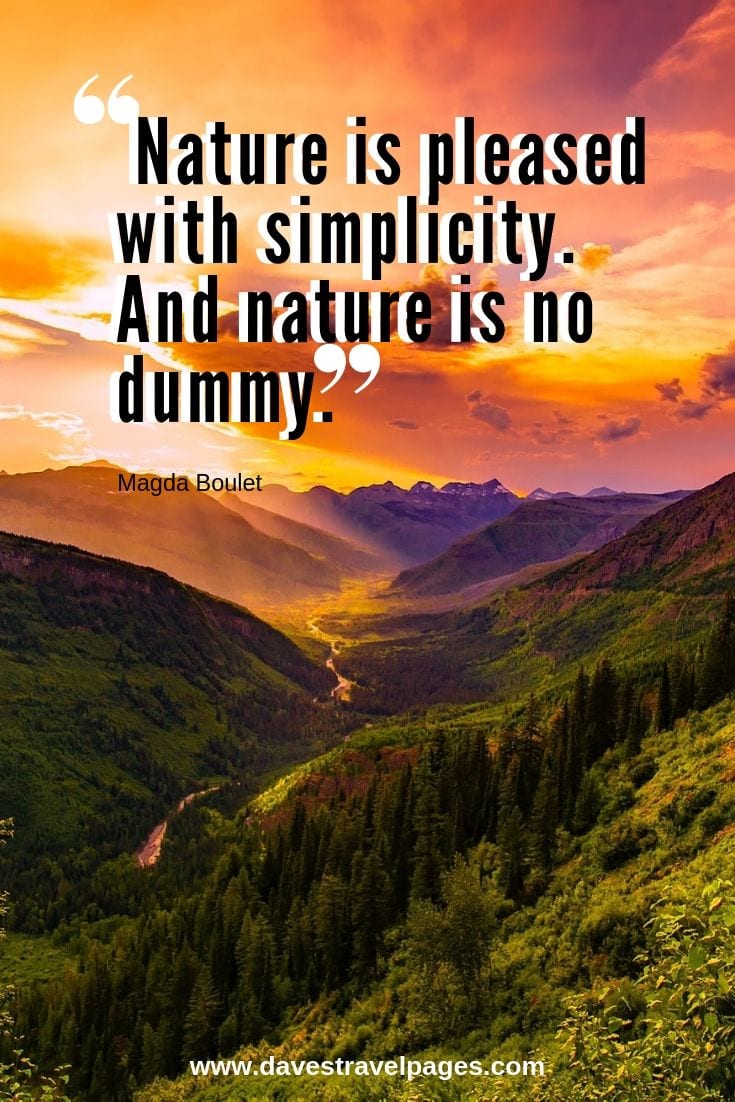 ---
"Nature is an endless combination and repetition of a very few laws."
– Ralph Waldo Emerson
---
"Nature is indifferent to our love, but never unfaithful."
– Edward Abbey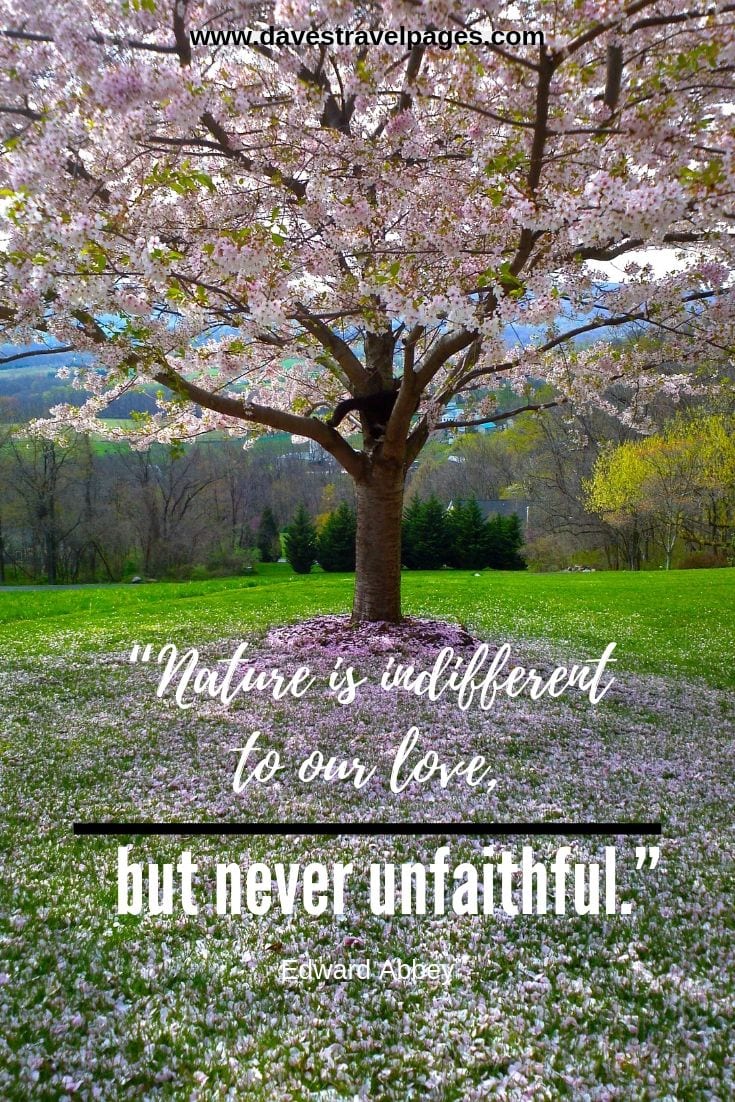 ---
"Green is the prime color of the world, and that from which its loveliness arises."
– Pedro Calderon de la Barca
---
"The woods are lovely, dark and deep. But I have promises to keep and miles to go before I sleep. "
– Robert Frost
---
"The clearest way into the Universe is through a forest wilderness."
– John Muir
---
"I like this place and could willingly waste my time in it."
― William Shakespeare
---
"…and then, I have nature and art and poetry, and if that is not enough, what is enough?"
― Vincent Willem van Gogh
---
"Going to the mountains is going home."
– John Muir
---
More Quotes about Nature, Travel and the Outdoors
Looking for more inspiring quotes and captions? Check these out!
---