Visitors often ask how to get from Athens international airport to Piraeus port. Here are all the different ways to travel between the Athens airport and Piraeus, including taxis, trains, and buses.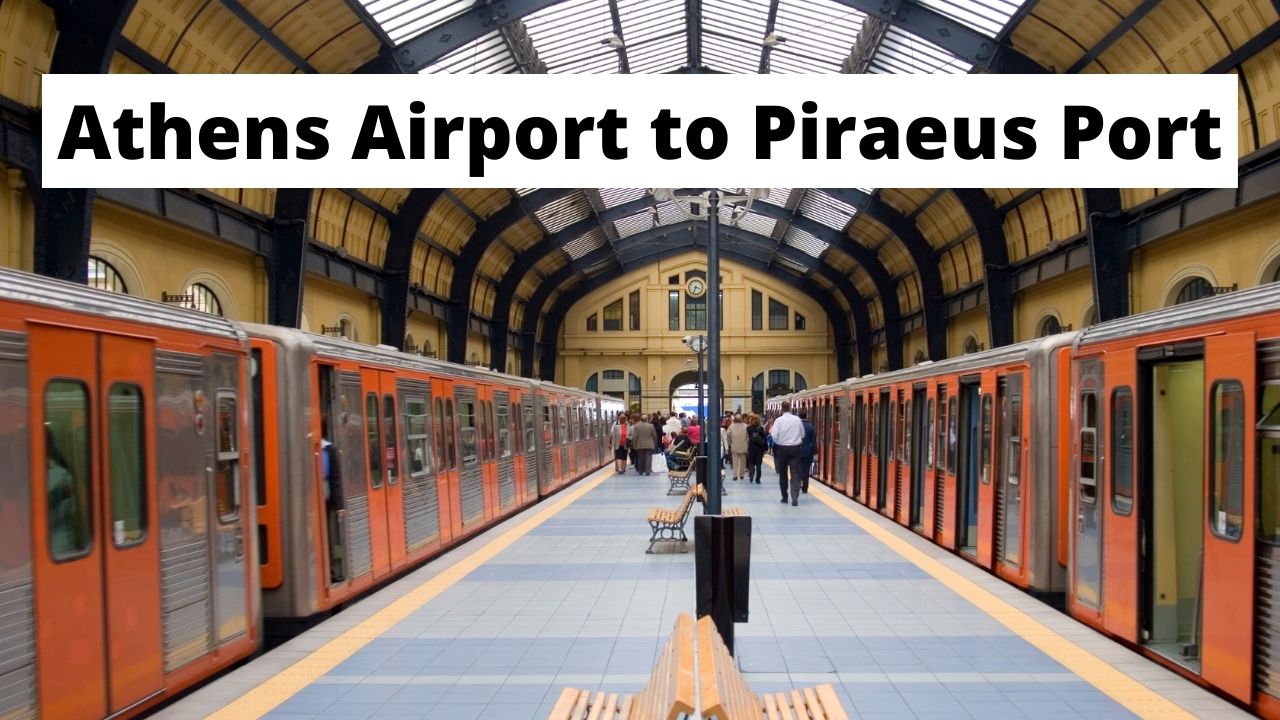 Arriving at Athens International airport
The Eleftherios Venizelos Athens International airport is the main airport for international flights to Greece. It also serves as a hub for domestic flights from several Greek cities and those Greek islands with airports.
The airport itself is located at the outskirts of the city, so if you want to travel to Piraeus cruise terminal or ferry port after landing at the airport, you'll need to consider which private or public transportation method to take.
There are four ways to leave the Athens airport for your next destination: taxi, pre-arranged transfer, metro / suburban railway and bus.
After exiting the arrivals hall at the Athens airport, head out the doors. You will see several signs with directions for all these means of transportation.
And now, let's explore the best way to get from the Athens airport to Piraeus.
1. Athens airport taxi service to Piraeus port
During the Covid era, taxis are often people's preferred option to travel between places. They offer more privacy, and you won't be crammed in a bus or metro carriage with dozens of other travelers.
The taxi ranks are located right outside the Athens airport. Standard taxis in Athens are yellow, with a black and yellow sign on the roof. There will normally be a line of them waiting to take travelers to their destination.
While jumping on a taxi will be more comfortable than taking a bus, you might need to queue for some time, especially in peak season.
In addition, Athens taxi drivers are known for trying to avoid using the meter – though things are a lot better these days than they were some decades ago.
Taxi from Athens airport to Piraeus port: Time needed and cost
Depending on the time of day and traffic conditions, the taxi could take anywhere from 40 minutes to well over an hour to reach Piraeus port. Typically, the taxi will drop you off right outside your departure gate.
Expect to pay around 50 euro if you are travelling from 5 am to midnight, and about 65-70 euro if you are travelling at night.
2. Pre-booked transfers from the Athens airport to Piraeus port
A good alternative to an Athens airport taxi is a pre-booked transfer. This will save you time, as you won't have to join a long queue. Most importantly, it will save you the potential hassle of bargaining with an aggressive taxi driver in a foreign country.
Welcome Pickups are some of the best private transfers. Their drivers are fluent in English, and they will meet you inside the airport, holding up a board with your name on it. They can also provide certain extras, like local SIM cards and paper maps.
These private transfers will drop you off outside your departure gate.
Private transfers from Athens airport to Piraeus port: Time needed and cost
The journey time from the airport to Piraeus varies a lot. During rush hours, it would take you well over an hour.
This personalized service costs about the same with yellow cabs from the line. Expect to pay between 55 and 70 euro, depending on the time of day you are travelling.
You can check out Welcome Pickups services and prices in advance. All you need to do is to fill in your arrival time, number of passengers, and number of luggage pieces.
** Athens airport to Piraeus Port private transfer **
3. Taking the trains from Athens airport to Piraeus port
Another way to get from the airport to Piraeus port, is by what some people refer to as "trains". There are two types of trains: the modern and efficient Athens metro system, and the suburban railway.
These two different public transport services depart from the same area in the airport, and require the exact same ticket.
Once you are out of the arrivals gate, follow the signs to "trains". Exit the airport terminal, cross the road, and take the escalator towards the elevated pedestrian bridge. You will then arrive at the Athens airport metro station.
Train tickets to Piraeus
You will now have to issue your metro / suburban railway ticket. You can do it either at the automatic machines, or at the old-school tills.
This guide gives step-by-step instructions on how to buy a ticket for the Athens airport metro, whether you are going to Athens city center or the port.
Once you've got your metro ticket, you will need to swipe it at the validating machines, for the gates to open. Then, make your way to the platforms.
As both the metro and the suburban railway depart from the same area, make sure you get on the service you want.
3a. Using the Athens metro from the airport to Piraeus port
Athens has three metro lines: the blue line, the red line, and the green line.
There is no direct metro line connecting the airport and the ferry terminal. Instead, you would first have to use the blue line, and change at Monastiraki station for the green line.
The green metro line terminates at the station at Piraeus, which is just opposite Piraeus port.
There are two airport metro services per hour. You can find the timetables here.
3b. Taking the suburban railway from the airport to Piraeus port
Apart from the airport metro, there's another service connecting the airport with Piraeus. This is the suburban railway, or proastiakos in Greek.
The advantage of the suburban vs the metro, is that it's a direct connection, taking exactly an hour to get to Piraeus station, which is the last stop.
On the flipside, there is only one suburban service per hour. You can find the suburban railway timetables here.
Trains from Athens airport to Piraeus port: Time needed and cost
In Piraeus, the railway station is next to the metro station. Not counting time spent waiting for trains, the journey time on the suburban railway from the airport is an hour, while the metro takes slightly longer. It's best to allow for about an hour and a half.
Tickets for both these Airport – Piraeus services are inexpensive, at only 9 euro.
As pickpockets are known to operate on the metro, be extra mindful of your valuables, especially if you are travelling during peak hours.
While the metro / railway station is just opposite the port, you should know that the port itself has ten gates, not all of which are walking distance from the trains. More on this later.
4. Bus from Piraeus to Athens Airport
Another alternative way to travel from Athens Airport to Piraeus port is to catch the X96 bus line. This is a direct service that runs 24/7.
Once you are out of the airport building, you will immediately see the bus terminal. You will need to buy your ticket at the booth right outside the bus. Then jump on the bus, and validate your ticket at the machines.
The airport buses are likely to get crowded. A good suggestion is to try and get seats as soon as you get on the bus. If you are a family, keep together, and make sure you know where your valuables are.
Airport bus to Piraeus port: Time needed and cost
The airport bus is the most inexpensive way to get to the port. At 5.50 euro, the bus fare is the best deal, will take you on a scenic route, and will drop you off close to your port gate.
The biggest disadvantage is that buses can take a long time. Allow for at least an hour and a half, or even two hours in case of traffic. If you are tired after a long trip, or in a hurry to get to the port, the bus is definitely not the best option.
Check also my guide: Public transport in Greece
Arriving at Piraeus Ferry Port
Piraeus ferry port is massive, and arriving there can be a confusing experience, even for locals! This is Greece's main port, and it can get very busy. Thousands of passengers walk around with their suitcases, alongside hundreds of cars.
Check your ferry tickets, and you will notice a gate number. This is where you will need to go to take your ferry. There are ten gates at Piraeus port, marked E1 to E10, plus the cruise terminal which is further out.
If you are taking a ferry, you want to be at the port an hour before it is due to sail.
If you use of the trains to Piraeus port, note that Gates E1 and E2 are quite far from the railway and metro stations. There are free shuttle buses which can take you to these gates, but they often fill up quickly.
This is another reason why a pre-booked private transfer from Athens airport to Piraeus port is actually better.
Frequently Asked Questions
People travelling from Athens international airport to Piraeus, often ask these questions:
How much is taxi from Athens airport to Piraeus?
A taxi from the airport in Athens to the port in Piraeus costs about 50 – 70 euro, depending on the time of the day.
How do I get from Athens airport to the ferry?
After you've landed at Athens airport, you can get to the ferry port by taxi, pre-booked transfer, bus, metro or the suburban railway.
How far is Piraeus from Athens airport?
There are several routes someone can take from the Athens airport to Piraeus. The shortest route is about 42 kms / 26.1 miles.
Does Athens metro go to airport?
There are two Athens metro services every hour that go all the way to the airport. All other services terminate at a metro station in one of the Athens suburbs, called Doukissis Plakentias.
Are there hotels near Piraeus port?
Yes, there are plenty of places to stay near Piraeus Port and Piraeus Cruise port. This article with hotels in Piraeus Greece will help.
Finally, some visitors will want to get to central Athens from the airport rather than Piraeus or other ferry ports of Athens. Here is an article with all the possible ways to get to the city centre.
---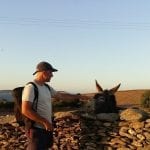 –
Dave Briggs
Dave is a
travel writer
who has been based in Athens since 2015. In addition to creating this guide to traveling from the airport in Athens to Piraeus Port, he's written hundreds of other insightful travel guides and
itineraries to islands and destinations in Greece
. Feel free to follow Dave on social media for travel information so you can start planning your next trip to Greece: