Every bike tour has a planning stage, and my bicycle tour in East Anglia was no exception. Here's the route planning for cycling the Fens.
Bike Touring East Anglia
So, as it turns out, East Anglia is a lot bigger and has more to see than you might think!
One week of cycling would certainly not be enough time to do it justice, and a rethink was in order.
I needed a route which would make the best use of the time I had, and would also allow me to see a varied selection of the regions highlights.
Additionally, it would need to include campsites where I could camp each night.
Cycling route for the Fens
After some tinkering with Google maps for a couple of days, I ended up with a route which meant predominantly cycling the Fens region.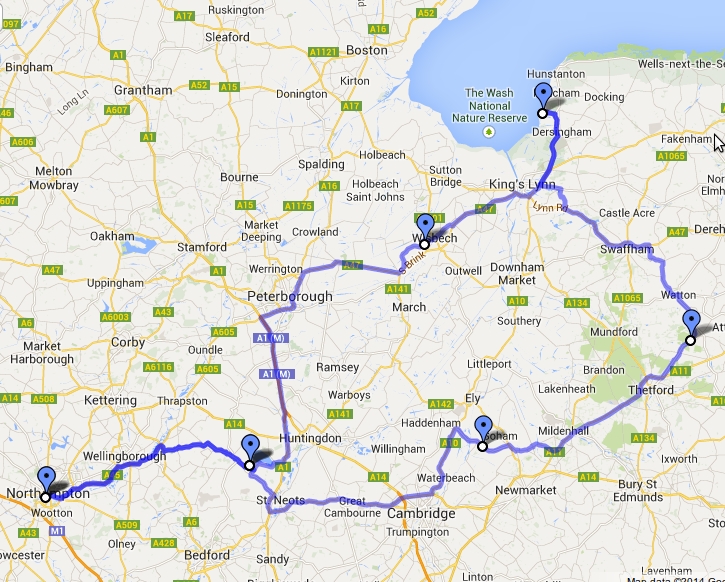 Cycling the Fens – A map of the rough route I will take on my bicycle tour in East Anglia
For those that don't know, the Fens (or Fenlands), is the name given to an historically marshy area in East Anglia. Over the years, it has been drained and managed, and is now a very important crop producing region.
Famed for it's waterways, wildlife, churches and cathedrals, it seems almost purposely designed for the touring cyclist to ride through during a week.
Below, is a brief itinerary which should give you an idea of where I am visiting when I am cycling the Fens, although things may change once I am out on the road.
Cycling the Fens – A Bicycle Tour in East Anglia
Day 1 – Leave Northampton, and cycle to Grafham Waters. The aim of today's ride is to get into the swing of things, see how the bike handles, and test out various bits of kit. This will be the first day and night of using most of my camping kit, and reviews of them will follow over the coming weeks.
Day 2 – Leave Grafham Water and cycle to Wicken. Passing through Huntingdon and St. Ives, I may also detour for a brief ride around Cambridge before heading north a few miles to Wicken. I will stay at the there for campsite for two nights.
Day 3 – Wicken Fen has a few bike tracks around it, so I will have a cycle around. I will also do a short ride along what is known as Lodes Way. In the afternoon, a trip to Ely to see the cathedral should be on the cards. Will stay the night in Wicken again.
Day 4 – Leave Wicken, and cycle to Thetford. Along the way, stop off at Grimes Graves for a look around. Camp at Thetford.
Day 5 – Cycle from Thetford to Hunstanton along Peddars Way. I understand this may be a challenging route on a fully loaded touring bicycle, but should be up to cycling fitness by then! Stay just outside of Hunstanton.
Day 6 – Cycle from Hunstanton to Wisbech.
Day 7 – Cycle from Wisbech to Grafham Water. I might wild camp here if I found somewhere suitable the first time I passed through, although wild camping on this little cycling holiday is not a major issue!
Day 8 – Cycle from Grafham Water back to Northampton.
[mailmunch-form id="728831″]
Micro-blogging Bike Tour
And so there we have it! Whilst I am on my bicycle tour in East Anglia cycling the Fens, I will micro-blog via Facebook and Twitter so please follow me if you are interested. When I get back, I will post a full blog, and that will be followed by various gear reviews. Until then, keep your fingers crossed that the weather holds out!

View Bicycle tour in East Anglia in a larger map
Further reading on the bicycle tour