I've been using Endura Hummvee shorts for bike touring for years. Why? They're tough, look good, and seem to last forever. Here's my Endura Hummvee review based on years of constant use.
Bike Touring Shorts
Everyone's got their own opinion on what makes the best shorts for bicycle touring.
For some people from a road cycling background, shorts should be lightweight, lycra and easily washed. Mountain-bikers might prefer something like baggy shorts that look more casual.
Personally, I've never really thought of myself as a cyclist – more like someone who happens to travel by bicycle. As such, I'm not in either camp, but do have my own requirements.
For me, I prefer cycling shorts that look good on and off the bike. They have to be durable, made of hard-wearing material and be long-lasting.
It goes without saying they have to be comfortable shorts when riding, and a few pockets are useful for practical reasons when bikepacking. They shouldn't cause any cultural offence when worn, and a few pockets would be nice as well.
Does such a pair of bike touring shorts exist? They certainly do! Let's take a look at the Endura Hummvee baggy shorts.
Endura Hummvee Shorts
When I first found out about the Endura Hummvee shorts, it was almost too good to be true. They ticked all the boxes I was looking for in a pair of bike touring shorts, and then some.
Of course, thinking something is ideal, and it actually proving itself to be, are two different things entirely.
I'm happy to say though, that the Endura Hummvee shorts not only matched my expectations but exceeded them.
I've now used two different pairs of Endura shorts on two different long distance bicycle tours. The first pair was on an 18 month bike tour from Alaska to Argentina.
The second pair was during my bike tour from Greece to England. If that's not the most thorough testing a product has ever had, then I don't know what is!
Along with my much-loved green T-shirt (if you've seen my cycling videos you'll know what I mean!), this cool pair of riding shorts form part of my core group of bike touring essentials. It would feel weird cycling without them!
** Check out Endura Hummvee II Amazon UK site – Click here **
** Check out Endura Hummvee II Shorts on Amazon US site – Click here **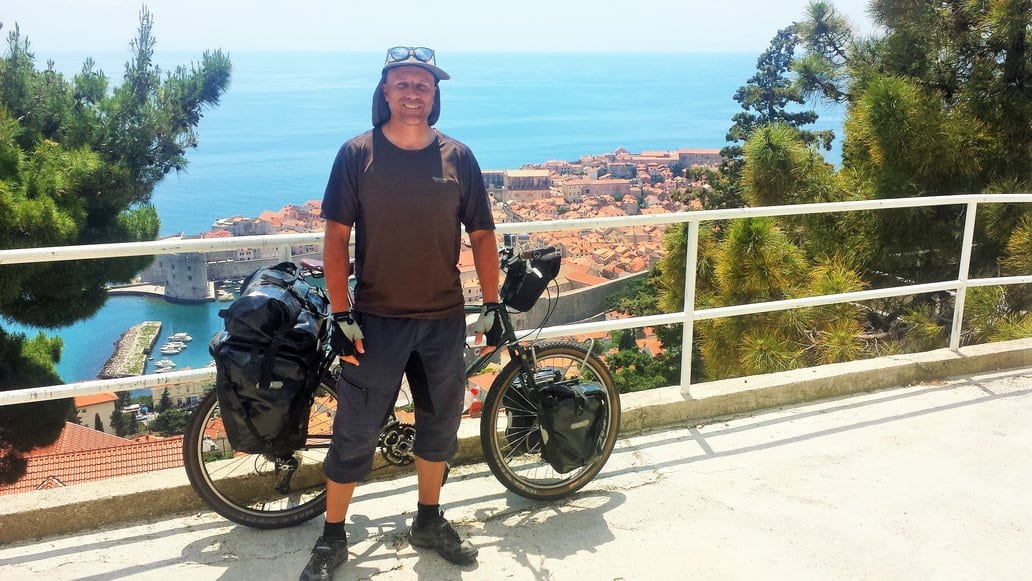 Endura Hummvee Shorts Review
Until now, although I have mentioned the Endura cycling shorts in different blog posts, I hadn't reviewed them. As I've recently just bought a new pair though, I thought it was about time!
In this review I'll go over the Hummvee shorts, and tell you why I use them and what I like about them. I've included a video review below, and a conclusion at the end, along with some different places where you can buy the shorts online.
I'll also compare the new bike shorts I bought with the old Hummvee pair, and see if there are any differences.
Endura Hummvee Baggy 3/4 Length Shorts
To begin with, I should say that their are several different types of shorts available in the Hummvee range. There is also a full length pair of trousers that I haven't tried, but would love to give a go one day.
(If I go ahead with a bike tour in Iceland for example, the trouser version might be ideal). The pair of shorts that I have thoroughly tried and love however, is known as the 3/4 length Hummvee shorts.
Available in different colours, I tend to choose darker ones for bike touring as they show up less dirt when wearing them for days on end.
Specs of the Endura cycling shorts
Sizing is available via the Endura site, and I find that the large size is just about right for my 36″(ish) waist. When buying a pair, you also get a pair of (lightly) padded liner shorts thrown in for free which have a clickfast system to attach to the main pair.
This detachable liner clicks into the inside of the main pair of shorts, which I've demonstrated in the video. The liner works well, and is comfortable in the places it matter most!
The main points of the other specifications are:
Teflon coated – This is a water-repellent aid
Zipped ventilation
Zipped side pockets
Two rear tabbed pockets (for maps)
Keychain fob
Front tabbed pocket
Zipped front pocket
Constructed from reinforced panels
Belt loops
Adjustable belt
Inner liner
Here's the video for you, where I go into more detail about the shorts, and compare an old pair with the new pair I just bought.

What I love about the Endura Hummvee shorts
As I said, I've been using these high-quality shorts for years, and have clocked up literally tens of thousands of miles in them. I wouldn't keep using them if I didn't like them, but here's specifically why I keep on using them again and again.
Build quality – Is it correct English to use the phrase build quality for clothing? Well, perhaps in this case it is. If a pair of shorts can put up with my fat arse stretching them over the years, then the build quality is second to none! The seams of the panels all overlap, and are triple stitched.
Fabric quality – Again, the choice of fabric is fantastic, and seems to last forever. With my old shorts (shown in the video), I've demonstrated where the colour has faded and where the fabric has thinned. Keep in mind this is after over 10000 kms of cycling!
Zipped side pockets – I love these zippered pockets for keeping my house keys in when on training rides, loose change in when on tour, or even my mobile phone in. When I'm off the bike doing some sightseeing or wandering along a beach, they are again useful for keeping a wallet in and other essentials.
They don't look like cycling shorts – I wear the Endura Hummvee shorts quite regularly when on holiday here in Greece. In fact, I don't own another pair of summer shorts! Their multi-use aspect ideally suits me.
Comfortable to wear – I shouldn't overlook how comfortable to wear they are!
They last forever – On a long distance bike tour, you want your kit to last as long as possible. The Endura Hummvee baggy shorts do that and more. One pair lasted the entire duration of an 18 month Pan-American tour, and I've only really bought this new pair because I felt I probably should rather than the old pair having holes in or anything like that!
The price – I'm not going to lie, I also love the price! Although the Endura website advertises them at about £65, you can normally find them discounted to about 2/3rds the price or less if you look around online. I've put a couple of links at the bottom of this post if you're interested.
Things I would change about them
It's important to remember, that the Endura Hummvee shorts are designed and marketed as mountain biking apparel rather than bicycle touring gear.
With this in mind, there are some features which I would personally change. I don't think this detracts from the value of them in any way.
But, if anyone from Endura is reading this, I'd love it if you took some of the points on-board and produced bike touring shorts based on the current design with my suggested alterations!
Zipped ventilation – I'm not sure why it has to be zipped? It seems to be unneeded when a velcro tab would do. Better still, why not have the sides permanently opened to ventilation by exposing the mesh?
Rear pockets – These rear map pockets are kind of superfluous, and I've never used them.
Front tab and zip pocket – These two front pockets seem to be too small to do anything with. Again, I can't say that I've ever used them.
Conclusion
I would say that out of all my cycling kit, my pairs of Endura Hummvee shorts have consistently offered me the most value for money. If you're looking for a pair of bike touring shorts that won't let you down, are built to last, and look good both on and off the bike, these are my number one recommendation.
** Check out Endura Hummvee Short II on Amazon UK site – Click here **
** Check out HUMMVEE SHORT II on Amazon US site – Click here **
Have you tried the Endura Hummvee Baggy shorts, and if so what did you think? Do you have another pair of bike touring shorts that you rate highly?
I'd love to hear from you, as I'm sure the rest of the bike touring community would, so please share your thoughts below!
More Bike Touring Gear Reviews
If this Endura clothing review was of interest, you may also be interested in my other cycling and bike touring gear reviews: