Looking for the best budget bike trainer so you can start training indoors on your bike? This guide to affordable turbo trainers and bike trainers has everything you need to know.
Indoor Cycling Trainers
Every cyclist prefers to ride outside, but sometimes, you have to supplement your training with riding on a bike trainer indoors.
Typically, this happens during the winter months in Northern countries.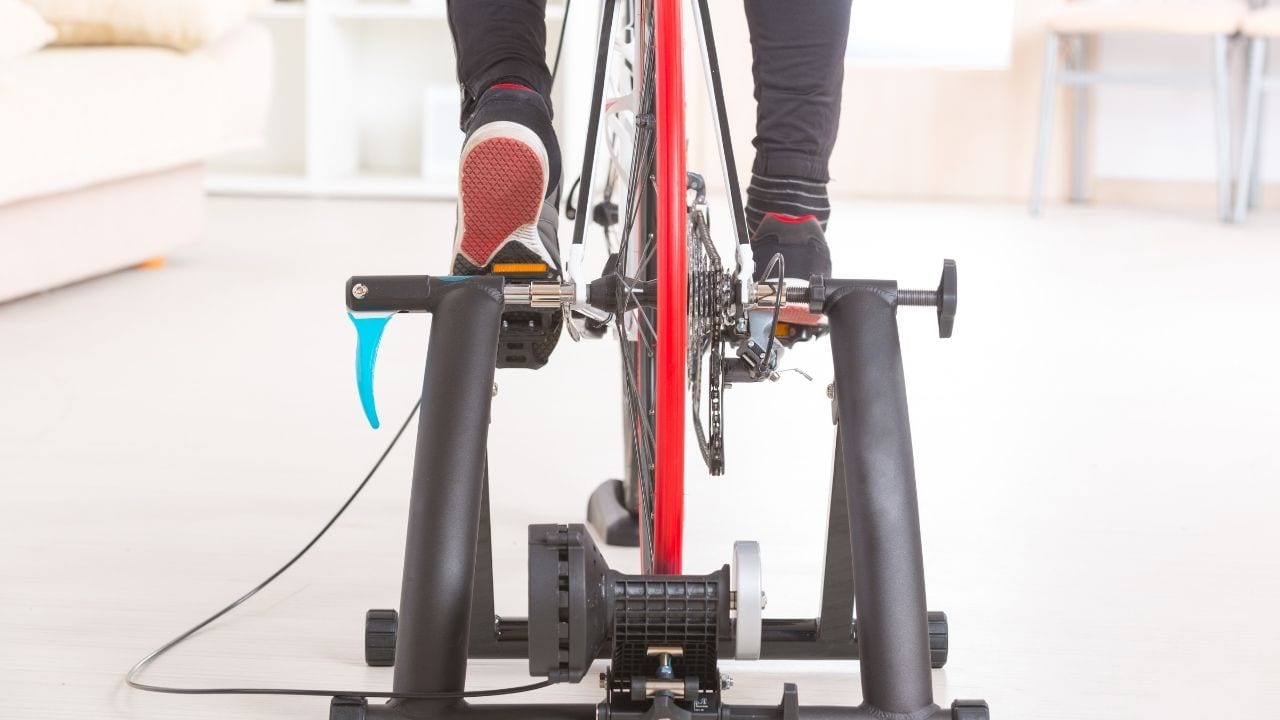 As 2020 and 2021 shows though, it might be a good idea to have an indoor bike trainer at home for any time of year. Who knows when we will be locked down next!
I also use a cheap bike trainer when I can't get outside on the bicycle. Here's one from when I was preparing for a European cycling tour during the winter in the UK.
Fun fact: That is a Dawes Sardar, which I had used to ride from Alaska to Argentina on a few years previously!
Types of Bike Trainers
There are four basic types of indoor trainer for cycling. These are:
Wind Trainer – The cyclist powers a fan that provides resistance
Magnetic – Resistance is offered by a magnetic flywheel
Fluid – A fluid provides different resistance levels
Rollers – Bicycle rollers are a different category of training device we'll cover in a future article.
Typically, a budget bike trainer will take the form of a small stand in which you place the rear wheel of your bicycle. Sometimes this is referred to as a cycling turbo trainer or bike resistance trainer.
A Quick Note On Smart Trainers
A smart trainer is an interactive turbo trainer that connects to training apps like Zwift, TrainerRoad, The Sufferfest, and RGT Cycling to control the trainer's resistance and replicate hills, headwinds, and drafting effects within virtual worlds.
As you might suspect, most smart trainers do not really fall under the budget category. For the purposes of this guide, we'll stick to traditional magnetic bike trainers and fluid bike trainers. We" leave smart trainers for another guide!
Best Budget Bike Trainers
These are our top choices for the best indoor cycle trainers on Amazon. We've included a few budget turbo trainer options, as well as the cheapest direct drive smart trainer:
What I've noticed writing this in 2021, is that indoor cycling resistance trainers have been very popular this year. This means that some brands and models can be frequently out of stock.
The best affordable bike trainer selection listed above was all in stock at the time of writing. Just look for equivalent cycling trainer stands if they are out when you visit the site.
BalanceFrom Bike Trainer Stand
This bike trainer is a great way to train indoors on those cold and rainy days. It not only saves you from drive time, it also helps you keep your training routine going by allowing for an uninterrupted year-round workout regimen.
With 8 different levels of resistance this product fits the needs of any rider who uses history equipment with up to 330 lbs load capacity!
In regards to size, it can fit any road or mountain bike with 26-28 inch or 700 c wheels, so no matter what type of gear you have there's a perfect match waiting for you here.
When choosing your desired level of resistance be sure to choose wisely as these trainers help control speed and resistances so they're easy enough for beginners but strong enough for pros alike.
This is the cheapest bike trainer out there. A good choice to get started with cycling indoors, but you'll probably want to upgrade after a few months of use.
More here: BalanceFrom Bike Trainer Stand
Sportneer Bike Trainer Stand Steel
Steel Bicycle Exercise Magnetic Stand with Noise Reduction Wheel for Road Bike
This is a very affordable bike trainer, coming in at around the 150 dollar mark. With excellent ratings from over 3000 customer purchases, this would be my first choice of indoor bike trainer if I was planning to use it a couple of times a week for an hour or so at a time.
More here: Sportneer Bike Trainer Stand Steel
Alpcour Bike Trainer Stand
The Alpcour Bike Trainer Stand is the best stationary bike stand for all-season training indoors. It allows you to mount your mountain or road bike and get a resistance that's similar to real cycling.
Catch up with fitness and exercise even if the weather won't cooperate, because this trainer creates drag against tires that replicate a real bicycle experience while reducing frictions in order to extend its life.
The handy handlebar mounted cable controller lets you choose from six different levels of fixed resistances so no matter how intense your session, you'll always feel challenged yet comfortable on any incline level! Make the switch today–you won't regret it!
More here: Alpcour Bike Trainer Stand
Saris CycleOps Magnetic Indoor Bike Trainer
Magnetic Resistance, Compatible with Zwift App
Five adjustable levels of magnetic resistance unit provides a quiet and frictionless ride. A good entry level bike trainer that is also compatible with the Zwift app.
More here: Saris CycleOps Magnetic Indoor Bike Trainer
Saris CycleOps M2 Smart Indoor Bike Trainer, Compatible with Zwift App
Controlled, electromagnetic resistance
We're starting to move to the more expensive end of budget here, but considering what it offers it's certainly worth considering. This is definitely an indoor bike trainer designed more for the cycling enthusiast than the casual cyclist in mind.
If you plan to train 10 hours a week or more indoors on your bike, this is the level of bike trainer to look at.
More here: Saris CycleOps M2 Smart Indoor Bike Trainer, Compatible with Zwift App
HULKWHEELS Direct Drive Smart Bike Trainer
Indoor Bicycle Exercise Stand Mountain & Road Bike Portable Foldable Cycling Training/Magnetic Flywheel Stand, Quick-Release,with PowerFun Zwift PerfPro
We've gone beyond the realms of budget here, but this is a good example of a direct drive smart bike trainer.
More here: HULKWHEELS Direct Drive Smart Bike Trainer
What to look for when buying an indoor bike trainer
Budget / Price – This goes without saying! In my experience though, it's always better to pay a little bit more for a product that will last longer than save a few dollars now but pay more later. Value for money is the phrase to keep in mind!
Bike Compatibility – Most bike trainers will work with common wheel sizes, but if for some reason you wanted to use your FatBike, you might need to double check it will fit! 29 inch wheels may be a problem for a cheap cycle trainer.
Do you need to be able to pack the bike trainer away? Is is portable enough for you?
Do you want to be able to hook up to a cycling app like Zwift?
Other Indoor Cycling Accessories
Once you've chosen the best budget bike trainer for home, there's a few other accessories you should consider.
A mat – This will protect your floors, especially if you use the cycle trainer on a carpet. I learned the hard way on this one!
A fan – Until you've used one for any length of time, you really can't appreciate how hot and sweaty you'll get!
A front block – Some cheap cycle trainers do not come with a block for the front wheel.
Water Bottle – See previous note about getting hot and sweaty!
FAQ About Using An Indoor Bike Trainer
Here are some commonly asked questions about cycling indoors on bike trainers
Do turbo trainers damage your bike?
Many people choose to use a cheap road bike for turbo trainer use rather than their pride and joy carbon fibre bike. Providing that the bike is not overtightened into the trainer, there should be no issues though.
Do you need a special tire for a bike trainer?
No special bike tire is needed for use on an indoor bike trainer. It does make sense to put on a relatively cheap rear tire though, as there will still be wear. There's no point in wearing through an expensive tire you could save for the road.
Are rollers better than a turbo trainer?
A turbo trainer is excellent for cardio training, whereas bicycle rollers are far better at improving rider balance, coordination and muscle workout. Rollers take more skill to use, whereas anyone can use an indoor bicycle turbo trainer.
Is a bike trainer worth it?
Both indoor bike trainers and stationary bikes can provide high-quality aerobic exercise, as long as you're willing to put in the work. Bike trainers are great for giving you the opportunity to continue training indoors if riding outdoors is not possible because of the weather.
Which bike trainers are best?
Fluid trainers are generally considered to provide the most realistic riding experience. The resistance will feel most similar to road resistance, and you will be able to coast without feeling an abrupt stop due to the flywheel.
How much do bike trainers cost?
While the best indoor bike trainers can cost in excess of $1,400, you can get decent budget indoor trainers for around $200.
Do you have any advice to share about using a bike trainer? Please leave a comment below!
Share this guide to the best budget bike trainer
If you enjoyed this cycling article on how to choose a good budget bike trainer, please share it on social media. There are some sharing buttons in the bottom right hand corner of your screen.
You can also follow me on social media: Facebook, Twitter, Pinterest, Instagram, YouTube.
Indoor Bike Trainers
Cycling indoors on a bike trainer is a great way to continue your training even when the weather is bad outside. This guide provides everything you need to know about choosing the best cheap bike trainer for your needs. Whether you're looking for a basic model or something more advanced, we have you covered.
Do you have a budget indoor trainer or prefer another method to bike indoors when training? Leave a comment below!
You might also be interested in these other bike gear reviews and guides:
---
– Dave Briggs
Dave has cycled around much of the world, including from Greece to England, and England to South Africa. In addition to this blog post on indoor training on the best indoor bike trainer for your budget, he's written many other guides to bike touring.
Follow Dave on social media for travel, adventure and bike touring inspiration: