Athens has over 70 museums to choose from, so I've narrowed down the choice to 5 of the very best museums in Athens. If you're visiting the city, these Athens museums are the must-sees!
Most visitors to Athens only stay in the city for a limited time, and as such, have to carefully pick and choose what to see. Let me do the hard work for you. Here are the top 5 museums in Athens.
Best Athens Museums
When it comes to museums, Athens, as you might expect, has dozens of them.
Since moving to Greece in 2015, I've visited over 50 of the museums of Athens, and still haven't quite managed to see them all!
If you're only visiting Athens for a few days, you'll need to be pretty selective in which Athens museums you go to in order to maximize your time.
That's why the focus of this guide is to show you the top 5 museums in Athens you should visit when planning a trip.
If you want a more complete list, you should take a look at this complete guide to all the museums in Athens Greece instead.
I have summarised each museum below, and also included how much time I think you should spend in each one.
At the end, I've included a list of links to other museums to visit in Athens that you might want to consider if you have time.
The New Acropolis Museum
The Acropolis Museum is the 'flagship' museum for not only Athens, but all of Greece. It is certainly an impressive building, with well laid out displays set out over several floors.
The Acropolis museum opened in 2009 in a purposefully designed building. The visitor progresses gradually upward through the building, where on the last floor, the Parthenon Marbles await.
Except, not all of them do, because a lot of them are in the British Museum. Faithful replicas are in their place, and if the originals are returned one day, they will certainly look incredible displayed here.
Time Recommended: 1-1.5 hours
My opinion: Personally, I do not think this is the best museum in Athens, but that may be just me. However, it does provide a more complete understanding of the Acropolis and its importance.
To get the best value from your time there, I would suggest using the Acropolis audio guide, or even taking a guided tour there.
Winter season opening hours (1 November – 31 March): 9 am – 5 pm. 5.00 Euro entry 3.00 Euro Concessions. Summer season opening hours (1 April – 31 October): Monday 8 am – 4 pm / Tuesday – Sunday 8 am – 8 pm 10 Euro entry 5.00 Euro concessions.
Tip: Visit here at the hottest time of day either before or after walking around the Acropolis. You'll appreciate the climate controlled environment as opposed to the summer heat in the city centre!
Note: A ticket to the Acropolis does not include entrance to the museum.
---
The Agora Museum in Athens
The Agora Museum is a nicely laid out place, housed in the reconstructed Stoa of Attalos. It is a reasonably compact museum, that exhibits finds from the Ancient Agora in a chronological order.
It is all well labelled, and unlike the Acropolis Museum, there is no need for a guide here. Entrance to the Agora Museum is included with the Ancient Agora entrance ticket.
Going through this museum will give you a feel for what everyday life was like for Ancient Greeks in Athens. It will also give you something of a crash course in Ancient Greek history!
Time Recommended: 0.5 hours
My opinion: You can clearly see the progression of artefacts through the ages, and interestingly, the deterioration in quality after the 'golden age' of Greece. Keep your eyes open for the section of text in the museum which describes Ostracism!
Tip: Visit the Agora museum before walking around the archaeological site, as it will make a lot more sense that way!
---
The National Archaeological Museum of Greece
The National Archaeological Museum is my absolute favourite in the top 5 museums in Athens list. The one drawback to it, is that it is big. Very big!
You really need 3 or 4 hours to do it some justice, which may put off some people just spending 2 days in Athens.
I think it is time well spent though, and you can always just see the bits that interest you the most, and walk by the rest.
Time Recommended: Anything from 1-4 hours.
My opinion: Easily the best museum in Athens, with a complete collection spanning many areas and thousands of years. The bronze statues are my personal favourite.
Tips: The museums collections are extensive. There is a cafe in a lower courtyard where you can take a coffee break when you start to flag a little.
---
Museum of Cycladic Art in Athens
The Museum of Cycladic Art displays artefacts from 4000BC to 600AD, and the most notable of these, are the instantly recognisable Cycladic Figurines.
There is something enigmatically beautiful about them, and 6000 years later, they could easily mistaken for modern art sculptures.
The museum also has numerous other exhibits, all of which are superbly laid out, labelled, and described.
Time Recommended: 1-2 hours.
My opinion: I like to visit this museum once every 6 months or so. In addition to spending time looking at the figurines, there is an interesting exhibition on the top floor. This depicts daily Athenian life from the golden age, from birth to death.
---
Museum of Greek Popular Musical Instruments, Athens
To be honest, I haven't really broken much ground so far with my list of top 5 museums in Athens. The ones I've mentioned above pretty much feature on most people's Athens museum lists.
The fifth one, the Museum of Greek Popular Musical Instruments breaks that trend though. The museum contains not only examples of the types of musical instruments played throughout Greece, but also examples of the music.
After a while, you can hear the difference between happier island music, and more melancholy music from the north of the country. Drop by and hear for yourself!
There's an interesting display of Greek folk musical instruments, and it might make a change from all the ancient sites!
Time Recommended: 0.5-1 hours.
My opinion: Get a feel for Greek culture by listening to folk and traditional songs from all over the country. No, you won't hear Zorba the Greek being played here! Also one of the best Athens museums to take kids.
Best Museums in Athens FAQ
Readers interested in visiting the top museums Athens often ask questions similar to:
What is the main Museum in Athens?
The main museum in Athens is often considered to be the Acropolis museum, however its collection is limited to finds from the Acropolis site. The largest and most comprehensive Athens museum is the National Archaeological Museum with its extensive collection of finds from important archaeological sites all over Greece.
What is better, the Acropolis Museum or National Archaeological Museum?
The Acropolis Museum displays artifacts found only at the Acropolis, while the National Archaeological Museum is the largest museum in Greece with exhibits displaying antiquities from all periods of Greek history and geographical locations.
Are museums closed in Athens?
The museums in Athens are now open for visitors, with some restrictions due to Covid 19. In order to enter, you will need to take with you a form of ID and a vaccination certificate.
Is the Acropolis Museum worth it?
The Acropolis museum is often rated as one of the best museums in the world, and has some fascinating collections which will help the visitor understand the ancient city of Athens better.
Does Acropolis ticket include museum ticket?
The entrance ticket to the Acropolis does not include admission to the Acropolis Museum. The archaeological site and museum are run separately, and you will need a ticket for each one.
Other museums in Athens to consider
Here's some other important museums you might want to consider visiting if you have extra time in the Greek capital:
---
More Athens Blog Posts
You might find these Athens travel blog posts useful in planning your trip. You can also sign up for the newsletter below for my free travel guides.
Planning a trip to Athens? You might want to add the image of the top 5 museums in Athens below to your pinterest board.
---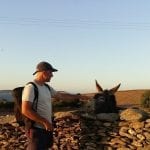 –
Dave Briggs
Dave is a
travel writer
based in Athens, Greece since 2015. He's visited over 50 Athens museums in order to create this guide to the best museums in Athens Greece, and written hundreds more guides to other Greek islands and destinations. Follow Dave on social media for travel inspiration from Greece and beyond: