Taking the ferry from Athens to Sifnos, you'll most likely leave from Piraeus Port. This guide includes Sifnos ferry information such as schedules and times.
Sifnos island in Greece
Even though Sifnos is a relatively famous destination in Greece, it still retains its authenticity. It's popular among Greeks, not least for its rich culinary tradition, which is renowned all around the country.
Sifnos has a good mix of everything. Lovely beaches and interesting hiking trails, but also great tavernas, nice cafes, and chilled bars.
Combine that with traditional villages, plenty of history and the delicious food, and Sifnos will easily become your next favourite Greek island in the Cyclades.
Sifnos is easily accessible from Athens. During summer, there are several ferries a day from the port of Piraeus.
Sifnos Ferry Information
The island has no airport, so you'll need to get a ferry to Sifnos from Athens.
During the summer, there are daily crossings by ferry from Piraeus to Sifnos. According to demand, additional services may also leave from the smaller Lavrion Port of Athens.
I find that Ferryhopper is the easiest place to look for up to date timetables and schedules for the ferries from Athens to Sifnos. You can also book Sifnos ferry tickets online using the same site.
Booking a ferry from Athens to Sifnos
Summer is the peak tourist season in Greece, and during August you may find there are four ferries per day sailing to Sifnos island Greece from Athens.
Some of the ferry operators providing connections on the Athens Sifnos routes include: Zante ferries, SeaJets, and Aegean Speed Lines.
Generally speaking, the faster the boat, the more expensive the ticket is. For example, SeaJets are typically faster crossings to Sifnos from Athens, but more expensive.
Travel times from Piraeus Port to Sifnos can be as little as 2 hours and 20 minutes. The slower boats leaving from Lavrion Port to Sifnos can take up to 8 hours to make the crossing.
More information here: Ferryhopper
Sifnos Island Travel Tips
Make your Sifnos trip planning a little easier with these insights:
---
---
---
---
---
What to see in Sifnos Greece
Some of the highlights of Sifnos island you'll want to experience include:
Observe the local architecture in the main town, Apollonia, and the nearby Artemonas
Explore the traditional Kastro village, the ancient capital of the island
Visit the archaeological museum and the chapel of the 7 Martyrs at Kastro
See as many churches as you possibly can
Follow one of the numerous hiking trails
Taste the famous local chickpea dish, goat meat and local bakery goods
Enjoy the beautiful beaches like Vroulidia, Seralia, Gialos, Poulati and Glyfo
FAQ About Traveling To Sifnos
People planning to travel between Athens and Sifnos ask similar questions such as:
How do you get to Sifnos from Athens?
Sifnos island does not have an airport, so the only way to reach it is by ferry from Athens. During the summer, most of the ferries to Sifnos leave from Piraeus Port, Athens.
How do you get to Sifnos from UK?
There are no direct flights to Sifnos from the UK. The best route, would be to take a flight to Athens International airport, travel to Piraeus Port by taxi or public transport, and then take a ferry from Piraeus to Sifnos.
Where does the Sifnos ferry leave from in Athens?
During the summer, there are up to 4 ferries per day leaving from the port of Piraeus and sailing to Sifnos. There are also occasional, longer ferry connections from Lavrion to Sifnos during summer.
How long is the ferry from Athens to Sifnos?
The quickest ferry from Athens to Sifnos is just 2 hours and 10 minutes. The slowest ferry can take over 8 hours. In terms of prices, the quicker the ferry ride, the more expensive the ticket.
---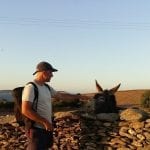 – Dave Briggs
Dave is a travel writer who's been living in Greece since 2015. He spends his time visiting and then writing about the Greek islands. It's a tough job, but someone has to do it!
Follow Dave on social media for travel inspiration from Greece and beyond: Facebook, Twitter, Pinterest, Instagram, YouTube.