There are up to 6 ferries per week leaving from Piraeus to Sikinos island. This guide explains how to travel from Athens to Sikinos in more detail.
Sikinos island in Greece
A quiet, off-the-beaten-track island, Sikinos is not for everyone. Strictly speaking, there is not too much to do – but this is exactly why this island is so special.
Sikinos has a handful of beaches, a few hiking trails and a couple of villages. There is a small selection of tavernas and cafes, and you can easily see all of the island in one day.
Yet, if you are looking to relax and get away from it all, Sikinos is one of the best islands in the Cyclades. It's certainly one of my favourites!
How to get from Athens to Sikinos
Sikinos is one of the more difficult Cyclades islands to get to from Athens. During the summer, there is only a limited selection of ferries, and during the winter these become even scarcer.
The ferry companies operating services on this route during the summer high season are Zante Ferries and SeaJets.
Zante Ferries have the most consistent ferry schedule, with 3 and sometimes 4 ferries per week sailing directly to Sikinos from Piraeus port.
They provide a large conventional ferry, and it's quite a slow crossing time at over 8 hours. These ferry services also operate throughout the winter, providing an important connection for people living on the island.
SeaJets provide a high speed ferry service also leaving from Athens and Greece's main port of Piraeus. These ferry services operate only according to seasonal demand, which means it's more likely to run in August than any other month.
Ferry Schedules and Tickets
When planning your ferry trip to Sikinos from Piraeus, I recommend Ferryhopper. You can check the latest timetables and book ferry tickets online all in one easy to use place.
Once in Sikinos, you can travel on to surrounding Greek islands by using local travel agencies if you prefer. This ferry timetable shown below was from when I last visited in 2020.
Sikinos Island Travel Tips
Make your Sikinos trip planning a little easier with these insights:
Booking can help you find good hotels in Sikinos island to stay at.
---
Greek island hopping to destinations like Sikinos is easier with the Ferryhopper website.
---
---
Use Welcome to pre-book taxi drop-offs and pick-ups at Piraeus
---
Pack a few good books – Sikinos is a great place to catch up on some reading in a relaxing environment!
---
What to see in Sikinos Greece
Some of the highlights of Sikinos you'll want to experience include:
Enjoy the few quiet beaches in Sikinos
Hike around the island
Visit the pretty Chryssopigi monastery, a short walk from the main town
Enjoy a sunset meal at Manalis winery
Explore the starry sky on a moonless night
Finish that book you've been meaning to finish. There's also a bookstore if you forgot to bring it!
My travel guide on the Best things to do in Sikinos will help you plan your itinerary in more detail.
FAQ About Traveling To Sikinos
People planning to travel between Athens and Sikinos ask similar questions such as:
How do I get to Sikinos?
Sikinos does not have an airport, and so the only way to reach the island is by ferry. There are approximately 3 ferries per week leaving from Athens to Sikinos. There are also other ferry connections from surrounding Greek islands such as Ios to Sikinos.
Is there an airport on Sikinos?
The island of Sikinos does not have an airport. The closest airport to Sikinos is over on Santorini island, just a short ferry journey away from Sikinos. Some locals from Sikinos wanting to travel to Athens prefer to go to Santorini first, and then fly to Athens from there, especially in the winter.
Where does the Sikinos ferry leave from in Athens?
The ferry to Sikinos leaves from Piraeus Port in Athens. During the summer, there can be 3 ferries per week sailing from Piraeus to Sikinos, making stops at a few other Greek islands along the way.
How long does the Athens to Sikinos ferry take?
The journey takes around 8 hours and 25 minutes from Athens to Sikinos using Zante ferries. Ferries depart from Piraeus Port in Athens.
How do I buy ferry tickets for Sikinos?
One of the best places to look at ferry timetables and to book tickets to Sikinos online is at Ferryhopper.
More travel guides
You might also be interested in reading:

So if you're in the mood for a relaxing escape and want to experience one of Greece's most beautiful islands, consider checking out Sikinos. To get there from Athens will require at least 8 hours on board conventional ferries, and during the summer, the Piraeus Sikinos ferry crossing operates at least every other day.
Do you have any experiences sailing the Piraeus Sikinos ferry route you could share with other travelers? Any questions about Greek ferries or travel destinations in the Cyclades group? Please leave a comment below, and I'll do my best to answer!
---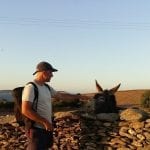 – Dave Briggs
Dave is a travel writer who's been living in and traveling around Greece for eight years. He prefers the quieter destinations such as Sikinos island, and creates useful guides likes this one to help others experience Greece the same way.
Follow Dave on social media for travel inspiration from Greece and beyond: