You can travel from the Lavrio port in Athens to Thirasia by ferry during the summer in Greece. This guide shows your Thirasia ferry options.
Thirasia island in Greece
Thirasia (also known as Therasia) is relatively unknown, even among Greeks, and has largely kept its authenticity. These two facts are both rather strange, given that the tiny island is next door to Santorini.
You can spend your time in Thirasia walking, swimming, relaxing and tasting the excellent food. If you found Santorini too crowded, its shy neighbour is a great addition to your Greek vacation.
Here is an interesting fact about Thirasia. Back in the 18th century, there was a mine here, from where a mineral called pozzolana was obtained. During extraction works, the miners came across ancient ruins, including a skeleton. This inspired archaeologists to excavate the wider area, subsequently discovering the famous archaeological site of Akrotiri in Santorini.
You can easily visit Thirassia on a day trip from Santorini, but some people choose to stay for a few days. In summer, it is usually possible to travel by ferry from Lavrio port.
How to get from Athens to Thirasia
To be honest, the easiest way to get to the island of Thirasia is to first travel to Santorini. As you might expect, Santorini has a huge selection of connections when it comes to ferries, and it is also one of the Greek islands with an airport.
I've a full guide here on how to get from Athens to Santorini.
Once in Santorini, you would then need to get a local ferry over to Thirasia. I've a guide here on the Santorini to Thirasia ferry services.
Ferries to Thirasia from Athens
During the summer, there are only a few direct ferries to Thirasia leaving from the ports of Athens. These are quite infrequent, and it depends year on year as to how many Thirasia ferry crossings there will be – if at all.
When there are Athens Thirasia ferry connections, they normally leave from Lavrion port.
As mentioned earlier, most travelers will probably find it more convenient to first travel to Santorini.
For up to date ferry schedules, timetables and prices to both Santorini and Thirasia, take a look at Ferryhopper.
Thirasia Island Travel Tips
Make your Thirasia trip planning a little easier with these insights:
Booking is probably the best place to book hotels in Thirasia online.
---
For Thirasia ferry tickets from Athens, check out the Ferryhopper website.
---
It's advised to book accommodation and ferry tickets for the Cyclades islands well in advance if traveling during the popular high season.
---
Try to be at ferry ports at least an hour before the departure of ferry trips.
---
---
What to see in Thirasia Greece
Some of the highlights of the small island of Thirasia you'll want to experience include:
Enjoy the popular caldera views from Manolas, the capital of the island
Visit the Monastery of Kimisis Theotokou up on the hill, seemingly at the end of the world
Explore the semi-abandoned Agrilia village with the beautiful church dedicated to Virgin Mary
Hike around the island (bring comfy shoes!)
Swim at the wild, black beaches of Thirassia
FAQ About Traveling To Thirasia
People planning to travel between Athens and Thirasia ask similar questions such as:
How do you get to Thirasia from Athens?
The best way to reach Thirasia is to first travel to Santorini, and then take a local ferry ride over to Thirasia. There are some ferries during the summer from Lavrio Port in Athens to Thirasia, but they are infrequent.
Is there an airport on Thirasia?
The island of Thirasia does not have an airport. Santorini, the island right next door does have an airport which accepts both domestic and some international flights.
Where does the Thirasia ferry leave from in Athens?
The summer ferries from Athens to Thirasia leave from Lavrion Port in Athens. If you prefer to travel to Santorini first, ferries leave from Rafina and Piraeus as well.
How long does the Athens to Thirasia ferry take?
The direct ferry from Lavrio Port to Thirasia takes over 8 hours to complete, stopping at a few other Greek islands in the Cyclades along the way.
How do I buy ferry tickets for Thirasia?
The best place to buy Greek ferry tickets online is at Ferryhopper. It's an easy to use website, which makes the whole process of Greek island hopping a lot easier!
Where can I find ferry schedules for ferries in Greece?
While each ferry operator has their own website, it's best to look at ferry timetables for popular destinations in Greece in one place such as Ferryscanner.
---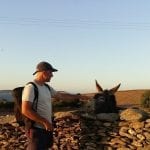 – Dave Briggs
Dave is a travel writer who's been living in Greece since 2015. He's used that time wisely (or so he thinks) by traveling to dozens of Greek islands and writing about them. It's a hard job, but someone has to do it!
Follow Dave on social media for travel inspiration from Greece and beyond: