During the summer months, there is one ferry per day sailing from Folegandros to Amorgos island in Greece. The travel time is around 2 hours and 25 minutes.
Folegandros Amorgos Ferry Route
You can travel to many other islands in the Cyclades group by ferry from Folegandros, and one of the more interesting choices is Amorgos.
This ferry service from Folegandros to Amorgos operates only during the high season (typically June through until September). As it's really a route laid on for tourists, the ferry type used is a high speed vessel rather than a slower conventional ferry.
The trip duration for the ferry ride from Folegandros to Amorgos is just 2 hours and 25 minutes, and the ferry company providing the crossing is SeaJets.
You can find prices and the latest schedules for the high speed ferry to Amorgos from Folegandros here at Ferryhopper.
Travel Times and Prices
A quick insight into the price you might expect for Greek ferries on the Folegandros Amorgos ferry route – They are not cheap!
Despite the journey times being relatively short, you pay a premium for such a quick crossing, and SeaJets are the more expensive of the Greek ferry companies.
You should expect tickets for this route to be around 79.90 Euro.
Plan you itinerary, check the ferry schedule and more at Ferryhopper.
Amorgos Island Travel Tips
A few travel tips for visiting Amorgos:
Ferries sail from Karavostasis port in Folegandros. Arriving ferries dock at Katapola ferry port in Amorgos. Passengers are advised to be at island ports at least a half an hour before the ferry is due to depart.
---
For hotels in Amorgos, I recommend looking at Booking. They have a great selection of places to stay in Amorgos and areas to consider staying include Chora, Katapola, and Egiali / Aegiali. If you are traveling to Amorgos in the busy summer months, I advise reserving apartments in Amorgos a month or so in advance.
---
Readers recommend visiting the following beaches in Amorgos: Agia Anna, Agios Pavlos, Mouros, Kalotaritissa, Levrosos, Egiali, and Psili Ammos. Check out my guide on what to do in Amorgos to plan your itinerary there!
---
One of the best places to look at ferry schedules and to book tickets online for trip in the Cyclades islands is at Ferryhopper. I suggest you book your Folegandros to Amorgos ferry tickets in advance, especially during the busiest months for travel.
---
---
---
Ferry route Folegandros to Amorgos FAQ
Questions about about traveling to Amorgos from Folegandros include:
How do I get to Amorgos from Folegandros?
The only way to go to from Folegandros to Amorgos is to take a ferry. There is 1 ferry a day sailing to the Cyclades island of Amorgos from Folegandros.
Is there an airport on Amorgos?
As there is no airport on the island of Amorgos, the only way to make the trip from Folegandros to Amorgos is to use a ferry.
How many hours is the ferry from Folegandros to Amorgos?
The ferries to the Greek island of Amorgos from Folegandros take around 2 hours and 25 minutes on a high speed ferry. Ferry operators on the Folegandros Amorgos route may include SeaJets.
Where do I buy ferry tickets to Amorgos?
I find that the Ferryhopper website is the best place to book ferry tickets online. I suggest you book your Folegandros to Amorgos ferry tickets in advance. You might also go to a travel agency in Greece after you arrive. You can find travel agencies selling ferry tickets in or around the port areas and main town.
---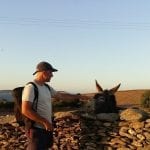 –
Dave Briggs
Dave is a
travel writer
currently based in Greece As well as writing this travel guide about ferries from Folegandros to Amorgos, he's written hundreds of other insightful travel guides to Greek islands and destinations. Follow Dave on social media for travel inspiration from Greece and beyond: