There are 6 or 7 ferries per week sailing from Folegandros to Sikinos island in Greece. The average travel time for the crossing is 40 minutes.
Folegandros Sikinos Ferry Route
Sikinos is the closest island to Folegandros, and is a good choice for a 'next island to visit'.
If you've never heard of Sikinos before, it's hardly surprising. This is one of the quietest Cyclades islands, with a very laid back pace of life.
I have to say it's one of my favourite islands in Greece – a perfect destination to read a few books, relax and unwind!
During the high season (July and August), you may expect 6 or 7 ferries per week from Folegandros to Sikinos. These ferries to Sikinos from Folegandros are operated by Blue Star Ferries, Maistros Santorini, Zante Ferries, and sometimes SeaJets.
Check the latest ferry schedules and get an e ticket at: Ferryhopper
Folegandros to Sikinos Ferry Companies and Travel Times
If Blue Star Ferries are sailing the day you want to travel, I'd suggest using this ferry. At just 4.50 Euro for a passenger ferry ticket, it's unlikely you will find a much cheaper ferry ride in Greece!
Maistros Santorini and Zante Ferries are unlikely to be much more expensive, and the travel time for all three ferry companies is 4- – 45 minutes.
You might find on some days that a SeaJets vessel operates on the Folegandros Sikinos ferry route. This crossing take just 15 minutes, so you will barely feel you're onboard! faster ferries do normally have higher price tags though.
The easiest way to book ferry tickets online is by using Ferryhopper.
Sikinos Island Travel Tips
A few travel tips for visiting the Cyclades island of Sikinos:
Sikinos ferries depart from Karavostasis port in Folegandros. Passengers should be ready at the ferry port at least a half an hour before departure.
---
Greek ferries arrive at Alopronia port in Sikinos. If you don't have a car and have already arranged somewhere to stay, your hotel owner will likely meet you at the port.
---
In the area around the Port of Sikinos, you will find ATMs, mini-market and a gas station. There is also some availability for renting vehicles located here.
---
For where to stay in Sikinos, have a look at Booking. They have a great choice of hotels in Sikinos, and areas to consider staying include the island's capital Chora, and Alopronia. If you are traveling to Sikinos in the the busiest months of summer, I advise reserving accommodation in Sikinos a month or so in advance.
---
---
Spend time on some of the top rated beach in Sikinos: Dialiskari, Alopronia, and Agios Georgios. Take a look at my guide here on things to do in Sikinos.
---
Ferryhopper is perhaps the easiest site to use when it comes to checking prices, timetables, and buying tickets for the ferry from Folegandros to Sikinos online. I suggest you book your Folegandros to Sikinos ferry tickets in advance, especially during the busy summer months.
---
For travel tips and all the information you need about Sikinos, Folegandros and other Greek islands in the Cyclades group sign up for my newsletter.
---
---
How to make a trip from Folegandros to Sikinos FAQ
Some commonly asked questions about traveling to Sikinos from Folegandros that readers sometimes ask when planning their itineraries include:
How can you get to Sikinos from Folegandros?
The only way to make the journey from Folegandros to Sikinos is by ferry. There are 6 or 7 ferries per week sailing to the Greek island of Sikinos from Folegandros. The frequency will vary depending on the time of year.
Which ferry companies sail from Folegandros island to Sikinos?
Ferry operators on the Folegandros Sikinos route may include Blue Star Ferries, Maistros Santorini, Zante Ferries, and sometimes SeaJets.
How long is the ferry crossing from Folegandros to Sikinos?
The ferries to the island of Sikinos from Folegandros normally take between 40 minutes and 45 minutes. If the SeaJets boat is sailing, the journey times can be as little as 15 minutes!
Where can I buy tickets for the ferry to Sikinos?
The easiest way to get hold of ferry tickets for the route Folegandros to Sikinos and other destinations is by using Ferryhopper. I suggest you book your Folegandros to Sikinos ferry tickets in advance, but you could also wait until you are in Greece, and use a travel agency.
If you're looking for a ferry Folegandros to Sikinos, there are several options using a conventional ferry. Most ferries take around 45 minutes to complete the trip. You can normally buy food and snacks on board the boat. If you want the best price that still offers great service, go with Blue Star Ferries!
---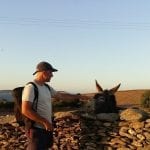 –
Dave Briggs
Dave is a
travel writer
who has been based in Greece since 2015. In addition to writing this guide on the ferry routes from Folegandros to Sikinos, he's written many more guides to Greece and the islands. Follow Dave on social media for travel inspiration from Greece and beyond: