There are 5 or 6 ferries per day sailing from Rafina port of Athens to Andros island in Greece. The crossing takes about 2 hours.
You can only reach Andros by ferry from Athens. Ferries to Andros depart Rafina Port. These travel tips show what to expect, where to find up to date schedules, and how to easily book ferry tickets online.
Visit Andros Island Greece
If you are looking to visit a Greek island close to Athens, Andros might be the right choice for you. This beautiful Greek island boasts over 170 beaches and coves, great hiking trails, lovely villages and some cool museums.
For local Greeks, it's a popular weekend break destination from Athens. For foreign visitors, it's an island that often gets overlooked in favour of 'big name' island destinations in Greece such as Santorini or Mykonos.
Whether you want to visit Andros for a short break, or use it as the stepping stone to go Greek island hopping in the Cyclades, you first need to get there.
You can look for Athens to Andros ferry connections, schedules, and book tickets here: Ferryhopper
How to get to Andros from Athens
Like many other Greek islands, Andros doesn't have an airport. The only way to get from Athens to Andros is by ferry.
You might be familiar with Piraeus Port and think you would leave from there. In fact, Andros is located quite far from Piraeus, the main Athens port, and you can only travel to Andros by ferry from Rafina port.
** Paperback Travel Guide to Andros and Tinos now available on Amazon! **
Rafina Andros Ferry Route
If you have ever been to Piraeus port you might have been a little overwhelmed, especially if you used public transport to get there. At Rafina Port, get ready for a much simpler, nicer port experience!
Rafina port is a far smaller and friendlier port compared to Piraeus. Even if there are two or three ferries departing at roughly the same time, it is still very easy to locate your ferry.
Queues can sometimes build up at the entrance to the port though, especially in the high season, so aim to be ready at the port an hour before the Andros ferry departs.
Athens Andros Ferry Schedules
There are three main ferry companies operating on the Athens to Andros ferry route, which are Fast Ferries. Sea Jets and Golden Star Ferries.
These companies all have several ferries departing on a daily basis from Rafina to Andros, with morning, afternoon and evening options available.
Most of the ferries take around two hours to make the journey. From time to time a quicker one hour ferry journey might be scheduled.
We generally find the slower, conventional ferries more pleasant to travel on. The trip is about 2 hours long, so you will still barely feel it. Plus, they are slightly cheaper.
Ferry ticket prices for passengers in the summer start from 20.50 Euros.
I recommend using Ferryhopper as a way to check for ferry routes and to book tickets online. It's a very simple to use website, and cuts out the 'It's all Greek to me' problems!
Rafina to Andros on the SeaJets
For 2022, the well-known SeaJets company operate their vessel SuperStar which takes 1 hour and 50 minutes for the ferry trip from Rafina Athens to Andros island.
SeaJets may also add other vessels into the schedule depending on seasonal demand. If they do, it is likely to be a high speed ferry which covers the distance in half the time.
Going from Rafina to Andros on the Golden Star Ferries
Another company serving this route are the Golden Star Ferries. Τhe Superferry and the Superferry II go to Andros once or twice per day. The trip lasts about 2 hours.
These ferries are both large, over 120 metres long, and they also take vehicles. Ticket prices start at 20.50 euro for a deck seat.
Taking the Fast Ferries from Rafina to Andros
Another company serving this route is Fast Ferries. They currently have two ferries on the route, called Theologos P and Fast Ferries Andros. Both of them are about 115 metres long and take vehicles.
Ticket price are similar to the Golden Star Ferries, starting at 21 euro per person, and the trip takes about 2 hours.
My Experiences on the Rafina to Andros route
In 2019, we travelled on the Aqua Blue ferry, operated by Seajets. It was a good trip, and as we travelled at the end of August, there were very few passengers. In fact, we used the same ferry to go to Tinos, and then return to Rafina.
For 2022, this ferry no longer serves the Rafina – Andros route. However, the conventional ferries run by Golden Ferries and Fast Ferries are fairly similar.
All of our trips went very smoothly, although on one occasion, the ferry took around 45 minutes to dock in Andros port, as the winds were very strong. It was strange, because while on the boat, we had barely felt the waves!
Which reminds me – if you haven't heard about the Meltemi Winds in Greece, you should go and read up on it now before planning an island hopping trip in the Cyclades Islands!
There was plenty of seating on the ferry, both inside and outside for people who want to enjoy the views. Whilst coffee and snacks are available on the crossing from Rafina to Andros, these are sold at inflated prices. It's better to bring your own!
I've a full guide here on tips for traveling by ferry in Greece.
Taking a car on the ferry
As we have our own car in Athens, we took it over on the ferry with us. Driving up the ramp and onto the ferry is always a bit of an experience, as the boat staff are always in a rush!
For most tourists though, I would say that it makes sense to travel as foot passengers, and then hire a car in Andros on arrival. This way, you save the cost of a ticket for the car, which if memory serves me correctly, was around 40 Euro one way.
You should also note, that your insurance may not cover you on ferry crossings for a rental car hired in Athens. In some cases, their terms and conditions may state you can't take the car on a ferry at all. Read my tips for renting a car in Greece for more details.
If you plan to continue on to another island in the Cyclades, again I would suggest traveling as foot passengers and hiring another car at the next destination.
How to get to Andros from Mykonos
Andros and Mykonos are very well connected. All the ferries mentioned above continue to Mykonos. They take anywhere from 1 hour 15 minutes to 2.5 hours to reach the popular island. On the way, they first stop at Tinos, another of our favourite Greek islands.
If you have spent a few days in cosmopolitan Mykonos and want something more relaxed, definitely look into Andros. I've a guide here on the Mykonos to Andros ferry.
Getting from Andros to more Greek islands
Apart from Mykonos and Tinos, Andros has connections with several other islands. You can easily continue your Greek island-hopping adventure and go to Paros or Naxos.
On every Thursday, there is also a direct connection with Syros. The easiest option is Tinos (one of our favourite Greek islands).
Some islands aren't as well connected though. For example, getting from Santorini to Andros will probably involve swapping ferries, most likely in Mykonos.
I've a nice guide here on how to get from Athens to the Cyclades islands.
Athens to Andros FAQ
Reader planning to travel to Andros by ferry from Athens often ask questions similar to:
How long is the ferry from Athens to Andros?
The Athens Rafina ferry to Andros takes just under 2 hours. Ferry companies currently offering services include Golden Star Ferries and Fast Ferries.
Can you fly direct to Andros Greece?
The island of Andros in Greece does not have an airport, so travelers would first need to land at Athens International, transfer to the port of Rafina, and then take a ferry to Andros.
Where can I buy Greek ferry tickets?
You can buy Athens Andros ferry tickets at travel agencies or online. A good website to check ferry schedules and book tickets is Ferryhopper.
How do I get from Athens to Rafina port?
The port of Rafina is about 30 kms from Athens city center, and can be reached by bus or taxi. A bus takes around 1 hour and 15 minutes. A taxi takes around an hour.
How many days do I need in Andros Greece?
3 days would be an ideal time to see the highlights of Andros island in Greece, although a few days longer would help you appreciate its depth, culture and beaches more.
Andros is a beautiful Greek island with plenty of history and culture, breathtaking views, and the most beautiful beaches. In order to explore Andros, you'll need to get there first, and the only way to travel to Andros is by ferry. The ferry ride takes about 2 hours from Rafina Athens Port to Andros.
Do you have any questions about getting to Andros from Athens? Leave a comment below and I'll do my best to answer!
More Guides to Andros
---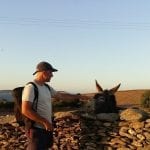 –
Dave Briggs
Dave is a
travel writer
living in and writing about Greece. In addition to writing this travel guide on how to get to Andros in Greece, he's created hundred's more travel guides and posts on Dave's Travel Pages. Follow Dave on social media for travel inspiration from Greece and beyond: