There are 10 ferries per week sailing from Folegandros to Sifnos island in Greece, and journey times average at 2 hours.
Folegandros Sifnos Ferry Route
Both Folegandros and Sifnos are Greek islands in the Cyclades group, and travel between them is easily done using the Greek ferry system.
During the summer months (June until September), there are 10 ferries a week sailing between Folegandros and Sifnos.
Outside of the high season, the frequency of Greek ferries sailing this route is reduced to just three ferries per week. At least you can travel Folegandros Sifnos year round though!
Ferry Operators Folegandros to Sifnos
There are currently two ferry companies providing services between Folegandros and Sifnos. These are Zante Ferries and SeaJets.
Zante Ferries operate a conventional ferry which means you can take vehicles onboard. SeaJets have a high speed ferry, but there they do not take cars.
Both ferry companies have direct ferries going from Folrgandros to Sifnos, although there may be brief stops at some other islands along the way.
You can check trip duration and prices for tickets at Ferryhopper.
Zante Ferries Folegandros to Sifnos
Traveling in the Zante Ferries boat is the cheapest option and travels year round. Ticket prices for passengers start at just 9.00 Euros.
Normally, conventional ferries such as these have slower travel times. During the off season the Sifnos ferry from Folegandros can take 3 hours and 55 minutes. In the summer, the travel time is quicker at around 2 hours and 15 minutes depending on the route it takes.
I find that Ferryhopper is a good website to check the Sifnos ferry schedule and book e tickets online.
SeaJets Folegandros to Sikinos
SeaJets can be classed as offering tourist vessels, as they normally only sail ferry routes such as this during the summer season.
Offering a high speed ferry type, the sailing duration is often quicker, but it does come at a premium. Expect a ferry ticket price for this trip to start at 57.50 Euro for passengers.
As mentioned previously, you can't take your car on this Sea Jets highspeed ferry.
I find that Ferryhopper is a good website to use to book ferry tickets online.
Sifnos Island Travel Tips
A few travel tips for visiting Sifnos and planning your destination itinerary:
Ferries sail from Karavostasis ferry port in Folegandros. Try to be there a half an hour before departure if you have your ticket already.
---
Ferries arrive at Kamari port in Sifnos.
---
Areas to consider staying in Sifnos include Kamares, Platis Gialos, and Apollonia. Look at this guide to choose a hotel in Sifnos.
---
If you are traveling to Sifnos in the the busiest months of summer, I advise booking your hotels several months in advance.
---
For some quality beach time, head to these beaches in Sifnos: Gialos, Platis Gialos, Vathy, Herronisos, Seralia, Apokofto, and Kamares.
---
One of the best places to look at ferry schedules and to book tickets online for most ferries is at Ferryhopper. I think it's better that you book your Folegandros to Sifnos ferry tickets in advance, especially during the height of summer.
---
---
---
How to make a journey from Folegandros to Sifnos FAQ
A few common question about traveling to Sifnos from Folegandros include:
How do I get to Sifnos from Folegandros?
The only way to take a trip from Folegandros to Sifnos is to use a ferry. There are up to 10 ferries per week sailing to the Cyclades island of Sifnos from Folegandros.
Is there an airport in Sifnos?
As there is no airport in the Greek island of Sifnos, the only way to get from Folegandros to Sifnos is by using the ferry network. The closest airport to Sifnos is at Milos or Paros.
How many hours is the ferry from Folegandros to Sifnos?
The ferries to the island of Sifnos from Folegandros take between 2 hours and 3 hours and 55 minutes. Ferries are operated by SeaJets and Zante Ferries. on the Folegandros Sifnos route.
Where do I buy ferry tickets to Sifnos?
Ferryhopper is perhaps the easiest site to use when it comes to booking Ferry tickets online. I think it's better that you book your Folegandros to Sifnos ferry tickets in advance, you could also wait until you are in Greece, and use a travel agency.
---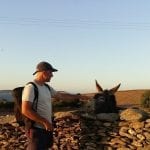 –
Dave Briggs
Dave is a
travel writer
currently based in Greece As well as creating this travel blog post about ferries from Folegandros to Sifnos, he's also written many more travel blogs about destinations in Greece. Follow Dave on social media for travel inspiration from Greece and beyond: