During the summer, there is one daily ferry from Folegandros to Naxos operated by SeaJets, supplemented by a weekly ferry crossing provided by Blue Star Ferries.
Folegandros Naxos Ferry Route
If you want to island hop between the Cyclades islands of Folegandros and Naxos in Greece, you'll find there are 8 ferries a week.
These ferries from Folegandros to Naxos are split into a daily ferry run by the SeaJets ferry company, and a weekly service operated by Blue Star Ferries.
Ferry schedules for these trips can be found at Ferryhopper.
SeaJets Ferry Folegandros Naxos
The SeaJets ferry mainly operates between these two Greek islands in the high season (June through to September). This is a direct ferry, but due to some additional stops at island ports along the way, the travel times are about 4 hours.
Sailing daily, the ferry leaves Folegandros at 11.30 in the morning, and arrives at Naxos at 15.30, making it a reasonably convenient crossing.
This is the best ferry to take in terms of regularity, but it's not cheap. Expect ticket prices to start at around 59.70 Euro.
The simplest place to look at schedules and timetables for Greek ferry routes is at the Ferryhopper website.
Blue Star Ferries Folegandros to Naxos
Blue Star Ferries operate a year round crossing between Folegandros and Naxos, but it only sails once a week (usually a Saturday).
Unlike the SeaJets, the Blue Star boat is a conventional ferry, and it can take vehicles. If you are traveling with you own car, this is a useful option to know about. However, keep in mind that car rental companies in Greece don't like you taking their hire cars on ferry services. Read more here about renting a car in Greece.
The Blue Star Ferries trip is your cheapest way of getting from Folegandros to Naxos. Tickets for passengers start at just 10 Euros.
Check the latest ferry schedule and price at Ferryhopper.
Naxos Island Travel Tips
A few travel tips that will help you plan a vacation itinerary and explore Naxos island:
Ferries sail from Karavostasis ferry port in Folegandros. If you already have your ticket, aim to be at the port at least a half hour before departure.
---
Arriving ferries dock at the port in Naxos Town (Chora) in Naxos. Chora can be a good place to stay for your first visit to Naxos, and has public transport links with the rest of the island.
---
There's lots of accommodation options on Naxos island. I suggest visitors look at staying in Naxos Town, Agios Georgios, Filoti, Agios Prokopios, Plaka, Apollonas, and Moutsouna. I've a complete guide here one where to stay in Naxos.
---
If you are traveling to Naxos in the height of summer, I advise booking hotels in Naxos well in advance of when you arrive.
---
For some quality beach time, head to these beaches in Naxos: Agiassos, Aliko, Agios Georgios, Plaka, Kastraki, Agia Anna, and Psili Ammos. A depper dive guide here: Best beaches in Naxos
---
Naxos is the largest island in the Cyclades group, and there's plenty to see and do in this wonderful destination. The Portara of Naxos maybe the most famous landmark, but there's plenty of other places to see. Take a look at these best things to do in Naxos.
---
The best place to look at Greek ferries online is Ferryhopper. Although I suggest you book your Folegandros to Naxos ferry tickets in advance, especially during the height of the tourist season.
---
---
---
How to get from Folegandros to Naxos FAQ
A few common questions about traveling to Naxos from Folegandros include:
How can you get to Naxos from Folegandros?
The only way to make the journey from Folegandros to Naxos is to travel by ferry. There are 8 direct ferries per week sailing to Naxos from Folegandros.
Which ferry operators sail from Folegandros to Naxos?
There are two ferry companies that sail from Folegandros island to Naxos in Greece – SeaJets and Blue Star Ferries.
How many hours is the ferry from Folegandros to Naxos?
The ferries to the Greek island of Naxos from Folegandros take between 3 hours and 15 minutes and 4 hours. Ferry operators on the Folegandros Naxos route may include SeaJets and Blue Star Ferries.
Where can I book ferry tickets online to Naxos?
I find that the Ferryhopper website is the best place to compare prices and book ferry tickets online. Although I suggest you book your Folegandros to Naxos ferry tickets in advance, you could also wait until you are in Greece, and use a travel agency.
I hope this guide has helped you plan your next trip between these two popular destinations in Greece. If you'd like any further insights into the Naxos attractions, where to hike in the island, booking onward tickets, or anything else, please leave a comment below!
---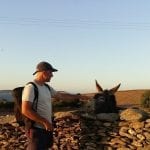 –
Dave Briggs
Dave is a
travel writer
based in Athens, Greece since 2015. In addition to creating this travel guide to ferries from Folegandros to Naxos, he's also written hundreds more travel guides to Greek destinations. Follow Dave on social media for travel inspiration from Greece and beyond: