Kos is the third largest of the Dodecanese islands of Greece, situated between the Greek islands of Nisyros and Kalymnos, and just off the Turkish coast.
Where is Kos located in Greece?
The Greek island of Kos is located in the Aegean Sea, and close by to some of the other Dodecanese islands of Greece such as Kalymnos and Nisyros.
Kos is also only 4 kilometers off the southwestern coast of Turkey. It's so close, you can see the Turkish port of Bodrum from Kos! You can even take day trips from Kos in Greece to Bodrum in Turkey during the summer season.
As the third largest island in the Dodecanese grouping of islands, Kos has plenty to offer visitors. Whether you are looking for parties at night, a quiet family resort, budget hotels or unparalleled luxury, the Greek island of Kos is suitable for everyone!
Kos Map
When you look at a map, you can see that Kos is very close to the Turkish coastline. It's not surprising that many people think that Kos must be part of Turkey because of this!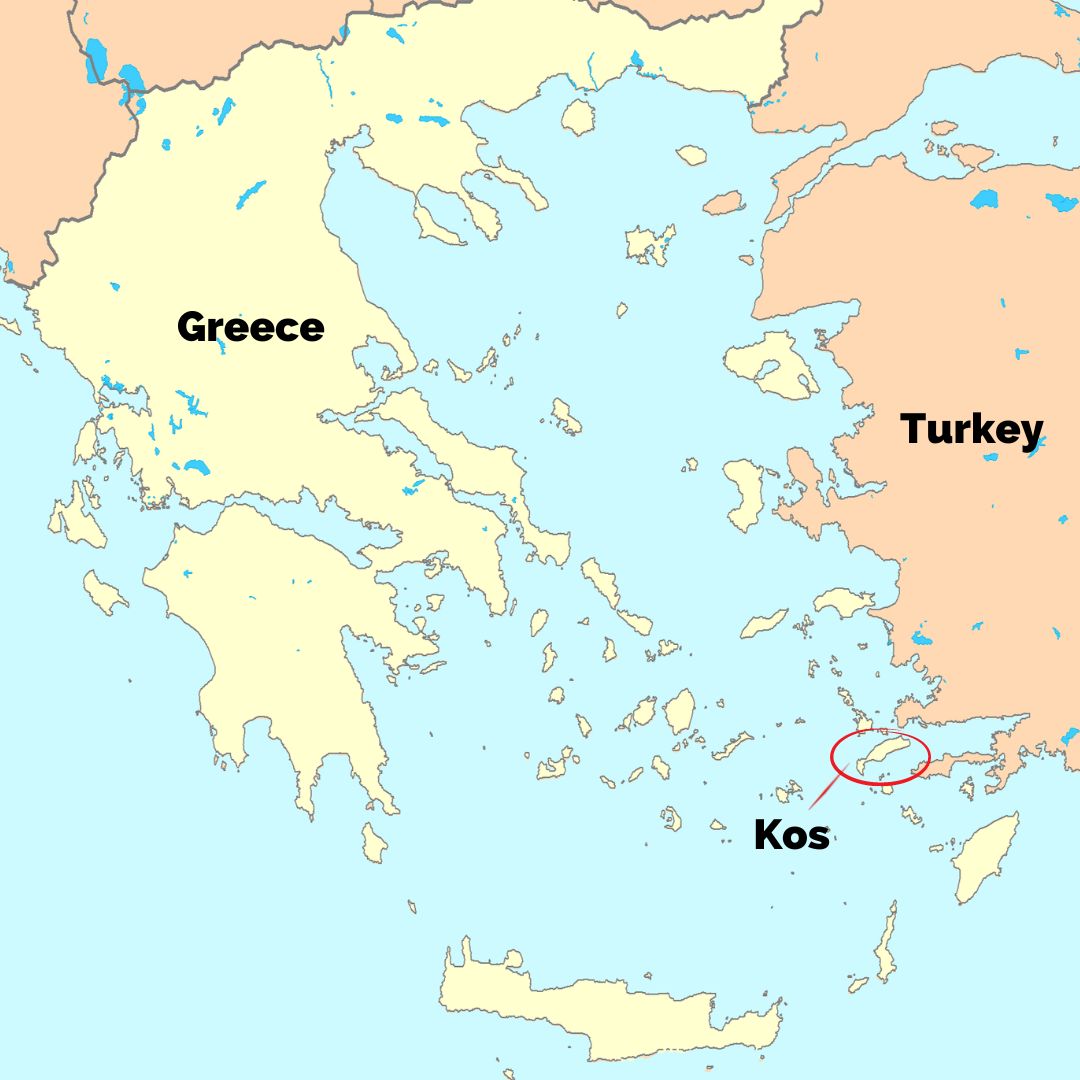 This is not the case though, and the rich history of Kos is testament to this. Known as the birthplace of the Greek physician Hippocrates some 2500 years ago, the Greek people of Kos have lived through many eras and rulers.
The Myceneans, Athenians, Romans, Byzantines, Ottomans, and Italians have all controlled this island at one point or another. Kos, along with the other Dodecanese islands, were finally reunified with the rest of Greece on 7 March 1948.
Visiting Kos Island, Greece
Due to its combination of attractive beaches, good weather, and archaeological sites, Kos is one of the most visited destinations in the Dodecanese archipelago.
With its relatively southerly and easterly location, Kos is also a good choice of island to visit in the shoulder seasons, as the weather stays warmer for longer.
In my experience, Kos is also one of the cheapest islands in Greece to visit, with the food and drink being wonderful and well priced, and a range of accommodation to suit all budgets.
As the beaches in Kos are excellent, it's not surprising that the main tourist activity is sunbathing, swimming, and watersports. But there is much more to Kos island in Greece than just its beaches.
Kos Town has a fascinating old quarter with narrow alleyways and ancient monuments such as the Plane Tree of Hippocrates, while other locations on the island provide plenty of opportunities for hiking and exploring the cultural history of this wonderful Greek Island.
Kos really is a great destination for any holiday in Greece, whether you are looking for relaxation or adventure!
How to get to Kos
As Kos has an international airport that caters to both charter flights and commercial planes from the rest of Europe, getting to Kos is relatively easy.
Brits can reach Kos International Airport from London Heathrow and Gatwick, and now that EasyJet offer flights, there's flights to Kos from Manchester, Liverpool, Glasgow, and Bristol.
TUI also fly from many UK airports, including Midlands airports like Birmingham.
In addition to these UK flights, there are flights between Kos and many European cities.
The Greek islands also have a well developed ferry service, allowing you to travel from other parts of Greece or even Turkey directly to Kos.
Island Hopping From Kos
Due to its location, and there being plenty of other nearby islands, Kos can be a logical start or end point for a Greek island hopping adventure in the Dodecanese.
For example, you could fly into Kos, then take ferries to Nisyros, Tilos, and then to Rhodes. From Rhodes (which also has an international airport) you could then fly back home again. There's also all of the other Dodecanese and Aegean islands to explore – if you have time!
You can look at ferry schedules and buy ferry tickets for Kos and the other Greek islands nearby at: Ferryscanner
Highlights of Kos
I'm currently creating more travel guides about specific areas in Kos. When they are written, I'll link them from here so you have more details. In the mean time, these are some of the attractions the island offers:
Kos Town – Located on the northern tip of Kos, this is the main town on the island and has a huge selection of restaurants, shops, bars, hotels, beaches, and more.
Archaeological Museum of Kos – This museum is located in Kos Old Town at Eleftherias Central Square, and contains a large collection of artifacts from the ancient world, and is well worth visiting.
Asklepion – This ancient healing center was once used by Hippocrates and is an interesting place to explore.
Agios Stefanos Beach – Iconic Kos beach with some interesting ancient ruins nearby that makes for a good photo spot.
Plane Tree of Hippocrates – This old plane tree that marks the spot where the ancient Greek physician Hippocrates taught his students about medicine over 2500 years ago. Or is it really? There's some debate as to this tree!
Ancient Agora – Located in the historic center of Kos Town, this is where ancient Greeks gathered to discuss politics and trade.
Best Beaches Kos
Kos has some fantastic sandy beaches, such as Paradise beach and Kefalos Beach (kind of the same place). Also check out Kardamena beach, Tigaki beach, Mastichari beach, and Marmari beach.
Related:
Island of Kos FAQ
Some of the most commonly asked questions about Kos are:
Is Kos a nice Greek island?
The island of Kos is definitely a great place to visit in Greece. There are plenty of beaches to relax on, as well as plenty of activities like kite surfing, hiking, and kayaking. Where else in the world can you visit an ancient temple, take a trip to a traditional mountainous village, chill on a sandy beach and indulge in tasty Greek cuisine all in the same day?
Is Kos in Greece or Turkey?
Although Kos is located very close to the Turkish coastline, the island of Kos is Greek.
Is Kos near Crete?
Although both islands are in the Aegean Sea, Kos is not super close to Crete, and there are no direct ferry connections between Kos and Crete.
What is the best way to get to Kos?
As Kos has an International Airport, many people will find flying is the most convenient way to get to the island. However, there is also a well developed ferry service offering connections between Kos and many other Greek islands, as well as mainland Greece and Turkey.
---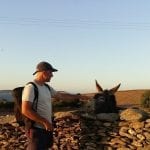 –
Dave Briggs
Dave is a
travel writer
from the UK who's been living in Athens Greece since 2015. As well as creating this guide to where the Dodecanese island of Kos is in Greece, he's created hundreds more guides about cool destinations in Greece. Follow Dave on social media for travel inspiration from Greece and beyond: