You can take either a bus or a taxi from Kos Airport to Mastichari port town, and the distance is just 7 kms (4.35 miles).
Kos Airport – Mastichari Transport Options
If you are landing at Kos airport, and want to get directly to Mastichari port in order to take a ferry to Kalymnos island, you have two options.
One, is to use public transport by taking a bus (the cheapest way), and the other is to take a taxi ride (the fastest way).
Kos Airport Taxi Transfers to Mastichari
A taxi is the easiest way to travel from Kos Airport down to Mastichari. The journey takes just 10 minutes, and you can find a taxi queue outside the arrival terminal.
The cost of a taxi ride from the airport to Mastichari in Kos is between 15 and 23 Euros. Taxis are metered unless you pre-book a private transfer vehicle.
If you are traveling in August, which is the busiest month of the year in terms of tourist numbers, you might prefer to save time and book a taxi ride in advance: Welcome Pickups
Kos Airport Bus to Mastichari
If you are looking to save money, a bus trip from Kos airport to Mastichari might be more suitable, especially for solo travellers. Bus ticket prices are 3.20 Euro and you buy them from the bus driver.
The exact timetable for buses running between Kos Airport and Mastichari change from season to season, and year to year. For example, in summer there may be 5 buses a day, and in winter there are 3 buses.
I'd like to say that the bus departures from the airport are timed so that they meet flight arrivals – but honestly, I don't know for sure!
If you're in luck, you might be able to get on a bus to Mastichari straight away. If your luck is out, you'll have to wait around or take a taxi instead.
Buses can be found right outside the arrivals terminal. They normally continue on to Kos Town after stopping at Mastichari.
Related: Dodecanese Islands Greece
Traveling from Kos Airport Greece FAQ
Some of the other commonly asked questions about getting from Kos Airport to the port town of Mastichari and other places in Kos include:
How far is Mastichari from Kos airport?
Mastichari port town is located just 7 kilometers (4.35 miles) from Kos Airport in Greece. It's a very short distance, and can be traveled by bus or taxi in around 10 minutes, depending on traffic.
How much is a taxi from Kos Airport to Mastichari?
A taxi ride from Kos Airport to Mastichari is relatively inexpensive especially for two or more people, and should cost around 15-23 Euros.
Where can I buy tickets for the Kos airport bus?
Bus tickets can be purchased from the bus driver when you board.
Other articles you might be interested in:
---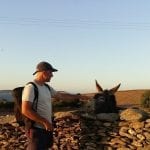 –
Dave Briggs
Dave is a
travel writer
originally from the UK who now lives in Greece. As well as creating on the ways to travel from Kos Airport to Mastichari, he's written hundreds of other travel guides about awesome destinations all over Greece. Follow Dave on social media for travel inspiration from Greece and beyond: