Before planning a Greek island-hopping adventure, it's a good idea to know which of the Greek islands have airports. Here's a list of the Greek islands with airports, and which islands in Greece you can fly to on international and domestic flights.
Which islands can you fly to in Greece? Which Greek islands have international airports?
Islands With Airports In Greece
It can be useful knowing which Greek islands have their own airports when planning your Greek vacation, especially if you want to include more than one destination in your travel itinerary.
For example, if you wanted to visit Athens, Santorini and Mykonos you would have several options of getting around.
One would be to fly into Athens Airport, and then get a flight straight out to Santorini. You could then get a ferry from Santorini to Mykonos, and from there fly back to Athens.
Another, would be to fly directly into Mykonos International Airport, and then get a ferry from Mykonos to Santorini, and a flight back to Athens.
Over in the Dodecanese island group you could do something different. One reader planned to fly from the UK into Rhodes, take ferries to Symi, Nisysros and then Kos, before flying back to the UK from Kos airport.
The options are endless!
In short, knowing where the airports in Greece are can both help you plan you travel itinerary and save on travel costs.
In this guide to which Greek islands you can fly to, I'll give you an overview of which Greek islands have airports, along with other information about flying to the islands of Greece. I've put links to each airports wiki page so you can see what airlines fly in and out of each one.
Flying to the Greek Islands
There's 119 inhabited islands belonging to Greece scattered across the Aegean and Ionian Seas. These are categorized into the following Greek island groups:
Cyclades islands – Aegean Sea (Mykonos, Santorini, Paros, Naxos, Milos etc)
Ionian islands – Ionian Sea (Kefalonia, Corfu etc)
Saronic islands – Saronic Gulf (Aegina, Hydra etc)
Dodecanese islands – Aegean Sea (Rhodes, Patmos, Kos etc)
Sporades islands – Aegean Sea (Skopelos, Skiathos, Alonissos etc)
North Aegean islands – Aegean Sea (Samos, Lesbos etc)
Evia, in the Aegean Sea
Crete, in the Libyan Sea
Each one of these Greek island groups has at least one international airport apart from Evia (Athens International Airport, the biggest airport in Greece, is the closest to Evia).
In addition, many other Greek islands in these groups have domestic airports.
In total there are 13 international airports on the Greek islands, while another 13 islands have a domestic airport.
There are of course some islands which have no airports at all, and can only be reached the traditional way of Island hopping on the ferry network.
Travel tip: Generally speaking, when planning a Greece itinerary, it's best to stick with one island group as it's easier.
List of Greek islands with International Airports
These are the islands in Greece that have international airports. You should note that although they may be classed as international airports, some may only connect with one or two other destinations in Europe, and only at certain times of year.
The islands of Greece with international airports are:
List Greek Islands With National Airports
The airports listed above take both international and domestic flights. Below here, is a list of national airports on the islands of Greece that accept domestic flights only.
Again, some of these airports may only operate seasonally, and with only one carrier.
These airports on Greek islands normally have connections with Athens and/or Thessaloniki, as well as on occasion with some other islands.
The Greek island airports which only accept National flights are:
Airports in Crete
Crete is the largest Greek island, and as you might expect accepts both domestic and international flights. Chania and Heraklion are the two main airports in Crete.
Chania International Airport: Connections to mainly European destinations, as well as domestic flights. Chania airport may have seasonal flights only with many European countries.
Heraklion International Airport: The main airport in Crete, and the second busiest airport in Greece after Athens International.
Sitia Airport: The eastern-most airport in Crete. Technically, this could class as an international airport as there are sporadic connections with Scandinavian airports on charter flights in some years.
Airports in the Cyclades Islands of Greece
Flying into the Cyclades islands is a good way to begin an island hopping adventure in this popular island chain. Both Santorini and Mykonos have a lot of choice when it comes to international flights as well as connections with Athens and Thessaloniki.
The Cyclades islands with airports are:
Milos Airport: The Greek airlines Olympic Air and Sky Express operate flight to Milos from Athens.
Mykonos Airport: Connecting with European destinations as well as other cities in Greece.
Naxos Airport: Considering that Naxos is the largest island in the Cyclades, it's perhaps surprising that it only has a small national airport with connections to Athens.
Paros Airport: From year to year there may be some seasonal charter flights from European destinations. Paros airport also has regular connections with Athens.
Santorini Airport: This airport is really too small for the volume of international and domestic flights it receives!
Syros Airport: Syros may be the capital of the Cyclades, but its single runway accepts only smaller planes mainly from Athens.
You might also want to read – How to get from Athens to the Cyclades islands.
Airports in the Ionian Islands of Greece
Located off the western coastline of mainland Greece, the Ionian islands are a popular holiday destination with Europeans. With international flights connecting Corfu and Zakynthos with key European cities, they are also package tour destinations.
Corfu: A popular holiday destination, especially with Brits, there's international and national flights to Corfu all the year around.
Kefalonia: Kefalonia International Airport (Anna Pollatou) with domestic and international connections.
Kythira: Although classed as an Ionian island, you wouldn't think so if you looked at the map! Connections with Athens.
Zakynthos: With connections to many European cities, Zakynthos or Zante as it is also known is a popular holiday destination during the summer.
Airports in the Dodecanese Islands of Greece
Astypalaia: There are limited flight options, with Sky Express flying to Athens, Kalymnos, Kos, Leros, and Rhodes.
Kalymnos: Sky Express fly from Kalymnos to Astypalaia, Athens, Kos, Leros, and Rhodes.

Karpathos: Some international flight during the summer and autumn.
Kasos: Sky Express operate services flying from Kasos to Rhodes and Karpathos.
Kastellorizo: Olympic Air fly in and out of Kastellorizo Island Public Airport on small planes.
Kos: During the summer there are charter flights connecting some European cities with Kos. Also flight from Athens to Kos on a regular basis.
Leros: The airlines Olympic Air and Sky Express operate flights to Leros from Athens, Astypalaia, Kalymnos, Kos, and Rhodes.
Rhodes: For international travelers, Rhodes is a good entry point into the Dodecanese. Plenty of domestic and international flights to this important island.
Related: How to get from Rhodes Airport to Rhodes Town
Airports in the Sporades Islands
Skiathos: Some seasonal and charter international flights go to Skiathos International Airport, as well as domestic flights to Athens and Thessaloniki.
Skyros: Olympic Air fly to Athens, and Sky Express have flights to Thessaloniki.
Airports in the North Aegean Greek Islands
The islands of the North Aegean do not fall under a specifically identifiable chain such as the Cyclades. Instead, they are a collection of islands that are grouped together for administrative purposes.
Chios: One of the lesser known islands, Chios has flights to the following destinations in Greece – Athens, Thessaloniki, Lemnos, Mytilene, Rhodes, Samos, and Thessaloniki.
Ikaria: One of five designated places in the world where people live the longest, you can reach Ikaria by plane from Athens, Lemnos, and Thessaloniki.
Lesbos: International flight connections with many European destinations, as well as national flights to Athens, Chios, Lemnos, Rhodes, Samos, and Thessaloniki.
Lemnos: Seasonal charter flights arrive in Lemnos from Ljubljana and London-Gatwick. Olympic Air and Sky Express connect Lemnos with Athens, Ikaria, Thessaloniki, Chios, Mytilene, Rhodes, and Samos.
Samos: The birthplace of Pythagoras, Samos has lots of international and domestic flights.
Fun Read: Airport Instagram Captions
Greek Airports FAQ
Readers looking to visit some of the popular Greek islands as well as those off the beaten track often ask questions such as these when trying to locate Greek islands with airports:
What Greek islands can you fly direct to?
There are at least 14 Greek islands that have connections with international destinations, mainly in Europe. Popular islands with international airports include Santorini, Mykonos, Crete, Rhodes, and Corfu.
What Cyclades islands have airports?
6 of the Cyclades islands have airports, which are a mix of international and domestic. The Cycladic islands with airports are Santorini, Mykonos, Paros, Naxos, Milos, and Syros.
Which is the cheapest Greek island to fly to?
The answer to this depends very much on where you are flying from! However, Crete is a great island to start looking for cheap year round flights. Off season direct flights to Crete can be very affordable.
Which Greek islands fly direct from London?
Corfu and Rhodes are the nearest Greek islands you can fly to from London, but there are also connections with Crete, Rhodes, Santorini and Mykonos.
Also read: Cheapest Greek islands to visit
---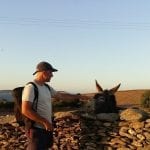 – Dave Briggs
Dave is a travel writer originally from the UK and now living in Greece. He started this travel blog in 2005, and over the years has written hundreds of travel guides about Greece and the Greek islands in addition to this one about Greek airports. He has a somewhat ambitious (perhaps impossible) goal of visiting every Greek island and writing about it.
Follow Dave on social media for travel inspiration from Greece and beyond: