Explore two UNESCO World Heritage sites in Greece during this Mycenae and Epidaurus day trip from Athens. See the Tomb of Agamemnon in Mycenae, the outstanding theatre of Epidaurus and more as you journey back into Ancient Greece.
The Birthplace of Ancient Greece
Mycenae was once the most powerful kingdom of the ancient Greek world. Rising to prominence in 1300 BC, this was the city from where King Agamemnon launched his war against Troy.
Today, it is a UNESCO World Heritage site, with its most famous features being the Lion's Gate and the magnificent tombs.
If you are only staying in Athens for a day or two, it might be difficult to reach Mycenae by yourself. My suggestion is that you might want to consider an organised day trip from Athens. This way, you can also see Epidaurus, Corinth Canal and Nafplio during the same day.
** Take a look at a typical Mycenae and Epidaurus Day Trip from Athens here >> Full Day Tour Mycenae + Epidaurus **
A typical tour outline looks like:
Depart Athens by bus to Mycenae
Explore the ancient city of Mycenae, including the Cyclopean walls, Lionesses Gate, Ancient Treasure of Atreus and Tomb of Clytemnestra
Enjoy a traditional Greek lunch in Nafplio
Admire the main attractions in Nafplio like the Castle of Bourtzi, Acronauplia and Castle of Palamidi as well as picturesque squares in the city center
Finish your day with a visit to Epidaurus
Mycenae and Epidaurus Day Trip from Athens
I've visited all the sites on this popular day trip from Athens myself, and whilst I can tell you it is a long day, it's certainly worth it!
The day normally start when you are picked up either from your hotel in Athens, or somewhere near Syntagma Square. The drive towards the Peloponnese then begins.
Corinth Canal
There's a brief stop at Corinth Canal, about an hour after leaving Athens. I've been here several times now, and it still strikes me to this day as a remarkable feat of engineering.
A canal was first proposed here way back in the 7th century BC, but it only came into fruition much later on, and was completed in 1893.
When visiting, you may see some shipping passing along the waterway. There's also a bungee jumping platform here, but I have yet to see it open for business!
Mycenae in Greece
After leaving Corinth Canal, there is just a short drive left to the UNESCO World Heritage site of Mycenae. In Greek Mythology King Agamemnon was the ruler of this powerful city, which was also said to have been founded by Perseus.
Whether you believe King Agamemnon was a real person or not, there is no doubting the real power of Mycenae in ancient times. It had trading ties all over the Mediterranean, colonies on many Greek islands, and was a dominating force during the Bronze Age.
The Best of Mycenae, Greece
The highlights of a trip to Mycenae are seeing the Lion's Gate, Palace and Tombs. I personally found the walls of the city to be very impressive.
It never fails to amaze me that no matter where I travel in the world, it seems that the oldest structures used the biggest and most difficult blocks of stone in their construction.
Perhaps the ancients new a thing or two about moving blocks of stone around that we have forgotten today!
Nafplion in Greece
The pretty town of Nafplion is normally the next stop on a Mycenae and Epidaurus day trip from Athens. I will be honest, and say that the couple of hours spent here during the day trip for lunch does not really do the town justice.
It's definitely a nice place to spend a day or two, but of course, if there is no other choice, even a couple of hours is better than nothing.
Epidaurus UNESCO Site
The archaeological complex of Epidaurus also has a connection with Greek Mythology. This was said to have been the birthplace of Asklepios who was the Greek God of Healing.
In ancient times, the complex was a healing sanctuary which may have also been a place of pilgrimage in much the same way that Delphi was.
The Sanctuary of Asklepios has earned UNESCO World Heritage status, making it the second UNESCO site of the day to be visited.
The Theatre of Epidaurus
For most visitors, myself included, it is the theatre of Epidaurus which amazes.This is for a couple of reasons.
Firstly, the acoustics here are simply unbelievable. It is possible for a person to stand in the centre of the stadium and just whisper, but people sitting up high in the theatre can still hear every word.
It really has to be experienced to be believed, and I'm sure your guide will demonstrate it for you.
Secondly, the positioning of the theatre and the views are stunning. It's a great way to be reminded of how advanced our ancient ancestors were before the drive back to Athens.
** Book a Mycenae and Epidaurus Day Trip from Athens here >> Full Day Tour **
FAQ About The UNESCO World Heritage Sites of Mycenae and Epidaurus
How do I get from Athens to Mycenae?
Mycenae is located about 116km from Athens. To reach Mycenae from Athens, drive first to Corinth, and then on to Mycenae. Alternatively, a guided tour can also get you there.
Is Mycenae archaeological site worth visiting?
Mycenae is one of the most important archaeological sites in Greece. This ancient hilltop city was the center point of the Mycenaean Greek Civilization, and is famous for its Lion's Gate and Royal Tombs.
Why is the ancient theatre of Epidaurus special?
The theatre of Epidaurus is special because of the amazing acoustics in the auditorium. It's still possible to stand in the centre of the stadium and whisper, and people sitting up high in the theatre can still hear every word.
How do I get from Athens to Ancient Epidaurus?
Unless you have your own transport, the easiest way to get to Epidaurus from Athens is by taking a full day trip which often includes visits to other archaelogical sites along the way.
Is a guided tour of Mycenae and Epidaurus worth it?
A guided tour of Mycenae and Epidaurus can be a great way to see these UNESCO World Heritage Sites. Not only will you have the benefit of a guide who can explain the history and significance of the sites, but you'll also be able to avoid having to worry about getting lost or navigating public transport.
Pin this day trip from Athens for later
---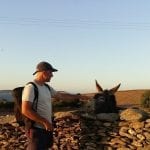 –
Dave Briggs
Dave is a
travel writer
who has been living in Athens since 2015. As well as putting together this guide on taking a one day tour from Athens to the ancient ruins of Mycenae and Epidaurus, he has written hundreds of travel blog posts about destinations in Greece. Follow Dave on social media for travel inspiration from around the world: