The archaeological site of Mycenae is one of the most important in Greece. Here's how to visit Mycenae, and what to see and do when there.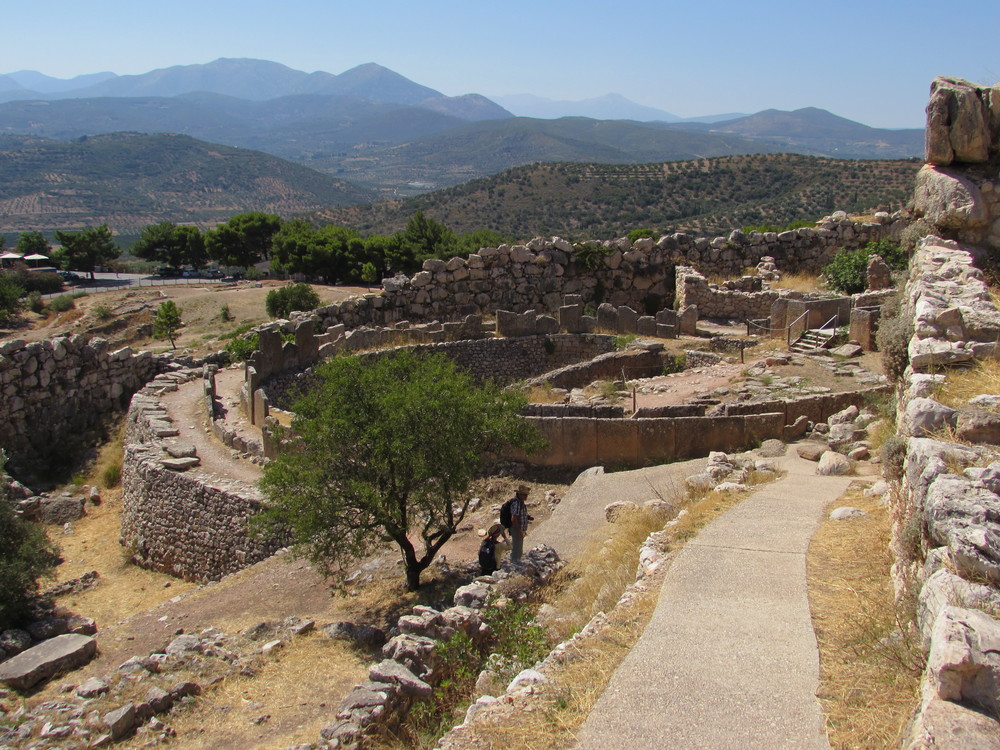 Mycenae – Myth and History combined
As a kid, I was always fascinated by myths, legends, and ancient civilizations. I read the Iliad at a young age (English translated version!), and this inspired me to visit archaeological sites when I started traveling.
Now that I actually live in Greece, I've really been able to indulge myself! There are an endless amount of archaeological sites such as Delphi, Messene, and Ancient Olympia to visit.
One important site which I've now been fortunate to have visited twice is Mycenae. It's one of my favourites, as much for its setting as the ruins themselves.
I've created this little guide on visiting Mycenae to both inspire you and help you plan to get there. If you love ancient Greek history and want to include a UNESCO site to your Greece travel itinerary, it's certainly worth considering the trip out there.
Where is Mycenae in Greece?
Mycenae is located in the north-east Peloponnese region of Greece, and is less than a two hour drive from Athens. If you do decide to drive from Athens to Mycenae, you'll pass over the impressive Corinth Canal along the way.
Many people visit Mycenae as part of a day trip from Athens, and there is a constant flow of bus tours coming and going from the site. Quite often, a day trip from Athens may combine Mycenae and Epidaurus as well as Nafplio.
For most travelers spending just a few days in Athens before going to the islands, visiting Mycenae from Athens on a guided tour is going to be the easiest option. This tour is a good choice: Full day Mycenae and Epidaurus.
It is also possible to visit Mycenae from the pretty coastal town of Nafplio in the Peloponnese if that's where you're staying. It would only take a half hour or so to drive from Nafplio to Mycenae.
I visited Mycenae slightly differently to most people. On the first occasion, it was during a road trip in the Peloponnese. On the second occasion, I cycled there as part of solo bicycle tour in the Peloponnese I based on the myth of the 12 Labours of Hercules.
If you do decide to get there under your own steam, you'll find the site is very well signposted from the roads, and there is plenty of parking once there.
Mycenae Opening Hours
When taking an organized tour to Mycenae, you don't need to worry about what time Mycenae opens. If you're visiting independently, it's probably worth double checking that the Mycenae site is open before you rock up!
During the winter period, Mycenae is open from 8.30-15.30.
During the summer period, the hours are:
April-August: 08:00-20:00
1st September-15th September : 08:00-19:30
16th September-30th September : 08:00-19:00
1st October-15th October : 08:00-18:30
16th October-31th October : 08:00-18:00
There's all sorts of free days and holidays as well. You might find it useful to check out the official site here: Mycenae 'Rich in Gold'
What was Mycenae?
Mycenae was a military state which rose to power after the collapse of the Minoan civilization. When you travel in Greece and hear reference to the Mycenaean civilization, this is where it began!
Dominating trade and commerce, Mycenae in effect defined ancient Greece from between 1600 to 1100BC.
In fact, this period of Greek history is named the Mycenaean age. Even so, the Mycenaean civilization and culture is a somewhat mysterious one.
Greek Mythology and Ancient History
Most of what is known about the Mycenaeans is taken from the archaeological records, or from Homer's Epics. The latter of course was thought for many years to be just legend, until it was proven otherwise by the discovery of Troy.
Now, mythical characters such as King Agamemnon are thought to have been actual historical figures. Even the Trojan War might have taken place, and it is entirely possible that Agammenon once lived at the palace at Mycenae.
Interestingly, although a gold funerary mask was discovered at Mycenae, and is called 'Agamemnon's Mask', there is no proof that it was actually his.
Archaeological Site of Mycenae, Greece
Today, Mycenae is a UNESCO World Heritage Site. The archaeological space contains the excavations as well as a very interesting archaeological museum.
There are several key areas to the Mycenae archaeological site you should see. These are:
The Treasury of Atreus
Tomb of Clytemnestra
Circular Burial Chambers
The Lion Gate
Cyclopean Walls
Museum of Mycenae
Passageway to the Cistern
Tombs of Mycenae
There are two main types of tomb at Mycenae. One is known as a Tholos type tomb, and the other simply as circular graves. The most famous of the Tholos tombs at Mycenae is the Treasury of Atreus.
Tomb of Agamemnon?
No treasure to be found there though. The site had long ago been robbed and looted of whatever may have been there. Was this the burial site for Agamemnon? We will never know for sure.
The circular chambers such as the one pictured above did actually contain the worldly possessions of the deceased. Many of these are now on display in the Mycenae Museum.
Museum of Mycenae
You might be in a rush to see the famous Lion Gate of Mycenae and Cyclopean Walls, but I'd suggest seeing the museum first. It's helpful in giving an overview as to how Mycenae developed over the years, along with its strategic importance.
There are a number of interesting exhibits displayed in the museum, as well as a little back history as to how the site was excavated.
Heinrich Schliemann plays a brief but important role in the site's excavation. If you recognise his name, it is because he also discovered what most historians now believe is Troy.
Mycenae Palace (Citadel)
Once you've finished inside the museum, it's then on to exploring the ruins of Mycenae. Its elevated position gives it a naturally defensible advantage, and effectively what we have is a citadel with the remains of a palace at the top.
Mycenae itself was basically a fortified hill city, centred around an Acropolis. Huge, strong walls surrounded Mycenae, with stones so large, that it was said the Cyclops helped in their construction. Hence the term Cyclopean Walls.
Walking around some sections, it was hard not to make comparisons with the equally impressive stone structures built by the Inca people of Peru. Closer inspection revealed that the Mycenae stone walls were nowhere near as well laid, or sophisticated though.
Above, you can see the wall in Peru which contains the famous '12 angled stone'. (Check out my cycling adventures in Peru, and backpacking adventures in Peru.)
Lion Gate Mycenae
Access to the fortified part of Mycenae is gained by first walking through the Lion Gate. This is perhaps the most iconic part of the entire site.
The two lions facing one another, and the Cyclopean masonry are awe-inspiring even today. I can only imagine what the ancient Greeks must have thought to this entrance gate!
The Mycenae entrance always seems to me to be part processional and part defensive. It has to be assumed that there were once wooden doors in the archway.
When I visited Mycenae the first time, there was also a very strong wind, and in the distance, a wildfire was burning.
I think that wildfires have been a feature of Greece since ancient times, and in fact, the city is thought to have been burnt either on purpose or by nature around 1300BC.
Cistern Passage at Mycenae
One of the more curious aspects of the ancient Mycenae site, is the cistern passage with its 99 steps. Technically, you aren't allowed inside the passage, but I guess if no one is looking….
This tunnel led to an underground cistern. The cistern stored the Mycenae city water supply in times of peace and war.
Tips for Visiting Mycenae
All the usual advice for visiting ancient sites in Greece applies here. Take plenty of water, wear a hat, and slap on some sun-block.
The only bathrooms on site are located nearby to the museum, so if you want to go, use them before walking up to the top of the fort!
Interested in finding out about other UNESCO sites in Greece? Check out my guide to Greek World Heritage Sites.
FAQ for Mycenae archeological site
Here are some commonly asked questions about Mycenae in Greece:
How much does it cost to visit Mycenae?
Between April and October, Mycenae ticket prices are 12 Euro with reduced prices for various concessions such as students being 6 Euro. Price may be reduced further between November and March.
How long does it take to visit Mycenae?
Most visitors to Mycenae will find that they can see this ancient site quite comfortably within an hour and a half. This gives time to see Mycenae archaeological site itself, as well as the excellent accompanying museum.
How do I get to Mycenae?
If you are driving from Athens, take the main highway to Corinth, go over the famous Corinth Canal, and continue on until the Nafplio exit. You will shortly see the well signed Mycenae. Alternatively, simply take a day trip from Athens to Mycenae and other sites in the area.
---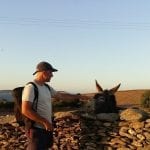 –
Dave Briggs
Dave is a
travel writer
based in Athens, who spends his time traveling around and writing about Greece. In addition to writing this guide on how to visit Mycenae, he's written hundreds of other insightful travel guides to Greek islands and destinations. Follow Dave on social media for travel inspiration from Greece and beyond: