Ancient Delphi is one of the most important UNESCO sites in Greece. This guide on what to see in Delphi Greece includes the Temple of Apollo, Tholos of Athena Pronaia, Delphi museum and more.
Delphi in Ancient Greece
Ancient Delphi was an important religious area, and considered to be the centre of the universe. It was where heaven and earth met, and the priestess Oracle 'channelled' messages from the god Apollo, and dispensed advice.
Consulting the Oracle at Delphi, Greece was a major religious experience for ancient Greeks. People would visit from all over the Mediterranean, often basing major decisions such as forming new colonies, declaring war, and forging political alliances on the prophecies received.
Pythian Games at Delphi
In addition to its role as a religious centre, Delphi was also home to one of the four Panhellenic Games of Ancient Greece. Known as the Pythian Games, they were held in honour of the God Apollo every four years.
The Panhellenic Games (held at Delphi, Ancient Olympia, Nemea and Isthmia) were the inspiration for today's modern Olympics. The running track and stadium at Delphi are still intact, and can be found at the top of the archaeological site.
Delphi Today
The archaeological site of Delphi is now a UNESCO World Heritage Site. Situated within easy walking distance of the modern town of Delphi, it is divided into several different areas.
These areas include Delphi Museum, the Sanctuary of Delphi with the Temple of Apollo, the Sanctuary of Athena Pronaia, Gymnasium, and Castalian Spring.
Visiting Delphi, Greece
I've been fortunate to have visited Delphi twice now – one of the many upsides of living in Greece! On both occasions, I travelled independently using my own transport. Once it was by car, and once by bicycle (part of a cycling trip in Greece).
The great thing about visiting Delphi independently, is that you can take your time exploring the archaeological sites and museum. You then have the choice of staying in Delphi overnight, or carrying on to your next destination. A combination of Athens-Delphi-Meteora is quite popular for example.
Delphi Tour From Athens
I would say that the majority of visitors to Delphi take an organised day trip from Athens. Whilst your schedule may not be your own, the benefits of having a guide to explain the history of Delphi and Greece are a nice trade-off.
Take a look here for more information on a Delphi tour from Athens.
Delphi Archaeological Site Hours
As with many historic sites in Greece, Delphi has different summer and winter opening hours. As of writing, the Delphi Archaeological Site hours are:
10Apr – 31Oct Mon-Sun, 0800-2000
01Nov – 09Apr Mon-Sun, 0900-1600
Delphi is closed or has reduced hours on the following days:
1 January: closed
6 January: 08:30 – 15:00
Shrove Monday: 08:30 – 15:00
25 March: closed
Good Friday: 12:00 – 15:00
Holy Saturday: 08:30 – 15:00
1 May: closed
Easter Sunday: closed
Easter Monday: 08:30 – 15:00
Holy Spirit Day: 08:30 – 15:00
15 August: 08:30 – 15:00
25 December: closed
26 December: closed
Delphi also has some free admission days:
Free admission days
6 March (in memory of Melina Mercouri)
18 April (International Monuments Day)
18 May (International Museums Day)
The last weekend of September annually (European Heritage Days)
28 October
Every first Sunday from November 1st to March 31st
Keep in mind that the above information is liable to change. If you are travelling to Delphi on any of the key dates mentioned, it may pay to obtain up to date information before you set off!
Delphi Admission Fees
The admission fee to Delphi includes access to all sites. Note – You don't actually need a ticket to see the Sanctuary of Athena Pronai.
Full: €12, Reduced: €6
Museum & Archaeological Site
Special ticket package: Full: €12, Reduced: €6
Ticket price from 01/11/2018 to 31/03/2019 6 €
What to see in Delphi
As mentioned, the archaeological site of Delphi is sectioned into different areas. In my opinion, it makes sense to start your tour of Ancient Delphi with a visit to the museum. This way, you will get a better understanding of the Sanctuary of Delphi, its function and history.
Museum of Delphi
This is rated as one of the top 5 museums in Greece, and rightly so. It is very informative, and well laid out. The Delphi Archaeological Museum is organized within 14 different rooms, spread out on two layers.
The artefacts exhibited in the Museum of Delphi are objects found at the archaeological site. Many of these were originally left as gifts or donations to the sanctuary by pilgrims.
As well as exhibits such as the amazing Charioteer of Delphi, the museum also contains several models which show how Delphi looked through the different periods of its use.
The Archaeological Museum of Delphi takes about an hour to walk around. From there, you can stop off at the museum cafe if you wish, refill your water bottle at the free fountain outside the museum exit, or continue on the 10 minute walk to the archaeological site of Delphi itself.
Ancient Delphi
Walking along the pathway from the museum, you will arrive at the main archaeological complex of Ancient Delphi. Inside this area, are significant temples and monuments such as the Temple of Apollo, Treasury of the Athenians, Theatre of Delphi, and the Delphi Stadium.
If you are visiting with a guide as part of an organised tour of Delphi, they will most certainly point out and explain all the prominent areas. If you are walking around by yourself, it might be an idea to have a guide book with you to make sure you don't miss a thing.
Some of the smaller details of the site to find include the Sibyl Rock, Polygonal Wall, and recently reconstructed Serpent Column.
The Temple of Apollo
Not much remains of the Temple of Apollo, and yet it still retains an air of mystery about it. Backed by impressive mountains, the Temple of Apollo has become the picture-postcard image of Delphi.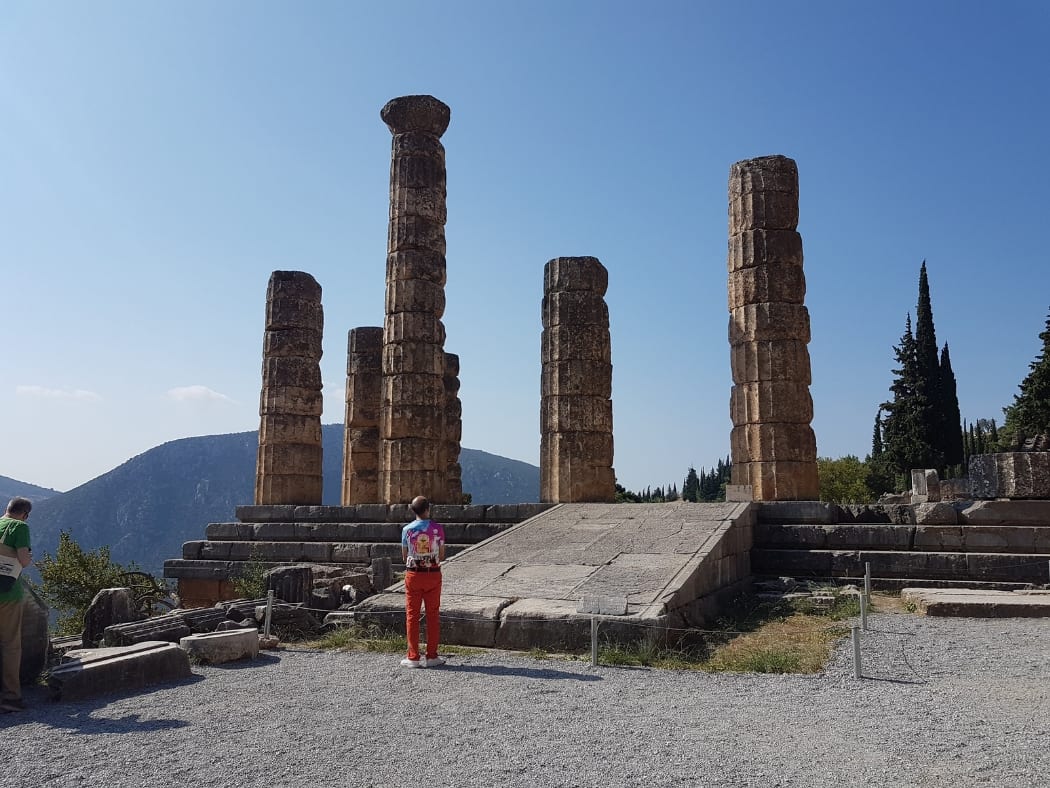 Serpent Column of Delphi
I haven't been able to find much information on when the Serpent Column in Delphi was actually 'reinstalled'. What I can say, is that it wasn't there in 2015, but in 2018 now it is!
Its very distinctive curled shape make it look like a sweet, and the colour seems almost at odds with the archaeological site itself.
Theatre of Delphi
The theatre of Ancient Delphi is built midway up the site, and has an incredible view out onto the mountains and valley in front. Sitting here over 2000 years ago, listening to a poet or orator must have been a breathtaking experience!
Delphi Stadium
The stadium is almost hidden away at the top of the archaeological site of Ancient Delphi. I've never seen a tour guide with a group up here, so if you are on a day tour of Delphi from Athens, make sure to ask about the stadium and if you have time to see it!
Sadly, visitors are not allowed inside the stadium itself due to safety reasons. Even so, it's possible to get a feel for it, and admire the sheer scale and endeavour of the civilisation that built it.
The Sanctuary of Athena Pronaia at Delphi, Greece
About a mile to the south east of the main complex, and on the other side of the road, is the Sanctuary of Athena Pronaia. The sanctuary, or Marmaria as it known, is most recognised for its circular temple, or Tholos.
When comparing the two areas of Delphi, I much prefer this one. Perhaps it's because there are not so many tourists there, maybe it has a better setting.
It definitely has a 'special' feeling about it though. In my humble opinion, this area is actually better than the more famed Temple of Apollo across the road.
Tholos of Athena Pronaia at Delphi, Greece
The 'Tholos' is a circular structure, which is unusual for Greek temples.
Coming from England, I thought of Stonehenge straight away. Could the ancient builders of Delphi, Greece have journeyed to England and seen the standing stones there?
Visiting Delphi FAQ
Readers who want to see the Delphi sanctuary in central Greece during their vacation often ask questions similar to:
What is Delphi Greece known for?
The ancient religious sanctuary of Delphi was dedicated to the Greek god Apollo. The Oracle of Delphi, who was famous throughout the ancient Greek world for divining the future and was consulted before all significant activities, lived in this sanctuary built in the 8th century B.C. The priestess Pythia, who was renowned across Greece for predicting the future and being consulted on all major projects, resided here.
Is Delphi Greece worth visiting?
The ancient site of Delphi, a UNESCO-listed monument with a major historical and cultural significance for both visitors and locals, is a popular destination for tourists and residents. It's located about two hours from Athens.
What remains at Delphi?
The temple of Apollo, the ancient theater, the stadium, the sanctuary of Athena Pronaia with the Tholos, the Kastalia spring, and various treasuries that decorate the sacred route are just a few of Delphi's most prominent structures that remain from ancient times.
Is Delphi actually the center of the world?
The ancient Greeks believed Delphi to be the center of the earth, and it was a center of wisdom and spirituality. Delphi was a sanctuary that was dedicated to the Greek God Apollo, and people traveled far and wide to listen to the Delphic Oracle (Pythia).
Beyond Delphi, Greece
Are you interested in finding out about more ancient sites in Greece? Take a look at these articles:
Delos UNESCO Island – Temples and sanctuaries await at this incredible island just a short jaunt away from Mykonos. There's a great interview with the man who guards the ancient sites here.
Ancient Athens – My article about places to see in Athens.
Mycenae – Read all about one of the most important archaeological sites in Greece here.