There are 2 or 3 ferries a week sailing from Paros to Sikinos island in Greece, with the quickest travel time being just shy of 4 hours. Planning to travel to Sikinos after Paros? This guide has all the information you need.
Sikinos Island, Greece
Although geographically close to one another, the frequency of ferries between Paros and Sikinos is not as high as you might think.
This is because Sikinos is a much different island than Paros.
It's far smaller, has a population of just 300, and tourism is much lower key.
In fact, it's the perfect Greek island getaway to visit after the hustle and bustle of Paros!
How to get from Paros to Sikinos
The only way to travel from Paros to Sikinos is to take a ferry.
Two ferry operators offer services on this route – Blue Star Ferries and SeaJets.
These are seasonal offerings, which means that during the summer you might find 2 or 3 ferries per week. During the off season, there may only be one ferry every week or so.
You can find the latest Paros Sikinos ferry route schedules at: Ferryscanner
Blue Star Ferries to Sikinos from Paros
The fastest ferry from Paros going to Sikinos takes around 3 hours and 50 minutes and is operated by Blue Star Ferries.
They offer one ferry per week on a regular basis, and also have the lowest prices. Paros Sikinos ferry tickets with Blue Star start from just 7.50 Euros.
Check out Ferryscanner for Greek ferry tickets, up to date timetables, and Sikinos ferry information.
SeaJets Paros Sikinos Ferries
During the tourist season, SeaJets also run services from Paros to Sikinos.
The frequency of these ferries varies, but you can expect there to be 1 or 2 per week.
Due to the route they take which involves stopping at other islands, the SeaJets is actually slower than Blue Star.
Their ferry sailing to Sikinos from Paros island takes around 6 hours and 10 minutes. They also have far more expensive ticket prices, so you should expect to pay 15.00 Euros.
Still, it's worth considering as perhaps they travel from Paros to Sikinos on a day that is more convenient for you.
Visit Ferryhopper for Greek ferry tickets to Sikinos from Paros and other islands. It's a great site for planning your Greek island hopping trip throughout the Cyclades of Greece!
Sikinos Island Travel Tips
A few travel tips for visiting the Greek island of Sikinos:
Ferry services depart from the main port, Parikia in Paros. Ferries arrive at Alopronia port in Sikinos.
---
For apartments in Sikinos, have a look at Booking. They have a great selection of hotels in Sikinos and areas to consider staying include Chora, and Alopronia. If you are traveling to Sikinos in the the busiest months of summer, I advise reserving rooms to rent in Sikinos a month or so in advance. I stayed stayed at a lovely self-catering apartment right above Kapari taverna which you might also like.
---
Spend time on some of the top rated beaches in Sikinos: Dialiskari, Alopronia, and Agios Georgios. Life is pretty simple in Sikinos, but you should still check out my complete guide to Sikinos Island.
---
One of the best places to look at ferry schedules and to book tickets online is at Ferryhopper. Book your Paros to Sikinos ferry tickets in advance if you can, especially if you want ot travel in July and August.
---
---
---
How to travel from Paros to Sikinos FAQ
Readers sometimes ask these question about traveling to Sikinos from Paros include:
How can you get to Sikinos from Paros?
There are up to 2 or 3 ferries a week sailing to the island of Sikinos from Paros. The quickest ferry trip takes 3 hours and 50 minutes.
Is there an airport in Sikinos?
The island of Sikinos does not have an airport. Islands nearby with airports include Santorini, Milos, Paros and Naxos.
How many hours is the ferry from Paros to Sikinos?
The ferries to Sikinos from Paros take between 3 hours and 50 minutes and 6 hours and 10 minutes. Ferry operators on the Paros Sikinos route may include Blue Star Ferries and SeaJets.
How can I buy tickets for the ferry to Sikinos?
I find that the Ferryhopper website is the best place to book ferry tickets online. Although I think it's better to book your Paros to Sikinos ferry tickets in advance, you might also go to a travel agency in Greece after you arrive.
I hope you found this ferry travel information on how to travel between Paros and Sikinos useful. Leave a comment below if you have any travel planning questions about the Paros Sikinos direct route or how to get to other destinations in the Cyclades islands!
---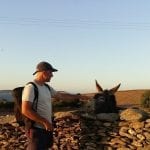 –
Dave Briggs
Dave is a
travel writer
based in Athens, Greece since 2015. In addition to writing this blog post about ferries from Paros to Sikinos, he's also written many more travel blogs about popular destinations in Greece. Follow Dave on social media for travel inspiration from Greece and beyond: