Discover which islands near Paros you can combine on a Greek island hopping itinerary. A guide to traveling from Paros to nearby islands.
Other islands close to Paros
If your trip to Greece includes visiting Paros and a few neighboring Cyclades islands, this blog post should prove a useful read.
To begin with, I'll mention what I consider to be the best island choices to visit before or after Paros. Further down, I'll give you some details about how to reach every Cyclades island by ferry from Paros.
In short, Paros island is an excellent place from which to venture out and visit other islands in the Cyclades island group, and you can get pretty much everywhere very easily!
Antiparos
Most people who visit Paros will go over to Antiparos at some point, whether on a day trip, or better still to spend a few days.
Antiparos is smaller, and more relaxing. It's also easier to reach the beaches on foot than if you stay in say Parikia in Paros.
Spending evenings in the Chora of Antiparos is a real highlight, and for that reason I'd suggest spending at least one night on the island. This way you'd also be able to make time to visit the Antiparos cave, which I highly recommend!
There's two ways to get to Antiparos from Paros. You can either take a car ferry from Pounda, or take a more touristic passenger ferry from Parikia.
More here: How to get from Paros to Antiparos
Naxos
As the largest of the Cyclades islands, it could be said that there is something of a rivalry between Naxos and Paros. The reason, is that Paros seems to have the higher profile with tourists from overseas, but on closer examination, Naxos probably deserves it more.
(Photo of the Naxos Portara)
Naxos has fantastic beaches, quaint traditional villages, more epic landscapes, great food, and even in peak season it's possible to find reasonably prices places to stay.
While it might be technically possible to visit Naxos on a day trip, you'd probably only get time to spend in the Chora. This is a key destination in its own right, and you should probably plan to spend at least 3 nights in Naxos to do it any justice.
More here: How to get from Paros to Naxos
Small Cyclades
Scattered around Naxos, are a group of islands referred to as the Lesser or Small Cyclades. These are Iraklia, Schinoussa, Ano (upper) and Kato (lower) Koufonissi, together known as Koufonisia and Donoussa.
You can visit some of these islands directly from Paros if you wish. There is a legendary small ferry called the Express Skopelitas which makes the route around them every day.
More here:
Mykonos
With its trendy bars, nightclubs and beautiful beaches, Mykonos is another popular choice when it comes to islands to visit after Paros. If you're interested in Ancient Greek history, you can also visit the island of Delos close to it.
You should keep in mind that Mykonos is probably the most expensive destination in Greece, especially during the high season. If you don't want to stay overnight, you could put your own day trip together by getting the first ferry from Paros to Mykonos, and then get to Paros on the last ferry back.
More here: How to get from Paros to Mykonos
Ios
We've gone from one party island to another one by including Ios as well!
However, I'd say to look beyond its reputation as party place for twenty somethings who can't afford Mykonos, as it has numerous beaches, hiking trails, amazing views, and some of the best sunsets in the Cyclades Islands!
More here: How to get from Paros to Ios
Syros
Syros is the administrative capital of the Cyclades islands, and its neoclassical buildings give it an almost regal feel.
While I don't personally think the beaches are anything to write home about, Syros is a good place to spend a few days.
As the capital, it is also easy to get to other islands from Syros pretty easily.
More here: How to get from Paros to Syros
Sifnos
With at least one daily ferry during the high season, Sifnos is another destination you can consider visiting after your stay in Paros.
Beach lovers recommend these beaches in Sifnos: Vathy, Herronisos, Platis Gialos, Seralia, Apokofto, Gialos, and Kamares.
More here: How to get from Paros to Sifnos
Milos
Famous for its many beaches such as Sarakiniko and Kleftiko, great food, and unique rock formations, Milos might not be as close to Paros as the islands already mentioned, but its certainly worth considering.
It has a lower key tourist profile than Paros, some great restaurants, and is a wonderful place to explore. I've a detailed guide here you can read about Milos. I've also got a guide book on Amazon you can buy either in Kindle or paperback!
More here: How to get from Paros to Milos
Santorini
While Santorini is not particularly one of the closest neighboring islands to Paros Greece, Santorini can take just 2 hours to reach depending on which of the ferry companies is used. To visit Santorini after Paros is a good choice for people who have never been there before.
While Santorini may not have the fantastic beaches of Paros or Naxos, there's no denying it is one of the most scenic Greek islands, and a bucket list destination for many.
More here: How to get from Paros to Santorini
Ferries from Paros to other Cyclades islands
Whilst I've mentioned the most popular Greek islands to visit after Paros above, you can go island hopping to the rest of the islands in the Cycladic group.
How to get from Paros to Thirasia
Can I fly from Paros to other Greek islands?
Even though Paros has an airport, flying between Paros and other Greek islands in the Cyclades is not possible. The airport currently only has direct flights with Athens international.
Paros Island Hopping Tips
A few travel tips when taking ferries from Paros:
---
---
---
---
---
How to make the journey from Paros to other Greek islands in the Cyclades FAQ
Readers sometimes ask these question about traveling to other Greek islands in the Cyclades from Paros include:
What island combines with Paros?
I can advise visiting islands like Naxos, Mykonos, and Ios, if you want a trip to the islands in the Cyclades islands near Paros.
How can I get to other Greek islands in the Cyclades from Paros?
The only way to get from Paros to close by islands in the Cyclades is to take a ferry. As Paros is quite centrally located in the Cyclades group, you can get direct ferries to most of the other inhabited islands.
How do I buy ferry tickets to other Greek islands in the Cyclades?
I find that the Ferryhopper website is the best place to book ferry tickets online. Although I think it's better to book your Paros to other Greek islands in the Cyclades ferry tickets in advance, you might also go to a travel agency in Greece after you arrive.
Is Paros the next Mykonos?
Not at all as the two islands are very different. The beaches and nightlife in Mykonos is vastly superior, but Paros has some much nicer villages and better food than Mykonos.
---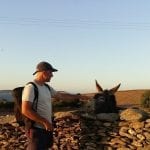 –
Dave Briggs
Dave is a
travel writer
who spends his time traveling around and writing about Greece. As well as writing this guide about ferries from Paros to close Greek islands in the Cyclades, he's written many more travel blog posts about destinations in Greece. Follow Dave on social media for travel inspiration from Greece and beyond: