On average, there are 2 ferries a day sailing from Paros to Tinos. The quickest travel time between these two Greek islands is just 1 hour and 20 minutes. Here, we'll look at the Paros Tinos options, where you can book your tickets, and some travel tips.
How to get from Paros to Tinos
The ferry route between the Greek islands of Paros and Tinos in the Cyclades group is well served, with many ferries sailing during the week.
You can travel between the two Cyclades islands of Paros and Tinos at least twice a day on ferries operated by Golden Star Ferries, Minoan Lines, Fast Ferries and SeaJets.
The quicker boat from Paros going to Tinos takes around 1 hour and 45 minutes. The slowest vessel sailing to Tinos from Paros island takes around 3 hours and 5 minutes.
These ferries may stop at some other islands along the way, such as Mykonos.
To look at schedules for Greek ferries on the Paros to Tinos route, visit the Ferryscanner website.
Paros Tinos Ferry Route
Although there are a lot of ferry companies sailing the Paros to Tinos route, it's SeaJets who provide the bulk of the services during the high season.
Seajets sail the Paros to Tinos route every day of the week, and the price is 44.70 Euros. This is also the quickest crossing.
Find details of the latest ferry schedules and buy tickets online at: Ferryscanner.
Paros to Tinos Ferry Trip
In 2024, Golden Star ferries and Fast Ferries also operate ferry services from Paros to Tinos.
The Goldens Star Ferries is the most expensive at 52.00 Euros. A change from previous years when it was the slowest and cheapest!
Fast Ferries don't sail every day of the week, but they are the cheapest Paros to Tinos ferry ride when they do.
You should note that ferry schedules and prices change from year to year, normally according to expected demand.
Take a look at the Ferryscanner website for the latest timetables for Paros to Tinos ferries.
Tinos Island Travel Tips
A few travel tips for visiting Tinos:
Ferry services leave from the main port, Parikia in Paros. Ferries arrive at the island's port in Tinos Town in Tinos.
---
For places to stay in Tinos, have a look at Booking. Areas to consider staying include Agios Romanos, Pyrgos, Agios Ioannis Porto, Agios Sostis, Kionia, and Chora (Tinos town). I've a full guide to accommodation options here: Best hotels in Tinos
---
I recommend visiting the following beaches in Tinos: Agios Sostis, Agios Romanos, Pachia Ammos, Kolimvithra, Agios Ioannis Porto, Agia Thalassa, and Rochari. Find out more in my Tinos Greece Travel Guide
---
Tinos in Greece is a big island. You might want to hire a vehicle or use the buses to get around. More information here: How to get around Tinos Greece
---
One of the best places to look at ferry schedules and to book tickets online is at Ferryscanner. I recommend you book ferry tickets for the Paros to Tinos direct ferries well in advance, especially during the height of the tourist season.
---
---
---
** Travel Guide to Andros and Tinos now available on Amazon! **
How to make the trip from Paros to Tinos FAQ
Readers sometimes ask these question about traveling to Tinos from Paros include:
How do I get to Tinos from Paros?
The best way to make the journey from Paros to Tinos is by ferry. There are on average two ferries per day sailing to the island of Tinos from Paros.
Is there an airport on Tinos?
The Greek island of Tinos does not have an airport. The closest airport is on the neighbouring island of Mykonos.
How long is the ferry from Paros to Tinos?
The ferries to Tinos island from Paros take between 1 hour and 20 minutes and 3 hours and 5 minutes. Ferry operators on the Paros Tinos route may include Goldens Star Ferries, Minoan Lines, Fast Ferries and SeaJets with ticket prices starting from 30 Euros.
Where do I buy ferry tickets to Tinos?
The best place to look at Greek ferries online is Ferryhopper. Although I recommend you book your Paros to Tinos ferry tickets in advance, you might also prefer to use a travel agency in Greece when you have arrived.
---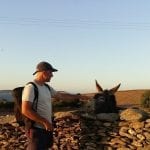 –
Dave Briggs
Dave is a
travel writer
living in and writing about Greece. In addition to writing this travel blog guide ferries from Paros to Tinos, he's written hundreds more guides to other destinations in Greece. Follow Dave on social media for travel inspiration from Greece and beyond: