This guide to the best Tinos hotels will help you decide where to stay on this beautiful Greek island. These Tinos Greece hotels include accommodation in picturesque villages, beach resorts, and boutique hotels.
Tinos Island Greece
The Greek island of Tinos is just a couple of hours away from Athens by ferry.
Although not as well known to foreign visitors as the more popular Cycladic islands of Mykonos and Santorini, it's a place much easier to feel at home in.
The island's most famous feature is the church of the Panagia Evangalestria, which is approached by devout pilgrims on their hands and knees.
Beyond that though, beaches 10 times better than those of Mykonos, and villages more picturesque than those in Santorini await.
So why isn't Tinos as well known to foreign visitors as the other islands? It beats me, but I suggest visiting before too many people pick up on it!
** Travel Guide to Andros and Tinos now available on Amazon! **
Where to stay in Tinos
If you haven't been to Tinos before, you will probably be overwhelmed when it comes to choosing accommodation. There are several beautiful villages and resort towns to choose from.
Our guide on where to stay in Tinos will help you decide, and you can also take a look at this useful map below.
Tinos Greece Hotels
Tinos is one of those Greek islands that absolutely need to be explored. There are over 30 picturesque villages, and many of them offer some accommodation options. You can decide which area you want to stay at, and take day trips to the other areas of the island.
Depending on how you are planning to get around Tinos, and on what you want to get out of your holiday, you can either stay at one of the beach resorts, a mountain village, or even in Chora. There is a wide selection of apartments and small hotels, to suit all travelers.
Hotels in Agios Ioannis Porto
Agios Ioannis Porto, where we stayed ourselves, is located at the southeast part of the island. It is a quiet settlement with a range of rooms and apartments to let, a few restaurants and a selection of nice sandy beaches nearby.
The beach in Agios Ioannis Porto looks protected from the winds, but the sea was quite rough during early September. You will find a couple of beach bars with umbrellas and loungers.
We were very happy with our choice of area and with the self-catering room we stayed at, Studios Kyklades. It was great for a couple, but would also be comfortable for a family of up to four people.
There is a fairly frequent bus to Chora, which is quite popular, judging from the number of people that we saw waiting at the bus stop. If you decide to stay in Agios Ioannis Porto but want to be flexible in terms of moving around, you will be better off renting a car. Driving here from Chora takes about 10 minutes.
Hotels in Agios Sostis Tinos
Close to Agios Ioannis Porto, you can find another beach resort, Agios Sostis, with plenty of accommodation to choose from. In our experience, the local beach was calmer than Agios Ioannis Porto, but that seemed to change on an hourly basis, with afternoon hours being the most windy.
Agios Ioannis Porto and Agios Sostis are very close to each other, so you can easily visit all the nearby beaches in the same day. There is a mix of beach bars and quiet spots all around the area.
One of the best places to stay in Agios Sostis is Summer Time – Tinos apartments.
You can reach Agios Sostis by the same bus that goes from Chora to Agios Ioannis Porto. Note that some of the buses do not take you to Agios Sostis beach, but it's just a short walk from the bus stop.
Best Hotels in Chora Tinos
The Chora in Tinos isn't nearly as picturesque as the main towns on other Cycladic islands – it's a rather built up town dominated by the big Panagia Evangelistria church and an array of souvenir shops.
However, it is a good choice for people who are after a little bit of night life – though don't expect tons of clubbing and partying.
Chora might also be the best place to stay in Tinos if you are planning to use buses to get around, or if you are visiting in the off-season. We probably wouldn't choose to stay there ourselves, but we had our own car so we could easily get around the island and visit Chora at any time of the day.
Chora has a wide selection of places to stay. Vincenzo Family Rooms, right in the town, is one of the best choices.
If you want to be close to the town but still in a quiet location, you can check out the more upmarket Santamare Villa closer to Agios Fokas beach. They also have a pool, ideal for those windy days.
Note that some of the roads in Chora are closed to traffic in summer evenings. If you have your own vehicle, make sure you know the traffic rules.
Hotels in Kionia Tinos
Kionia is probably your best bet if you are looking for a cosmopolitan beach – by Tinian standards. This was the liveliest area we saw in terms of beachfront hotels and tavernas, but we wouldn't exactly say that the beach was overcrowded. As it is fairly open to the strong northern winds, you can go to the nearby cove of Agios Markos, on the way to Chora, which is a lot more protected.
You can also visit the small archaeological site of Kionia, which used to be one of the most important pilgrimage places for Poseidon in ancient Greece.
One of the best choices of accommodation in Kionia is Didymes Studios, offering beautifully decorated studios and apartments.
There are several buses a day from Kionia to Chora and back. If you have a car, it takes around 5 minutes to drive – you could even walk there if you wanted.
Hotels in Agios Romanos Tinos
This is a small, self-contained resort area with a few places to stay, a couple of beach bars and a handful of tavernas. When we visited, the bay was fairly protected from the wind, compared to other places on the island.
You can get there through some winding mountain roads, and some people might prefer to avoid driving at night. Sunsets, on the other hand, are spectacular! At the time of writing there is no bus there, so it's best to stay here if you have your own transportation.
Self-catering En Plo apartments offer a range of options.
Hotels in Pyrgos village Tinos
If you don't care much about being on the coast, you could consider staying in the picturesque mountain village of Pyrgos, to the north of the island. This is a popular half day trip for people who visit Tinos, and you will see several people coming from Chora on numerous buses and coaches.
The village itself is quite large, and is full of pretty white-washed houses and narrow streets. There are plenty of beautiful marble artworks and the quaint Pyrgos cemetery, courtesy of the famous Tinian sculptors. Visit the local museums, to learn more about them.
Pyrgos is a great base if you have your own transportation, as there are very few buses a day to Chora and back. It is also the ideal area to stay if you want to explore the northern beaches that are close by, Agia Thalassa, Ormos Panormou and Rochari.
If you are driving around Tinos, note that Pyrgos is marked as Panormos on Googlemaps and that it's best to leave the car right outside the village.
Next time we go to Tinos, we would consider staying in Pyrgos, and further explore the northern beaches. Skaris Homes would definitely be our choice as they also have free bikes!
Hotels near Volax Tinos
One of our favourite villages in Tinos was Volax. It's a really small village in a fascinating area full of rounded stones made of granite. While the village itself doesn't have too much to do, it is very pretty, and it would be great to meet some locals and know more about life in the area.
Staying close to Volax would also make sense for anyone who wants to go hiking, climbing or bouldering in the nearby area. White Tinos Luxury Suites in nearby Steni is ideal.
Places to stay in Tinos
These are the main areas to stay in Tinos, but there are numerous places to stay pretty much all around the island. In fact it's hard to go wrong, as Tinos is really beautiful, and every single area, village and beach are worth exploring!
FAQ About Tinos Town and Hotels
Other travelers looking for hotels in Tinos, and which area are the best ones to stay, often ask questions such as:
What is Tinos known for?
The Greek island of Tinos is famous for the Church of Panagia Evangelistria and the pilgrimages people make there, the ever present windmills, and nearly 1000 unique dovecotes or pigeon houses.
Where is the best area to stay in Tinos?
Visitors staying for just a night or two might find that Tinos Town is the most convenient place to stay. By staying in a hotel in the main town, you'll find its great location gives you access to public transport connections and car hire opportunities to see more of the island.
Is Tinos worth visiting?
Tinos is an intriguing island. It's one of Greece's holiest sites, and it's a must-see for religious Greeks and other Orthodox Christians. There are more than 1,000 churches on Tinos, and if you walk around the island, you'll see hundreds of them.
Is Tinos expensive?
Tinos is no more or less expensive than other islands in the Cyclades of Greece, although overall, cheaper than Santorini and Mykonos. Hotel prices are much higher in August, so avoid visiting during that month if your budget is a priority as you will find the best value in June or September.
You might also be interested in these blog posts:
---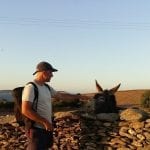 – Dave Briggs
Dave is a travel writer who's been living in Greece since 2015. In addition to writing this guide to the best hotels in Tinos and areas to stay on the island, he's created hundreds of travel guides to Greece which you can find here on Dave's Travel Pages.
Follow Dave on social media for travel inspiration from Greece and beyond: