Tinos is a very unique island. While there are many beautiful beaches, the real attractions of Tinos in Greece, are its picturesque villages, hundreds of churches and landscapes. But how do you get to see it all?
How to travel around Tinos
In the summer of 2019, Vanessa and myself visited the Greek island of Tinos. We spent around a week on the island (which probably wasn't enough!), visiting beaches, villages, and generally exploring.
As with so many places in Greece, I realized that for visitors to really enjoy and get to know Tinos better, it's best to have some independent transport.
If you're considering renting a car in Tinos use: Discover Cars
This guide is designed to help you get around Tinos, and includes advice for driving in Tinos, as well as public transport options.
** Travel Guide to Andros and Tinos now available on Amazon! **
Car Hire in Tinos
Traveling without a car from Rafina to Tinos by ferry is actually pretty cost effective as you cut down on the cost of putting a car on the boat. So, for most overseas visitors planning a trip to Tinos, it is going to be better to hire a car on the island.
Like many local visitors and long term overlanders, we took our own car to Tinos though. As such, we have no direct experience of car hire on the island.
What I can say, is that I saw maybe half a dozen, if not more, Tinos car hire services around the port area. So, there's plenty of places to choose from!
If you're looking to hire a car on Tinos, Google will be your friend. Alternatively, you can pre-book your car rental on Tinos at: Discover Cars
If you have any direct experience yourself of car hire in Tinos, share the love with others by leaving a comment at the end of this article!
Driving around Tinos
We'll be honest – driving on the Greek islands is not for everyone, and Tinos is no exception. You will need to get used to no traffic lights, narrow roads, uneven surfaces and lots of dirt roads.
If, like the both of us, you are happy to drive in these conditions, then the best way of getting around Tinos is definitely by car.
We visited Tinos in our own car, but there are plenty of places to rent a car in Tinos, close to the port and in the Chora. Prices depend on the season and the model, and you can always bargain, especially if you are booking the car on the spot and you are visiting during the off-season.
Never hired a car in Greece before? Read this first: Renting a car in Greece
Road conditions in Tinos island
Most of the roads on Tinos are sealed and in pretty good condition, but there are also long stretches of dirt roads.
If you want to explore the whole of the island, it might be best to rent a 4WD, unless you have an impossible to kill 20 year old Starlet like ourselves!
That said, a regular car will be fine for most of the places you will want to get to, and it's actually better to have a small car as it will be easier to find parking spots.
As the Mrs loves driving off-road, we ended up exploring the areas around Volax and Lichnaftia. We also went to Agia Thalassa beach, which is accessible through a dirt-road.
Google maps worked fine everywhere, apart from when we were trying to find some random monasteries up on the mountains… oh well!
If you want to see the island properly, and don't want to worry about bus timetables, we would definitely suggest renting a car in Tinos.
Note that you will typically have to park at designated areas outside the villages. Also, note that access to some areas in Tinos town is restricted between 20.45 and midnight, at least in summer.
Related: Pros and cons of traveling by car
Getting around Tinos by ATV or motorbike
To be fair, we wouldn't really suggest getting around Tinos on a motorbike or ATV, unless you really know what you are doing. In fact, although we saw many rented cars, we hardly saw any ATVs, and no motorbikes.
If you are used to riding a motorbike, it will be a great experience. That said, Tinos gets very windy in July and August, so you might find that riding a motorbike is unpleasant, to say the least.
Unlike other parts of the world, you will need a valid driver's license if you want to rent any of these in Greece. You will spot several companies close to the port, so if you haven't pre-booked you can choose on the spot.
Getting around Tinos by bus
If you have been to Greece before, you will know that each area has its local bus service, called the KTEL. Tinos is no exception, and in fact the local bus service is quite frequent, compared to other islands.
If you are planning to get around Tinos by bus, it might be best to stay in either Chora (generally referred to as Tinos) or maybe Kionia, if you want to be on the beach.
We stayed in Porto in Tinos, which we really liked, but we had our own car. In order to get to other places in Tinos from Porto, you would need to catch a bus to Chora first.
Tinos Public Transport
The local buses go to most of the interesting villages and beaches around Tinos.
In theory at least, it would be possible to see most of the villages on the island using public buses. Public transportation would also be the cheapest way to do it.
In practice however, this would take you several days, as there are well over 30 villages worth stopping at and the buses only run a few times per day on the routes.
If you only want to see 3-4 villages and spend the rest of your time by the beach, you can comfortably get around Tinos by bus.
Note that there are no buses in the late evening, so if you want to explore the villages at night you will have to use some other form of transportation.
You can find the Tinos bus timetables – here – there is no separate English version, so it's a good chance to learn some Greek letters!
Taxis
Using the local taxi service is also an option, and you might be able to combine taxis with using the public bus service to make your itinerary more flexible.
This is likely to make your trips around Tinos more expensive, so it's worth taking the time to plan ahead as a car rental might be more cost effective in the long run.
Getting around Tinos by bicycle
If you are up for a challenge, Tinos would be a great place to cycle. Avoid summer, and you should be off to a rewarding experience, but don't expect easy rides, especially if you want to see many of the villages.
Although Tinos is less mountainous than nearby Andros, it is probably not for beginners. If you are planning a cycling trip to the Greek islands, it's best to schedule it in spring or autumn.
Hiking Tinos
If you are into hiking, Tinos is a great destination. There are many hiking paths and trails all around the island, and they are very well signposted. We walked along a few parts of the main hiking trails in Tinos and it was really enjoyable.
If you are planning to hike in Tinos, you will really only need good footwear. Avoid summer, and plan your trip for spring or autumn instead. One of the nicest trails seems to be the one leading from Volax to Agapi village, which both were among our favourite villages in Tinos.
Take a guided tour of Tinos
If you prefer to take it easy while you are on holiday, you can arrange to take a tour of Tinos by private vehicle, and see some of the highlights of the island.
As Tinos is a surprisingly off-the-beaten-track destination, there are very few tours being offered at the moment, but watch this space as we are sure that this will change in the next few years. If you are in Mykonos, you can join a day trip see the highlights of Tinos.
Choosing where to stay on the Greek island of Tinos
When planning your Tinos holidays, choosing where your hotel is located might play a part in deciding the best way to travel around the island.
While Tinos Town is a popular area to stay in, other areas to consider include Agios Sostis, Agios Romanos, Pyrgos, Kionia, and Agios Ioannis Porto.
When you are on vacation, one of the most important things to consider is where you are going to stay. You want a place that is comfortable, affordable, and in a good location.
If you are still wondering where to stay, check out our top picks of where to stay in Tinos below:
Getting around Tinos
We hope this guide on how to get around Tinos island has been helpful. Renting a car definitely offers more flexibility and you will be able to explore as much of the island as you want.
That said, if you prefer to avoid driving on a Greek island, you can take buses, and perhaps book a tour to understand a little more of the culture.
You might also be interested in our guide on the best time of year to visit Tinos and Andros.
Have you been to Tinos? How did you get around and what did you think? Let us know in the comments! Looking for where to travel after spending time on the island? Here's my guide to islands near Tinos.
Visiting Tinos Greece FAQ
If you're planning a trip to the beautiful island of Tinos, these commonly asked questions and answers will be helpful in your travel organizing:
Do you need a car on Tinos island?
If you are looking to explore the island more extensively and visit multiple locations, then having a rental car in Tinos can be very advantageous. Combining public transport and taxis is the second best option.
How many days do you need in Tinos?
In order to best experience this stunning Cycladic island, allowing two or three days to visit Tinos would be ideal.
How much are taxis in Tinos?
The cost of taxis on Tinos should be confirmed with the driver or company before booking. It will vary depending on the route and time of day.
Is Tinos worth visiting?
Absolutely! Tinos is a wonderful destination to spend a few days. With some of the most beautiful villages in the Cyclades islands, great beaches and of course the famous Our Lady of Tinos Church.
Which Cycladic islands should I visit after Tinos?
The closest islands to Tinos that you can visit by ferry are Andros, Mykonos, and Syros island.
---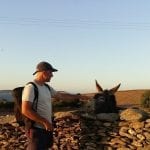 –
Dave Briggs
Dave is a
travel writer
originally from the UK, and now living in Greece. In addition to creating this travel blog post about Tinos public transport and how to get around the island, he's also written hundreds more travel guides to Greek destinations. Follow Dave on social media for travel inspiration from Greece and beyond: