The New Port of Patras in Greece acts as a gateway for ferries traveling to and from Italy and other Adriatic destinations. It is also a convenient port for domestic ferries to and from the Greek islands of Kefalonia and Ithaca.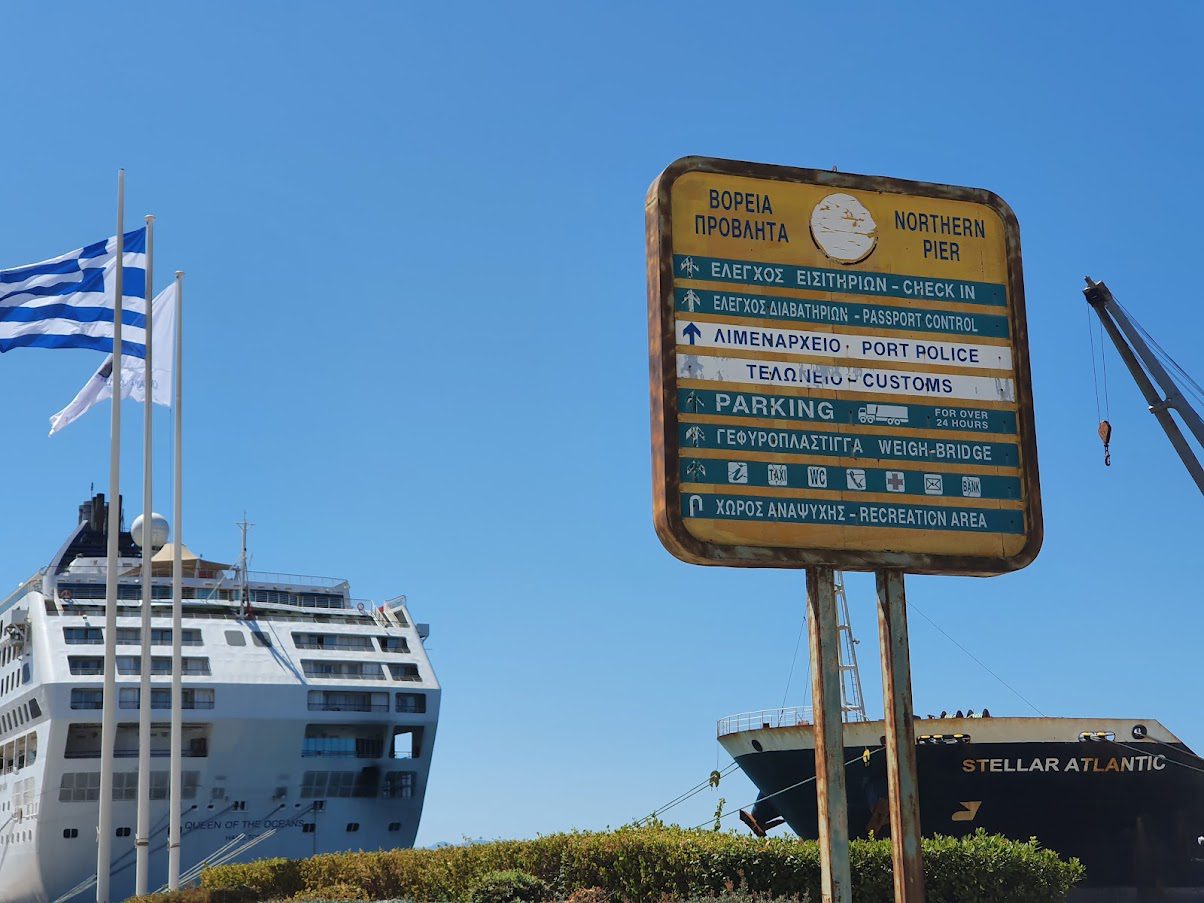 Patras Ferry Terminal
This guide to Patras port in Greece will help you to prepare for your departure or arrival by ferry at the port.
Patras ferry port is an important connection point with domestic and international ferries having routes through here.
If you're here looking for ferry tickets, I suggest using Ferryhopper for up to date schedules and timetables.
But first…
Avoid this common mistake when going to the Port of Patras
Well, when I say it's common, I mean to say that we made it when taking a ferry from Patras.
Basically, the ferry port of Patras is over 2 kms in length. This has been divided into the South Port and the North Port.
Look as you might on any ferry tickets you may have printed out, but you won't find which one you need to be at.
Not helpful when you first see the signs for Patras North and South Ports as you are barreling down the toll road at 100km per hour!
If you're driving from Patras to Athens, it definitely helps to know which area in New Patras Port you need to leave from.
Where is Patras?
Patras to located in the north of the Peloponnese region of Greece. It is the country's third largest city, about 214 kms west of Athens.
As you might expect, being a major port city it is also positioned on the sea! The ferry port of Patras is divided into two sections.
Patras North Port
Seasonal ferries to the Greek Ionian islands of Kefalonia and Ithaca leave from the North Port of Patras. You may also find some ferries to Corfu depending on demand.
There are currently no connections to Zakynthos from Patras.
So basically, if you are getting a domestic ferry from Patras to one of the Ionian islands that has connections, you need to head to the North Port.
Ferries may depart from Gate 1 or gate 7. If you are driving, set your Google map to enter the port via Iroon Politechniou street.
Patras South Port
If you are heading off to Italy, your boat will leave from the south port. Current ferries from Patras to Italy include Ancona, Venice, Bari and Brindisi crossings.
Keep looking out for any signs for Gate A or South Port, and you'll be fine!
How to get to Patras Port from Athens
Patras is located 214 kilometers west of Athens. You can make the journey by car, bus, and train.
Athens to Patras by car: Use the Olympia Odos toll road, or it will take you forever! The toll fees for a regular vehicle for driving from Athens to Patras come to just under 15.00 Euros depending on your start point. The drive should take you about 2.5 hours.
Athens to Patras by bus (KTEL): There are many daily bus services from Athens to Patras, departing from Kifissos Intercity bus station (KTEL Kifissou). On average, it takes 2.5 hours to reach Patras by bus and the fare is about €20.
Athens to Patras by train: The train doesn't quite run all the way from Athens to Patras yet. It's estimated completion time is 2023-2024. Until then, the suburban train from Athens runs up to Kiato town. From there, you'd need to continue the journey by bus. It should take around 3 hours in total.
I've a dedicated travel guide you might want to read here: Athens to Patras travel guide
How to get from Patras Bus station to the port
If your ferry leaves from the North Port, you can easily walk the distance from the bus station in 10 minutes.
If you're taking a ferry from Patras to Kefalonia or one of the other Ionian islands, use bus number 18.
Patras Port Travel Tips
Try to time your journey so you plan to arrive at least an hour before your boat departs. If you have to collect tickets at Patras ferry Port, be there and hour and a half before.
If you're driving, just ask at a kiosk where you should park and wait for the ferry.
Book tickets from Greece to Italy online at Ferryhopper.
Domestic Ferry Routes from Patras
Ferry from Patras to Kefalonia: Daily crossings during the tourist season (approx May-October). It takes around 3 hours to reach Sami in Kefalonia.
Ferry from Patras to Ithaca: Daily crossings during the summer. The ferry ride takes 3.5 hours, and ships arrive at the port of Pisaetos in Ithaca.
International Ferry routes from Patras
The most popular international destination for ferries leaving from Patras is Italy.
Ferry from Patras to Ancona: Daily ferries. Takes around 21 hours.
Ferry from Patras to Bari: Daily ferries taking around 17.5 hours.
Ferry from Patras to Venice: 2-4 weekly crossings from Patras to Venice. Takes between 30 and 36 hours.
Ferry from Patras to Brindisi: About 2 ferries per week taking nearly 17 hours.
Travel Tip: Book these ferries 5 months in advance if you want a cabin!
Patras Greece
If you have enough time in your travel itinerary, try to add a day in to see Patras itself. There's plenty to do in this vibrant city!
Some of the highlights include:
Archaeological Museum of Patras
Patras Castle
Roman Theatre in Patras
Street Art in Patras
St. Andrew's Cathedral
Planning to spend a day in Patras Greece? Check out my guide here: Things to do in Patras
FAQ About Patras City and Port
Readers planning to travel to Patras to take a ferry to the western islands in the Ionian or to other destinations in Europe often ask questions similar to:
How do I get from Athens to Patras?
You can get to Patras by taking a KTEL bus or by driving. The train from Athens doesn't currently go all the way through to Patras – it is scheduled for completion sometime in 2023.
Is Patras a big city?
Patras is the third largest city in Greece, with a population of 167,446. It is a major transport hub thanks to the New Port, which takes passengers to nearby Greek islands, and other destinations in Italy and Europe.
What is Patras Greece known for?
The Greek city of Patras is perhaps best known for its carnival celebrations, which are the biggest in Greece and one of the largest in Europe.
Is Patras in the Peloponnese?
The city of Patras is located in the north of the Peloponnese region of Greece.
---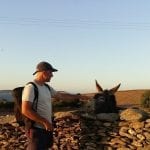 –
Dave Briggs
Dave is a
travel writer
who has been living in Greece since 2015. This guide to Patras Port is one of a series of travel guides to ports and
ferries in Greece
aimed at making your Greek Island Hopping adventures a little easier! Follow Dave on social media for travel inspiration from Greece and beyond: