During the summer season, there are around 7 ferries per week sailing from Paros to Syros island in Greece operated by Minoan Lines and Blue Star Ferries. This ferry guide has all the information you need to plan the trip.
Traveling from Paros to Syros Greece
If you are planning to Greek island hop between the Cyclades islands of Paros and Syros, you'll find that the two islands are well connected.
Between May and September (the popular tourist season), you can expect 7 ferries per week, although you should note that this does not mean they sail every day.
Quite randomly, Thursday seems to be the day where you can't take a ferry between Paros and Syros. Why are there no Paros to Syros ferry services on this day? Who knows!
Schedules do change from year to year though, so I recommend you check out Ferryhopper for the latest Paros Syros ferry schedules and information.
Ferries to Syros from Paros
The main ferry companies operating crossings on the Paros to Syros ferry route are Fast Ferries and Minoan Lines.
On some weeks, you may also find a SeaJets vessel will make the journey to Syros from Paros according to demand.
As the two Greek islands are close together, the travel time between the two is quite quick.
The fastest crossing from Paros going to Syros takes around 1 hour and 15 minutes. The slowest ferry sailing to Syros from Paros island takes around 2 hours and 5 minutes.
The cheapest ferry ticket for the ferry ride from Paros to Syros is just 7.00 Euros for passengers. This is the Blue Star vessel, and this boat also operates for the entire year.
The Minoan Lines vessel is more expensive at 27.00 Euro per passenger. This boat is either on its way to or from Crete.
If you want to check schedules for Greek ferries and book tickets for the Paros to Syros ferry online, check out Ferryhopper.
Syros Island Travel Tips
A few travel tips for visiting the Greek island of Syros:
All ferry services from Paros leave from the main port town of Parikia. Aim to be at the port an hour before ferry departure. During the summer, traffic can get quite congested in the town, so it's better to arrive with time to spare. You might like to read my full travel guide to Syros: Syros island in Greece
---
All arriving ferries sailing to Syros dock at Ermoupoli port. If you've booked accommodation, your host may arrange to meet you at the port. If not, you can either walk, take a bus, or take a taxi from the port to your hotel depending on where it is.
---
---
If you are traveling to Syros in the peak months of summer, I advise reserving apartments in Syros a month or so in advance. Take a look here for the best hotels in Syros.
---
Spend time on some of the top rated beaches in Syros: Grammata, Galissas, Azolimnos, Komito, and Delfini.
---
Ferry schedules for the May to September period are often only put live in April, so don't think you can book a ferry now for this time next year! One of the best places to look at ferry schedules, prices, and to book tickets online is at Ferryhopper. Try to book your Paros to Syros ferry tickets a month or two in advance, especially if you plan to travel during August.
---
---
Want to know where you can go after Syros? Here's some travel information: Islands near Syros
---
How to go to from Paros Greece to Syros FAQ
Questions about about traveling to Syros from Paros include:
How do we get to Syros from Paros?
The only way to make the journey from Paros to Syros is by using a ferry. There are up to 7 ferries per week (but not every day of the week) sailing to Syros island from Paros.
How do you get to Syros?
Although Syros has an airport, it only has domestic flight connections with Athens. Most people choose to travel to Syros by ferry. Ferries to Syros leave from the Athens ports of Piraeus and Lavrio, as well as Kavala to the north. In addition, Syros is connected with most of the other Greek Cyclades islands by direct ferry services.
How long is the ferry ride from Paros to Syros?
The ferries to the island of Syros from Paros take between 1 hour and 15 minutes and 2 hours and 5 minutes. Ferry operators on the Paros Syros route may include Minoan Lines and Blue Star Ferries.
Where can I buy tickets for the ferry to Syros?
Ferryhopper is perhaps the easiest site to use when it comes to booking Ferry tickets online. Although I recommend you book your Paros to Syros ferry tickets in advance, you could also use a local travel agency in Greece.
Where do Ferries go from Syros?
You can take a direct ferry from Syros to most of the other islands in the Cyclades group. Popular destinations include Naxos, Mykonos, Santorini, Andros, Tinos, Amorgos, and Donoussa.
Related: How to get the ferry from Athens to Syros Greece
If you're looking to get the ferry Paros to Syros, this post should have all the useful information you need about routes, trip duration, timetables and more. Remember, during the high season you'll want to book the ferry Paros Syros in advance in case the route sells out on the day you need.
Do you prefer the high speed or conventional ferries when you explore the Greek islands? Do you have any travel tips that might help other? Have any questions about travel times, planning an itinerary or anything else? Please leave a comment below and I'll get back to you!
Also read:
---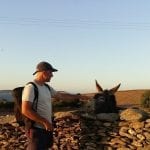 –
Dave Briggs
Dave is a
travel writer
who has been based in Greece since 2015. In addition to writing this travel blog guide ferries from Paros to Syros, he's also written many more travel blogs about destinations in Greece. Follow Dave on social media for travel inspiration from Greece and beyond: