A complete guide to the best day trips from Santorini, packed full of cool ideas and useful information! Includes popular Santorini tours like the sunset cruise and volcano trip, as well as how to get to the Greek islands near Santorini such as Crete and Naxos. If you plan to visit Santorini soon, make sure to read this Santorini day trips guide first!
Santorini Day Trips
If you are staying for more than 2 days in Santorini, you might be interested in taking one or more of the Santorini day tours on offer. This way, you'll get to see the island from a different perspective, and also a little bit more of Greece.
There's a number of Santorini excursions to choose from, including trips to nearby Greek islands, sailing experiences, volcano treks and more. Let's dive right in on what to do in Santorini for a day tour.
Santorini Volcano Tour
The most popular Santorini day trips by far are the volcano boat tours. There's a number available, some of which do vary in what they offer.
The standard package, so to speak, includes a cruise over to the volcano, some time spent walking on the volcano, time at some hot-springs, and then a cruise back to Santorini. Different variations might include a sunset or private yacht.
I've taken the Santorini volcano and hot springs tour, and found it to be quite enjoyable, mainly for the great views of Santorini you can experience from the boat. I've put an option below for the Santorini volcano cruise.
** 1-Day Volcano Boat Tours: Santorini Volcano, Thirassia & Oia Sunset **
Santorini Sunset Cruise
A Santorini sunset cruise is another popular option for people seeking to witness the beautiful Santorini sunset from a different angle. There are half and full day Santorini boat tours available which time their return with the sunset.
Not only do you get that magical moment as the sun slowly disappears, but you also get to spend time sailing around one of the most beautiful islands in Greece! A sunset tour on a luxury catamaran is surely going to be a unique activity you'll remember for a lifetime!
Take a look below, and decide which Santorini sunset boat tour suits you the most.
** Santorini Gems: Sunset Sailing Cruise on a Catamaran **
Santorini Caldera Cruise
The caldera is a stunning feature of the island's landscape, whether enjoying it during a walk from Fira to Oia, or as seen from the sea.
Taking a Santorini caldera cruise lets you see the island from a variety of different angles. It's also a great idea for anyone keen on taking photos and video.
As with a lot of these Santorini boat trips, you can take one which will also include a sunset. There's a number of different caldera cruises available, which you can see below.
** DreamCatcher Sunset Sailing Cruise in the Caldera **
Santorini Sailing Tours
In addition to the cruises already mentioned, there are countless different options for Santorini sailing trips. Some of them circumnavigate the island, others visit remote beaches, and others still head out to the small islands close to Santorini.
Available as group or private tours, a sailing trip is a great choice for people who want a day of fun and relaxation. I've included a few popular Santorini sailing day trips below.
** Santorini Gems: Morning Sailing Cruise on a Catamaran **
** The Santorini Sunset Catamaran Red Cruise **
Santorini Helicopter Tour
A fun way to see the island from the air is on a Santorini helicopter tour. A 20 or 30 minute helicopter flight over Santorini is a great way to view the island from a different perspective, and get some unique photos and video.
Swoop over the caldera, fly above the villages, and check out the beaches below during the flight. A great way to see experience the beauty of this stunning island! More info below.
** Santorini Helicopter Tours **
Day Trips from Santorini to nearby islands
To be fair, most people normally take a day trip to Santorini from a nearby island than from it. For example, day trips from Crete to Santorini are a lot more popular than the other way around.
The other issue, is that whilst the rest of the Cyclades islands look close to Santorini, the ferry times are not very convenient.
Day trips to Naxos and Paros for example are not really practical for this very reason. Still, it is possible for good planners to arrange independent day trips from Santorini to Folegandros, Sikinos, Anafi, and Ios.
(If you do want to go to Naxos for a couple of days, here's how to get to get the ferry).
Anyone willing to take a private day trip to the Greek islands near Santorini would have better luck, especially if they want to charter their own boats and yachts. Here's a few ideas to get you started.
Santorini Tours to Crete
As mentioned, the day trip is most popular in the reverse direction, and the majority of people would choose to spend a lot longer in Crete than just one day.
The only reason I have included the Santorini to Crete day trip information here, is because a lot of people ask about it!
Still, if you are determined to go ahead come what may, then I can suggest one novel way of attempting it. Take a helicopter transfer! Information about the Santorini to Crete helicopter charter below.
** Round-Trip Helicopter Transfer Between Santorini and Greek Islands **
Santorini to Mykonos Day Trip
Mykonos is another well known Greek island, famous for its party life and jet-set crowd. As a day trip though, is it really worth it?
Perhaps only if you wanted to experience the nightlife without sleeping, and then return in the early hours of the morning!
Seriously though, you can just about make a Santorini to Mykonos Day Trip using the local ferries. You would just need to ask at a travel agent when you are in Santorini for the latest ferry times.
You could also charter a helicopter again, or a yacht. Information on these private charters for the Santorini to Mykonos day trip are below. If you are going to do it, do it right!
** Helicopter Transfer between Mykonos & Santorini **
Santorini to Anafi Day Trip
The small, calm, and very un-touristy island of Anafi is arguably the island that it makes the most sense to visit on Santorini excursions.
As most people concentrate on the 'big name' islands and tick places off their itinerary though, it gets overlooked. This means it has very few tourists, is unspoiled, and has a touch of the wild side to it.
Of course, Anafi has got all those great aspects you might expect such as sandy beaches and clear warm waters as well!
The ferry from Santorini to Anafi takes between 1.5 and 2 hours, and you arrive in the pretty Anafi port of Agios Nikolaos.
Ferries normally leave Santorini early, meaning you get a full day on the island during a day trip from Santorini. Check local travel agents for ferry times and tickets.
Santorini to Ios Day Trip
Ios developed something of a party reputation in the 90's, something which is is still struggling to shake off to this day.
That's a shame really, because the beaches are some of the best in Greece.
Whilst it certainly appeals more to people of a younger generation, it could be a good choice for people looking for something a little different during a day trip from Santorini.
The ferry journey takes less than an hour from Santorini, but can be relatively expensive when compared to other ferry ticket prices.
Once again, ask for schedules and tickets in Santorini travel agents, but perhaps consider staying a night rather than just a day tour from Santorini.
Santorini to Folegandros Day Trip
Folegandros is mostly visited by Greeks who prefer to stay away from the masses of tourists visiting some of the bigger name islands.
Although it is increasing in popularity, it still retains its beauty. The Chora is regarded as one of the most picturesque in Greece.
The island certainly has an undeveloped feel to it, with many beaches only accessible by boat or down rocky paths. It's also a good destination for hiking.
Folegandros is about 3 hours away from Santorini by ferry. In my opinion, there is enough to do there to warrant at least a one night or two night stay.
However, if you are limited on time, it is just about possible to take the Santorini to Folegandros day trip using ferries. Ask at travel agents in Fira for schedules and tickets.
Things to do in Santorini Greece
If you would like more ideas on what to do in Santorini, please sign up for my Greece Travel Guides newsletter. I'll share the very best of the best blog posts and travel information with you, so you can plan a perfect trip to Santorini.
Santorini Day Tours
These are some of the questions readers commonly ask when planning which day trips from Santorini island they might like to take:
What islands can you visit from Santorini?
You can visit many of the Cyclades islands of Greece from Santorini, but it is only possible to visit a few of them on a day trip from Santorini that allows both enough time for sightseeing and to return.
Can you do a day trip to Santorini from Mykonos?
It is just about possible to go to Santorini and back on a day trip from Mykonos, but you wouldn't have much time to spend on the island. It would be better to plan to stay at least one night on Santorini to make the trip worthwhile.
How many days should you spend in Santorini?
It's possible to enjoy the main experiences and see the essential highlights of Santorini in 2 full days. Stay a little longer if you think that sounds rushed, but be aware that Santorini doesn't have beaches that are that great if you were looking for beach time.
Which Greek island does day trips to Santorini?
You can make day tours to Santorini from Mykonos, Ios, Paros and Naxos. Keep in mind that depending on the ferry schedule, you may not have much time in Santorini for sightseeing, so the day trip might not be worthwhile.
Where can you go on a day trip from Santorini?
Ideas of day trips from Santorini to other islands include:
Ios Island
Thirassia Island
Nea Kameni
Palea Kameni
Anafi Island
Santorini Island
However you choose to explore Santorini, you'll find it one of the most amazing places on earth. From red and black beaches to the volcanic hot springs, traditional villages to sunset spots, this beautiful island has something for everyone.
Do you have any other questions about choosing the best tours in Santorini? Do you need any help preparing for your Santorini visit?
Leave a comment below, or send an email over to dave (@) davestravelpages.com and I'll do my best to answer as quickly as I can!
---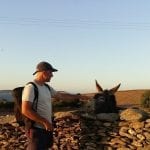 – Dave Briggs
Dave is a travel writer living in and writing about Greece. Over the last five years, he's written hundreds of travel blog posts such as this one about day trips from Santorini to help travelers planning their Greek vacations. He hasn't visited every Greek island yet – but rest assured, they are all on his list!
Follow Dave on social media for travel inspiration from Greece and beyond: Facebook, Twitter, Pinterest, Instagram, YouTube.