If you are wondering which are the best Greek island beaches, you are not alone! With over 200 inhabited islands, Greece is a paradise for beach lovers. Here are some of the best Greek islands for beaches.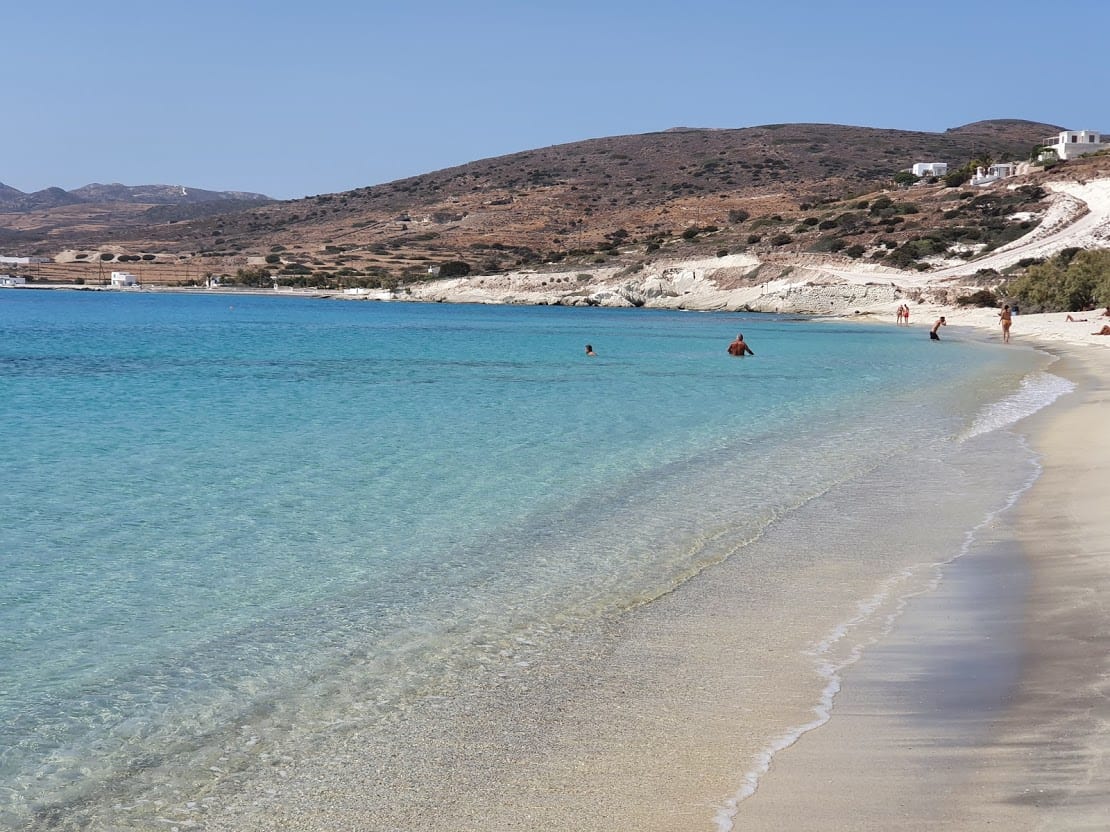 Greece beach vacations – Best Greek beaches
When it comes to beach time, deciding which Greek island to choose isn't always straightforward. Ask ten people who have visited Greece, and you are likely to get ten different answers when it comes to the best island in Greece for beaches.
As far as I am concerned, there is no single answer to this question. So, before we jump into the best Greek beaches to visit, let's try and define what this means for everyone.
The best Greek island for beaches depends on your preferences!
People are different. They often have contrasting views on things to do at Greece destinations. What I think makes a beach great, might be the exact opposite of what you prefer a beach to be like.
So, I've written this Greece beach guide with a balanced approach in mind, trying to take everyone's preferences into consideration.
I've included the Greek islands I consider to have the better beaches and mentioned why some beaches might be better suited to certain types of people than others.
You should probably know though, that my ideal Greek beach is sandy, has natural shade such as trees, is protected from the wind, and doesn't have a lot of other people on it.
I always take my chair and umbrella with me though, just in case!
Related: Beach Quotes – Feel the holiday vibe with these beach captions
Best Beaches Greece
What's your ideal beach?
Perhaps you want to make it a priority to visit famous Greek beaches. Good examples are the picturesque Red Beach in Santorini, or the moon-like Sarakiniko in Milos.
For others, the best Greek island for beach time would have plenty of organized beaches. This would typically include facilities like beach bars, umbrellas and loungers for which Mykonos is world famous.
Outdoor types might like to combine a beach vacation in Greece with hiking. In which case, hiking to Katergo in Folegandros would be perfect.
Families have often prefer to visit islands with sandy beaches in Greece, like Naxos or Lefkada.
Independent travellers might like quiet Greek island beaches. They prefer unspoiled, remote beaches where they can swim, relax and enjoy the sun, like on islands such as Kimolos or Sikinos.
Where to go in Greece for Beaches
As you see, pointing out a single best Greek island for beaches is not possible. Based on my experience travelling around Greece and the islands, here is my list of the best Greek islands for beaches.
---
---
---
---
4. Ios – Some of the best beaches on Greek islands
Are you one of these people who have associated Ios with young crowds and parties? While the small Cycladic island is definitely a party destination, it's also home to a selection of the most beautiful beaches in Greece.
For an island of its size, Ios has more than its fair share of beautiful beaches in Greece. While a few of them have facilities, many are isolated and unspoilt.
Related: Kalamos Beach, Ios Island, Greece
Mylopotas is, without any doubt, the most famous beach in Ios. Often featuring in lists of Greece top beaches, it is a long, wide sandy beach with beach bars and plenty of watersports.
As it's so famous and easily accessible, some people never get to explore other beaches in Ios, which is a shame.
Three of my favourite beaches in Ios were Manganari, to the south of the island, the wild Kalamos beach, and the west-facing Lorentzena beach. Yet, there are plenty of options with umbrellas, tavernas, and even beach bars of questionable taste, like Koubara.
While in Ios, make sure you wander around the alleys of Chora. Head up to the churches on the top of the hill, to enjoy the beautiful sunsets. In fact, I thought that Ios sunsets are among the most picturesque I've seen in Greece. I've a list of other thngs to do in Ios you should read as well.
If you are arriving on a ferry from Piraeus port in Athens, it will take you 5 hours or more to get to Ios. Alternatively, you can fly to Santorini, and take a short ferry ride.
---
5. Milos – Best beaches in Greece for variety
In the past five years, Milos has been one of the most trending destinations in Greece. White sand beaches, pebbly coves, rocky outcrops, colourful shorelines, Milos has all of the above and more.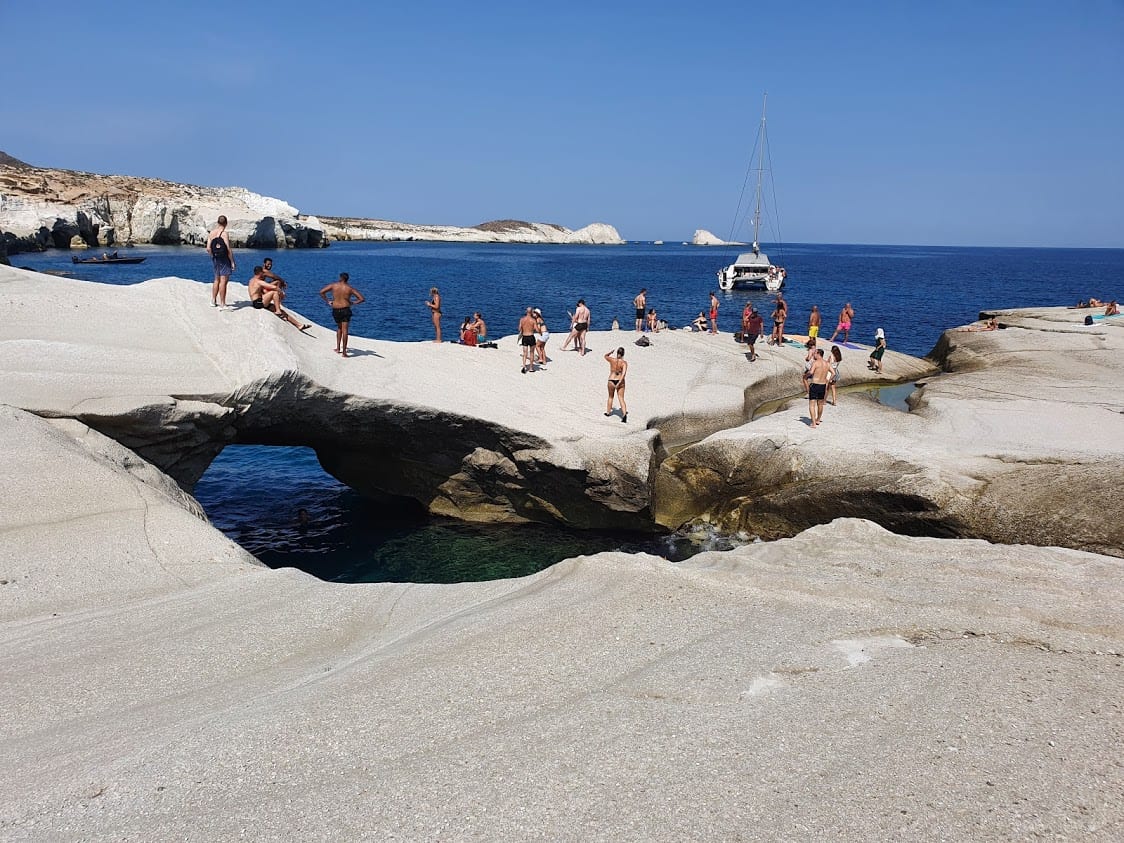 Apart from the famous Sarakiniko and Kleftiko, Milos has another 70 beaches or more, so you would need several days to see them all.
Related: Best beaches in Milos
There are beaches for all tastes, but unlike other Greek islands, only a few of them have facilities. As an example, Pollonia, Agia Kyriaki and Paleochori are well organized, with sunbeds, tavernas and accommodation.
If you are looking for seclusion, you will definitely love Milos, as most of the beaches are wild and unspoilt. Try the more remote beaches, like Kastanas, Triades or Agios Ioannis, where you may even be on your own.
Many of the beaches in Milos are accessible by car. Just be prepared to drive on dirt roads, some of which are in rather bad shape. If you are not happy to drive, or if you only have a couple of days in Milos, I totally suggest a full-day boat tour of the island.
Milos has no loud beach bars, and nightlife is rather limited. On the other hand, you can find surprisingly good food at many tavernas on the island.
If "beach holidays Greece" is synonym to exploring, swimming and enjoying Greek food, definitely consider Milos for your next vacation in Greece. I think it's one of the best islands in the Cyclades.
Related: Milos island travel guide
You can take a ferry or quick flight from Athens to Milos. Alternatively, you can check ferry connections with Santorini or Paros, that have international airports.
---
6. Schinoussa – Best Greek island for beaches and relaxing
If driving around and exploring ancient sites and villages sounds like a chore, you will absolutely love the tiny Schinoussa. Don't worry if you've never heard of it – few people have.
Schinoussa is a small Cycladic island with a mere 200 residents. It belongs to the Small Cyclades chain, which is close to Naxos. With an area of about 8.5 square kilometres, it's an ideal destination if all you want to do is nothing!
Related: Schinoussa Travel Guide
Despite its small size, Schinoussa has over 20 beaches. Many of them are sandy and shallow, but you can also find rocky coves all around the island.
One of my favourite beaches was Livadi, which was literally a stone's throw from our rooms. Few things compare with having a quiet sandy stretch of sand and lovely blue sea right at your feet! But it was definitely worth exploring other beaches, like Fikio and Lioliou.
Related: Where to stay in Schinoussa
In fact, the best way to explore the little island is on foot. Distances are very small, and most people would be able to walk everywhere as most of the terrain is quite flat.
When it comes to food, everything we ate in Schinoussa, from the local fava beans and meat stews to fusion dishes, was really delicious. I thought Schinoussa was one of the best islands for authentic Greek food, which is quite an achievement given its size.
There are direct ferries from Piraeus to Schinoussa several times a week. Alternatively, you can get a small ferry connecting Schinoussa with Naxos, Amorgos and the other Small Cyclades.
---
7. Lefkada – One of the most beautiful sandy Greek islands
Lefkada is a large, green island to the west of mainland Greece, in the Ionian islands group. In my experience, it has some of the most incredible white beaches in Greece. The landscapes will remind you of the Caribbean!
One of the trademark beaches in Lefkada is Egremni, a 2-km long sandy beach on the south-west side of the island. I don't think words are good enough to describe how pretty it is!
When I visited, it was possible to walk a few hundreds of steps down to Egremni beach, but due to a recent earthquake access is currently only possible by sea.
Other iconic beaches in Lefkada include Porto Katsiki, Kathisma and Vassiliki Bay. These tend to be quite popular destinations, and Vassiliki Bay is a surfer hotspot.
One of my favourite beaches in Lefkada was Pefkoulia, a beautiful setting with pine trees all the way to the coast. Agiofilli, a short hike from Vassiliki, was also a pleasant surprise at the time I visited, though I've heard that it's quite popular these days.
Apart from its stunning beaches, Lefkada has an interesting main town and a few traditional mountain villages. Make sure you visit the impressive Agia Mavra castle, a short drive from the town towards the mainland.
Related: Things to do in Lefkada
Even though it's an island, Lefkada is attached to mainland Greece through a causeway. This makes it a very popular destination for Greeks and other people travelling by car, as there are no ferry costs.
If you want to enjoy some of the best beaches in Greek islands with fewer crowds, I suggest that you visit Lefkada in mid-late September.
---
8. Kefalonia Greece – Most beautiful beaches with white pebbles
Kefalonia is the biggest of the Ionian islands, to the west of Greece. Its popularity grew after the movie "Captain Corelli's Mandolin", which was filmed on the beautiful island.
For many people, Myrtos is the most beautiful beach in Greece. One thing is certain, it's definitely Kefalonia's most iconic beach.
Located about 30 kms north of the main town, Argostoli, it's easily accessible, and the views from above are amazing. The small white pebbles, the awe-inspiring cliffs, the dark green trees and the turquoise water create a unique landscape.
Myrtos has loungers and umbrellas, but there is also free space for those who prefer a more natural setting. It might be best to avoid it on days when winds are coming from the north, as it will be difficult – if not dangerous – to swim.
Another beach that you should explore in Kefalonia is Antisamos, a beautiful white beach with rich vegetation all the way to the coast. Antisamos has a view to the nearby Ithaca island, and it's where many scenes of the Corelli movie were filmed.
Other famous beaches in Kefalonia are Petani, Skala, Xi, Avithos and Spasmata , but that's not all. Go around the island, and you will discover many more.
Outside beach time, Kefalonia offers plenty of options for sightseeing and exploring the Greek culture and history. Here's what to do in Kefalonia.
---
9. Zakynthos – The island with the most iconic Greek beach
Even if you've never been to Greece, think about the best Greek beaches you have seen in photos. I am sure that one that has stayed with you is the famous Shipwreck beach in Zakynthos.
The old, rusty ship and the white cliffs combined with crystal blue waters is a trademark of the island.
Back in the early 1980s, a ship named "Panagiotis" was washed out on the pretty Agios Georgios beach. At the time, the locals feared that this would put people off from visiting their beautiful island.
Quite the contrary – due to the shipwreck, the beach became famous and is constantly listed among the best beaches in Greece. It was renamed to Navagio, the Greek word for shipwreck.
If you only want to see Navagio beach and take a photo, you can drive to a parking spot where you can see it from above.
Otherwise, the only way to visit Navagio beach is on a boat trip. There are different types of trips, including a tour of the island, or a visit to the Blue Caves, a series of impressive coves and rock formations.
Other beautiful beaches in Zakynthos include the sandy Ammoudi, the sulphurous Xigia, and the uninhabited Marathonisi island in Laganas Bay. In fact, the whole of Laganas Bay is a marine park, and where the caretta-caretta turtles lay their eggs.
For this reason, parts of the island might be inaccessible when you visit. The Sea Turtle Protection Society of Greece is always looking for volunteers.
Apart from the beautiful nature, Zakynthos has a pretty main town, plenty of history and a vibrant nightlife. Here are more things to do in Zakynthos.
---
10. Paxi and Antipaxi – Best beaches in the Greek islands with an exotic feel
Paxi and Antipaxi are two small islands in the Ionian Sea, between Lefkada and Corfu. According to Greek mythology, Poseidon, the God of the Sea, cut off a piece of Corfu and created Paxi, in order to spend private time with his wife Amphitrite.
Today, they are rather more crowded, but that doesn't take away from their exotic beauty.
Paxi is the biggest island of the two. While there is a fair amount of sightseeing, most visitors come here for the beautiful nature, exotic beaches and hot springs.
You can get quite easily to beaches like Kipiadi, Kaki Lagada, Marmari and the amazing Erimitis, with great sunset views.
Antipaxi is smaller, and it's famous for the two stunning beaches, Voutoumi and Vrika. Imagine crystal-clear waters, fine white sand and lush vegetation, and you get the picture.
Like many islands, Paxi and Antipaxi are best explored by sea. As the two islands are small, the beaches can get crowded. I would suggest to plan your visit outside peak season and enjoy your vacation more.
Unless you are on a sailing trip around the Ionians, Paxi and Antipaxi are accessible from Corfu and Parga, on the western coast of Greece. This is where day tours to the small islands also depart from.
---
11. Skiathos – Best Greek beaches with tourist facilities
An island which owes part of its fame to the "Mamma Mia" movie, Skiathos has a few contributions to make to the best beaches of Greece. If you want to stay in the Aegean, but find the Cyclades too dry, you will love Skiathos.
Koukounaries will be your new favourite Greek beach if you like fully organized beaches with all facilities. It's a long, sandy beach surrounded by hundreds of pine trees, to which it owes its name.
The fine golden sand and crystal-clear waters attract many visitors – it's fair to say that this won't be your cup of tea if you are after seclusion.
Close to Koukounaries, you will find Lake Strofilia, a natural reserve which is home to many species of wild animals and birds.
Another spectacular beach in Skiathos is Lalaria. It's a wild, remote stretch of white pebbles, surrounded by massive rocky outcrops.
Lalaria is very different from the rest of the island, as there are no trees or other vegetation. Instead, there is the iconic Trypia Petra rock, which you can swim or canoe through if you are a strong swimmer. Access to Lalaria is possible only by sea.
Other beautiful beaches in Skiathos include Elia, Agia Eleni, Vromolimnos and Xanemos, where you can see the airplanes take off. As with most islands, taking a boat trip around Skiathos is the best way to see the more remote beaches.
In terms of sightseeing, Skiathos has several churches, monasteries, and many Byzantine and Venetian monuments. Do not miss the old castle and the medieval town, which will take you back to another era.
Skiathos is located in the Sporades island group. You can get there by ferry from Volos or Agios Konstantinos, or by plane.
---
12. Rhodes – Best place to go in Greece for beaches in the off-season
Rhodes, the biggest of the Dodecanese islands, is best known for its awesome medieval castle, the stunning Old Town and the site of Ancient Lindos.
In addition, it's one of the best beach places in Greece. This is partly due to its mild climate, which makes it one of the best Greek destinations for the off-season.
You will find dozens of unique beaches all around the coastline. Whether you like long stretches of sand, pebbly coves, or remote, secluded bays, Rhodes will definitely impress you.
People who like beaches with facilities will have plenty of options in Rhodes. To begin with, there is the cosmopolitan, sandy Elli beach, perfect for a quick swim in the old town.
Other organized beaches include Ialysos, Afandou and Tsampika, that are ideal for families but also for people visiting for business.
The famous Faliraki is a busy, vibrant area with beach bars and lively (perhaps too lively?) nightlife.
Related: How to get from Rhodes Airport to Faliraki
Rhodes is also a paradise for windsurfers. A few kilometres out of town, you will find the 8-km long Ixia beach, an easily accessible resort area with plenty of facilities.
Additionally, one of the best beaches in Greek islands for watersports is Prasonissi beach in south Rhodes.
The incredible setting will reward you for the 90-km long drive from the Old Town, and you could even consider spending a few days in the area.
Finally, for any of you thinking of relocating to Greece, Rhodes might be the best place to stay in Greece for beaches!
---
13. Crete – Best Greek island for swimming, exploring and trying delicious food
I've left the biggest Greek island for last. Crete is located to the south of mainland Greece, and it would take you several weeks – or perhaps a lifetime – to see it properly.
Some of the prettiest beaches of Greece are in Crete. Both Elafonissi and Balos Lagoon have been continuously voted among the 25 best beaches in the world. The unique landscapes and crystal-clear turquoise water make them among the most visited Greek beaches, year after year.
Related: Crete Road Trip
Other well-known beaches in Crete include Falasarna, Malia, Stalis, Preveli, Matala and Vai. These are all located in different parts of the island, so allow plenty of time if you want to see them all.
In addition, there are several dozens of amazing beaches all around the beautiful, wild island, some of which are less famous. Sougia, Triopetra, Lentas, Frangokastello, Kedrodassos, Agios Pavlos… The list is endless, but one thing is certain – if you like exploring, the best beach in Greece is the next one that you will visit in Crete.
Related: Crete Travel Blog
Swimming aside, Crete has enough ancient sites, museums, spectacular gorges and amazing nature to keep you occupied for weeks. In addition, it has some of the best food in Greece, and a vibe so special that you will definitely want to return for more.
You can get to Crete from ferry or flight from Athens, as well as international flights to both Heraklion and Chania airports. Why not also check out my guide to Mykonos vs Crete.
---
I notice you didn't mention Santorini in the above list!
Well, yes! Santorini does not have the best beaches in Greece. Sone of them may be picturesque, but in my opinion they are not that special. By all means visit Santorini for the volcano views, or visit it as a romantic Greek island for couples, but move on to another island for beach time.
Related: Best beaches in Santorini
Where are the best beaches in Greece? My conclusion
As you have probably seen, there is no straightforward answer here, and in fact many more islands have beautiful beaches. Greece is blessed this way! I'd love to include more suggestions, so feel free to leave a comment with your own favourite beach in Greece.
FAQ About Beaches in the Greek islands
Here are commonly asked questions about which Greek islands have the best beaches
Which island in Greece has the best beaches?
The Greek islands that are recognized for having the best beaches include Milos, Crete, Lefkada and Mykonos. The island of Naxos is also gaining popularity for the family-friendly nature of its beaches.
Which is the prettiest Greek island?
Santorini is often thought of as the prettiest Greek island thanks to its incredible caldera views and the town of Oia. Other islands with fantastic landscapes, pretty villages and charm include Naxos, Mykonos, Corfu, and Crete.
Which Greek Island has the most sandy beaches?
Naxos, which is the largest of the Cyclades islands in Greece, is thought to have the most sandy beaches thanks to its large coastline. Crete is also a contender, but not all the beaches there are sandy.
Which is the prettiest and quietest Greek island?
10 of the prettiest and quietest Greek islands to visit in 2023 include:
Tinos
Sikinos
Kimolos
Folegandros
Amorgos
Donoussa
Ithaca
Chios
Leros
Karpathos
Best Greece Beaches
If you enjoyed this guide to islands of Greece, best beaches you can find on them and what else to do, please share this post on social media. You can find sharing buttons in the bottom right hand of your screen.
---