The famous Santorini hike from Fira to Oia is in my opinion the best activity to do in Santorini, revealing this beautiful Greek island at its most stunning.
While hiking Fira to Oia, you'll enjoy beautiful caldera views and pass through picturesque villages. The hiking trail is well marked and suitable for anyone of average fitness.
If you're staying in Santorini for a couple of days, the iconic Santorini hike between Fira and Oia might just be the thing you remember most from your vacation!
Walk From Fira to Oia in Santorini
I've been fortunate to have taken the Fira to Oia hiking route a few times now, the most recent being in March 2023. That's why I'm wearing a jacket in the picture below – you almost definitely won't need a jacket if taking the walk from Fira to Oia in the summer, but more about this later!
There are several reasons I think the Fira to Oia hike is one of the best things to do in Santorini, and why I make time to do it when in Santorini.
The incredible views go without saying of course, as well as the endless photo opportunities.
Perhaps the main reason though, is that the Fira – Oia walk gets you away from the crowds so that you can appreciate just why Santorini became so popular in the first place.
Whilst you can do the hike along this scenic route on a paid tour accompanied by a guide, it is very easy to follow by yourself. Here's everything you need to know, along with photos from different stages of the Fira to Oia walk.
Hike From Fira to Oia – The Basics
Technical difficulty: Beginner/ Mobility level: Medium / Fitness level: Moderate
This walk is suitable for light to moderately active people with no mobility issues.
Here's a few tips on the hike from Fira to Oia in Santorini to get you started.
Allow 3-4 hour for the walk from Fira to Oia.
The walk is around 10kms long (6 miles)
The walk is not technical in nature – just follow the signs!
You might deviate from the path, but you'd have to try very hard to get actually lost!
Make sure you have hat, sunglasses, and plenty of water!
The hike from Fira to Oia isn't suitable for strollers/pushchairs.
Kids aged 7 and older shouldn't have any problems with the walk.
It doesn't matter if you hike Fira to Oia or Oia to Fira in terms of total ascent gained.
Fira to Oia Distance
The distance from Fira to Oia is about 10 kms, and there is a well marked hiking trail to follow. The official starting point for the trail is near the Atlantis Hotel in Fira, and the walk ends in Oia.
Passing through the more important villages of Santorini, hiking from Fira to Oia offers amazing views out onto the volcano and the awe-inspiring coastline.
You want to make sure you have plenty of battery in your phone and cameras. You are going to be taking a LOT of photos along the way during the caldera hike!
Also keep in mind that while the hike ends in Oia, you'll probably want to spend more time wandering around Oia taking photos. If you have timed the walk to end at sunset, you'll also want to make your way to Oia castle.
This means that the 10km walk can quite easily turn into a 14 km walk by the time you've finished!
Santorini Fira to Oia Walk Map
Here's a map of the Fira to Oia hike. You should be able to zoom in and out to get a better idea of the walking trail and the places along the caldera in Santorini you will pass through.
If you don't want to do the entire route, you'll see on the map there are a couple of logical stopping points where you can decide to get a bus back to Fira or on to Oia.
The first is at Imerovigli. Here, you might want to take photos of the Skaros rock and explore the village. There's a bus stop at Imerovigli where you can then travel onwards.
The second logical stopping point is a little further north where there are a cluster of exclusive five star hotels such as the Santorini Princess Spa and Nobu Hotel Santorini. Technically, this is still classed as Imerovigli, but in reality it is like its own little village.
If you walk this far, you'll appreciate that these hotels really do have some of the best sunset views in Santorini! Once here, you can cut through to the road where there is a bus stop opposite the Le Ciel Santorini.
Feeling hardcore? Carry on all the way to Oia!
Take Your Time And Enjoy The Views
Although it is possible to walk from Fira to Oia in 3 hours or less, it's not a race! Take your time, enjoy the walk, and soak up the views. Allowing between 4 and 5 hours would be ideal.
No special equipment is needed for this walk in Santorini. Just a comfortable pair of shoes, some snacks, and some water. Remember to wear a hat and sunblock! Guess who burned their head even in March?
Hiking from Fira to Oia
As I previously mentioned, the hiking path from Fira to Oia is well marked. There are a couple of times where you will need to keep your eyes peeled for signs, but most of it is common sense.
It's a coastal hiking path, and the sea should be on your left! Yes, you will see the sea occasionally on your right as it is the other coastline, but you won't get confused, I promise!
Hike from Fira to Oia Starting Point
Picking up the path in Fira first of all is perhaps the trickiest part. While the Fira to Oia hiking trail officially starts in the square beside Hotel Atlantis in Fira, many people find it easier to make their way to the cable cars and start the route from there.
Basically, follow the signs to the cable car, and from there, you will start to see the signs for the walking trail.
As you walk, on your left, you'll see the volcano and possibly some cruise ships parked up. By the way, a Santorini volcano trip is another highly recommended activity to take!
Walking through Fira itself takes a little time. There's lots of great views and photo opportunities. You'll pass by the handrail where people leave padlocks with their initials on. I compared my photos from 2023 to ones taken in 2017, and some of the padlocks were the same!
Firostefani
Continue walking along, past the strategically placed plants for photo ops!
Soon, you'll be in Firostefani which nowadays seems merged into one with Fira. One wonders if in 20 years, the entire caldera will be one giant settlement – I'll let you know in 2043!
During the summer, there are plenty of places to get a drink or something to eat. If you are hiking from Fira to Oia in Santorini during the off season though, most of these places will be closed.
If for some reason you get lost in Firostefani (I don't think it's possible, but you never know!), head to the main square and looks for signs like this one below.
Firostefani To Imerovigli
Continue onward along an old cobblestone walking path which leads to the Monastery of Saint Nicolas.
Apparently this monastery contains Byzantine icons. Every time I've hiked from Fira to Oia this monastery has been closed, but by all accounts, it is a worthwhile place to visit.
The hiking path then continues through one of the most picturesque villages of Santorini – Imerovigli.
Imerovigli and Skaros Rock
You have a few choices once you've reached Imerovigli:
Hike through the village to pick up water and snacks.
Continue hiking along the caldera.
Walk out to Skaros rock
Inevitably, you will at least want a photo of Skaros rock. If you do decide to walk there, you should consider that it will add at least another hour on the the total hike time of your Fira to Oia walk.
If you have a few more days left in Santorini, you might want to consider coming out to Skaros rock on another day, as it is a great sunset spot.
At this point, if you don't want to do the entire hike from Fira to Oia, you could get a bus either back to Fira or on to Oia.
Cluster of Luxury Hotels Santorini just outside Imerovigli
If you've decided to carry on walking along the caldera path, you'll start to see Oia way out in the distance at the end of the crescent shaped part of the island.
It will take an hour or two before you get there though, and first, you'll pass by a cluster of luxury hotels.
These hotels really have been built with some of the best sunset views of Santorini in mind. Situated between Imerovigli and the Church of Prophet Elias, if you can afford to stay here, do it! Last chance to take a bus if you want to skip the next part of the hike!
The path then carries on uphill to the Church of Prophet Elias.
You'll get some nice views from the church, and if you're lucky, the two outside toilets will be unlocked so you can use them. (Don't expect much beyond a hole in the ground).
Once you've caught your breath (from the walk, not the loos), you can head down the track and on to Oia.
Santorini Caldera Trail
As you start to walk downhill, it enters a wilder section of walking over the Santorini caldera. The path is paved with rough cobbles in some places, and loose gravel in others.
After 10 minutes or so the hike becomes less interesting when you have to walk down to, and then along the road. There is a snack bar open on the road in the summer but in the off season it won't be. Just past the snack bar, you then enter the path once more.
Take a pause at the top of the hill with the The Assumption of the Virgin Mary Holy Chapel. From here you get a proper glimpse of Oia, and then the goal seems much closer!
Every step now takes you closer to Oia!
Eventually, the hiking path ends up in Oia. This is perhaps the most photographed village in Santorini. Lots of blue-domed churches and pretty houses!
Oia is filled with beautiful sights. Be sure to explore the alleyways and wander down different steps and stairs to see where they lead to!
Stunning Photos of Santorini Fira to Oia Walk
It really is beautiful. In fact, you would have to work pretty hard to take a bad photograph here! It is also the place to watch a stunning sunset. A perfect end to the day, but the evening has just begun!
Stay for a few hours in a bar in Oia, or catch the bus back to Fira and prepare for a night out. The choice is yours!
Looking for a hotel with a sunset view? Check out my guide to Santorini sunset hotels here.
Best Time To Hike From Fira To Oia
One final note. It is best to avoid hiking from Fira to Oia during the hottest parts of the day, especially in the summer. Either set off early morning, or late afternoon.
My advice is to set off in the afternoon, and arrive in Oia in time to watch the sunset. You can then catch a bus back to Fira after, or stay in town for a few hours, and get a taxi back.
Prefer to go with a guide on the walk? Check out this Santorini Hiking Tour.
Also read: Best hikes in Greece
Also read:
Fira to Oia Hike FAQ
Readers planning to do the Oia hike from Fira along the caldera path often ask questions such as:
How long is the hike from Fira to Oia?
The Fira to Oia hike is around 6.5 miles (10.5kms) one-way. The walking path passes by the towns of Firostefani and Imerovigli on the way to Oia, and can take anywhere from 2 to 4 hours to complete.
How do you get from Fira to Oia?
You can take the beautiful walk along the caldera cliff if you want to enjoy the amazing view, but if you are tight on time, a public bus or taxi will get you from Fira to Oia quicker.
How far is the walk from Imerovigli to Oia?
If you are walking to Oia from Imerovigli, you can expect to cover the distance of 5.6 miles in between 2 and 4 hours.
Do you need special walking shoes for the Fira Oia Hike?
No, you don't need specialized hiking shoes for this beautiful hike. Of course, comfortable good shoes are always a good choice on any long walk!
Can you walk around Oia?
Oia in Santorini is largely pedestrianized, and so walking is the best way to get around the town.
Do you have any questions about the Fira to Oia hike that are not answered here? Check out the reader comments below, as there may be some extra information there!
Pin this Santorini hiking guide for later
Have you visited Santorini and hiked from Fira to Oia, or are you planning to? I would love to read your comments, so please leave some below!
---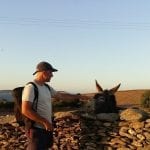 –
Dave Briggs
Dave is a
travel writer
based in Greece As well as creating this guide to hiking in Santorini from Fira to Oia, he's also written hundreds more travel guides to Santorini and other Greek destinations on this travel blog. Follow Dave on social media for travel inspiration from Greece and beyond: