The walk from Fira to Oia in Santorini reveals the Greek island at its most stunning. Passing through some beautiful villages, the hiking trail is well marked and suitable for anyone of average fitness. Interested in hiking from Fira to Oia? Here's all the information you need for the walk to Oia from Fira!
Walk From Fira to Oia in Santorini
Santorini is perhaps the most stunning of all the Greek islands. The whitewashed houses, blue-domed churches, and majestic views seem pristine and timeless.
There are many things to see and do such as visit Red Beach Santorini and more, some of which I included in this recent article – 2 days in Santorini.
The one thing I would highly recommend though, is the walk from Fira to Oia. If you want to soak up those stunning views, and experience white washed villages in all their splendor, this great hike is definitely for you!
Whilst you can do the hike along this scenic route on a paid tour accompanied by a guide, it is very easy to follow by yourself. Here's everything you need to know.
Hike From Fira to Oia – The Basics
Technical difficulty: Beginner/ Mobility level: Medium / Fitness level: Moderate
This walk is suitable for light to moderately active people with no mobility issues.
Here's a few tips on the hike from Fira to Oia in Santorini to get you started.
Allow 3-4 hour for the walk from Fira to Oia.
The walk is around 10kms long (6 miles)
The walk is not technical in nature – just follow the signs!
You might deviate from the path, but you'd have to try very hard to get actually lost!
Make sure you have hat, sunglasses, and plenty of water!
The hike from Fira to Oia isn't suitable for strollers/pushchairs.
Kids aged 7 and older shouldn't have any problems with the walk.
It doesn't matter if you hike Fira to Oia or Oia to Fira in terms of total ascent gained.
We walked this path ourselves when on vacation in Santorini in November. It was a lovely time to do it, with almost no-one else on the path!
Fira to Oia Distance
The distance from Fira to Oia is about 10 kms, and there is a well marked hiking trail to follow. Passing through the more important villages of Santorini, hiking from Fira to Oia offers amazing views out onto the volcano and the awe-inspiring coastline.
You want to make sure you have plenty of battery in your phone and cameras. You are going to be taking a LOT of photos along the way during the caldera hike!
Santorini Fira to Oia Walk Map
Here's a map of the Fira to Oia hike.You should be able to zoom in and out to get a better idea of the walking trail and the places along the caldera in Santorini you will pass through.
Take Your Time And Enjoy The Views
Although it is possible to walk from Fira to Oia in 3 hours or less, it's not a race! Take your time, enjoy the walk, and soak up the views. Allowing between 4 and 5 hours would be ideal.
No special equipment is needed for this walk in Santorini. Just a comfortable pair of shoes, some snacks, and some water. Remember to wear a hat and sunblock!
Hiking from Fira to Oia
As I previously mentioned, the hiking path from Fira to Oia is well marked. There are a couple of times where you will need to keep your eyes peeled for signs, but most of it is common sense. It's a coastal hiking path, and the sea should be on your left!
Hike from Fira to Oia Starting Point
Picking up the path in Fira first of all is perhaps the trickiest part. Basically, follow the signs to the cable car, and from there, you will start to see the signs for the walking trail. The Fira to Oia hiking trail starts in the square beside Hotel Atlantis in Fira.
Fira To Imerovigli
Following a cobblestone path, the trail heads upwards, and along the caldera. Skaros rock should be on your left, and the first village to be reached is Firostefani.
During the summer, there are plenty of places to get a drink or something to eat. If you are hiking from Fira to Oia in Santorini during the off season though, most of these places will be closed.
Continuing onward, the trail passes by the Monastery of Saint Nicolas, which contains Byzantine icons. When I hiked the trail in November, the monastery was closed, but by all accounts, it is a worthwhile place to visit.
The hiking path then continues through one of the most picturesque villages of Santorini – Imerovigli.
Note – You have a choice here. 1. Hike through the village and pick up water and snacks. 2. Continuing hiking along the caldera.
Imerovigli to Oia
Heading northwards once more, the hiking path passes by the Church of Agios Antonios, and the Church of Prophet Elias. Now, it enters a wilder section of walking over the Santorini caldera.
Eventually, the hiking path ends up in Oia. This is perhaps the most photographed village in Santorini.
Stunning Photos of Santorini Fira to Oia Walk
It really is beautiful. In fact, you would have to work pretty hard to take a bad photograph here! It is also the place to watch a stunning sunset. A perfect end to the day, but the evening has just begun!
Stay for a few hours in a bar in Oia, or catch the bus back to Fira and prepare for a night out. The choice is yours!
Looking for a hotel with a sunset view? Check out my guide to Santorini sunset hotels here.
Best Time To Hike From Fira To Oia
One final note. It is best to avoid hiking from Fira to Oia during the hottest parts of the day, especially in the summer. Either set off early morning, or late afternoon.
My advice is to set off in the afternoon, and arrive in Oia in time to watch the sunset. You can then catch a bus back to Fira after, or stay in town for a few hours, and get a taxi back.
Prefer to go with a guide on the walk? Check out this Santorini Hiking Tour.
Also read: Best hikes in Greece
Fira to Oia Hike FAQ
Readers planning to do the Oia hike from Fira along the caldera path often ask questions such as:
How long is the hike from Fira to Oia?
The Fira to Oia hike is around 6.5 miles (10.5kms) one-way. The walking path passes by the towns of Firostefani and Imerovigli on the way to Oia, and can take anywhere from 2 to 4 hours to complete.
How do you get from Fira to Oia?
You can take the beautiful walk along the caldera cliff if you want to enjoy the amazing view, but if you are tight on time, a public bus or taxi will get you from Fira to Oia quicker.
How far is the walk from Imerovigli to Oia?
If you are walking to Oia from Imerovigli, you can expect to cover the distance of 5.6 miles in between 2 and 4 hours.
Do you need special walking shoes for the Fira Oia Hike?
No, you don't need specialized hiking shoes for this beautiful hike. Of course, comfortable good shoes are always a good choice on any long walk!
Can you walk around Oia?
Oia in Santorini is largely pedestrianized, and so walking is the best way to get around the town.
Do you have any questions about the Fira to Oia hike that are not answered here? Check out the reader comments below, as there may be some extra information there!
Pin this Santorini hiking guide for later
Have you visited Santorini and hiked from Fira to Oia, or are you planning to? I would love to read your comments, so please leave some below!
---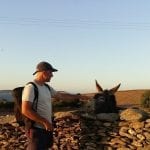 –
Dave Briggs
Dave is a
travel writer
based in Greece As well as creating this guide to hiking in Santorini from Fira to Oia, he's also written hundreds more travel guides to Santorini and other Greek destinations on this travel blog. Follow Dave on social media for travel inspiration from Greece and beyond: