After landing at the airport, your options for Santorini transfers include bus, taxi, and car hire. This guide to Santorini airport transfers will help you make the right choice.
Why I suggest you arrange your Santorini airport transfer in advance
First, the good news. Santorini is a small island, and it doesn't take long to get around.
Now, the bad news. Santorini airport is very small, and when a bunch of planes arrive at once, massive queues form for the airport taxis and buses.
In the high season, it can take you quite some time to get to your final destination if you haven't looked at your transportation options in advance.
Prebook Santorini Airport Taxis
Unless you particularly enjoy waiting in queues at the taxi rank at Santorini International Airport, I strongly suggest you arrange your Santorini airport transport in advance. Sure, you might still hit a bit of traffic leaving Santorini airport, but at least the air-con will be on!
** Book a Santorini taxi now **
Note: You should be aware that because many of the hotels in Santorini in Fira, Oia, Firostefani, and Imerovigli are built on hills in traffic free parts of the villages, a taxi will get you as close as they can, but it may not be a door to door service.
Related: Tips for stress free travel
Book your Santorini transfers online now
If you just want the issue of how to get from Santorini airport to your hotel off your plate right now, use the link below.
The taxi will cost the same price as one from the queue at the airport, but your driver will be waiting for you with your name on a card. It's an efficient, first class service. You can have your taxi booked in less than a minute.
** Book a Santorini taxi now **
Drivers wait for you near the arrivals hall or at another pre-described meeting point, and a private transfer means there's no hanging around.
Looking for more indepth information on Santorini transfers using taxi and bus? Read on…
Santorini Airport Transport
You've got five options when it comes to Santorini airport transfers. These are:
Prebooked Santorini transfer services – Hassle free and driver will meet you at the airport.
Santorini airport taxi – Drivers will pick you up from the airport taxi queue.
Santorini airport bus – The budget friendly bus service will take you close, but not directly to your hotel.
Hire a car at Santorini airport – A good idea if you plan hire a car to go sightseeing around Santorini.
Hotel pickups – A few hotels may offer a pickup service from the airport.
Below, I'll go into each transport option in more detail.
Related:
Pre-booked Santorini transfer services
In my humble opinion, using a pre-booked Santorini transfer service is a bit of a no-brainer, especially now when there are companies offering their transfers at the same rate as regular taxis!
The benefits of a pre-booked transportation service, are that your driver will be waiting for you with your name in arrivals, and you can get straight to the car.
Getting to your destination in Santorini is no hassle, and no drama.
Broadly speaking, there's three different types of pre-booked airport transfer services in Santorini.
Santorini Airport Taxi
Taxis operate from Santoirni airport 24/7, and are all metered. Although the rate is higher at night (01.00 – 04.59), the meter operates on distance. You could expect the day rate taxi cost from Santorini airport to Fira to be around 30 Euro, and the night rate to be around 40 euro.
To get a taxi from Santorini airport, locate the queues outside the airport. Depending on how many flights and people have arrived, you could get a car within 5 minutes or after half an hour. Or more.
As there are only a limited number of Santorini taxis, single passengers or couples might find their driver asks them to share the ride with others going in the same direction. If this is the case, ensure you arrange to split the fare, rather than paying the full fare each!
Santorini Airport Bus
If a private-hire taxi or van isn't within your budget, then you may want to consider using the Santorini airport bus. These vehicles never travel from one side of the island to the other. Instead, each one stops at the main bus station in Fira, where you can make a changeover to another bus that is heading closer to your destination.
Estimated travel time via Santorini airport bus can be much longer than by taxi or van. Typical routes from the airport to Fira can take roughly 25 minutes, whereas those going to Oia or other areas on the far side of the island will have a 2 to 3 hour trip, depending on how long it takes to change buses at the main station.
Due to Covid 19, there may be restrictions on the passenger capacity of some buses. This may mean that waiting times for a bus at Santorini airport JTR may be longer in 2021 and 2022 than in the past.
Santorini Airport Car Hire
Rather than planning and arranging transfers from Santorini airport, a suggestion, is to arrange for a car rental at Santorini airport. A hire car is a good way to get around the island, and see some of the less visited places.
** To look at car hire in Santorini airport, click here. **
Hotel Pickups
The final option for airport transfers is if your hotel in Santorini offers an airport transfer service. Many hotels do this by utilizing one of the above options – most likely booking a shuttle space.
It's likely that the Santorini hotels offering a transfer service may have a markup. However, for Santorini hotels offering airport pickup at no extra charge, it's an easy choice to make.
Further Information about transfers in Santorini Greece
Here's some more information on how to get from Santorini airport to different parts of the island, along with the answers to some frequently asked questions about Santorini travel.
Where is Santorini Airport?
Santorini JTR airport is in a very accessible location, and is located on the central eastern part of the island, near Monolithos Beach and the village of Kamari. It is also roughly 6 km (3.7 miles) from Fira, and 17 km (10.5 miles) from Oia.
How to get from Santorini airport to Fira
The travel time from Santorini airport to Fira is approximately 25 minutes. This does, of course depend on traffic in Santorini. The main bus station is located in Fira, so if you are travelling to other parts of Santorini using public transport, you'll want to change here.
How to get from Santorini airport to Oia
The journey to Oia from Santorini airport by car can take 25 minutes, but sometimes a little longer. If using a bus, you'll first need to change at Fira bus station.
How do I get from Santorini airport to my hotel?
Some hotels may offer an airport pickup service, but the most common way to transfer from Santorini airport to your hotel is by taxi or bus.
How much is taxi from Santorini Airport to Fira?
The easiest way to get from Santorini airport to Fira is with a taxi. They are available 24/7, and the journey takes around 25 minutes. There is no set fee for the taxi to Fira from Santorini island airport, but you can expect to pay around 35 Euro.
Is it easy to get a taxi at Santorini airport?
The island of Santorini is quite small, and so there are only a few taxis available. Unless you have taken the stress free method of pre-booking a taxi, you may have to wait in the queue outside the airport.
Santorini Travel Guides
I've got a series of Santorini travel guides all designed to make your vacation go smoothly. Check them out by clicking the links below!
Pin this Santorini Transfer guide for later
---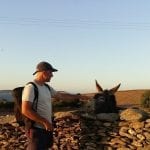 –
Dave Briggs
Dave is a
travel writer
who has been living in Athens, Greece since 2015. As well as writing this guide to transport services on Santorini island, he's written hundreds of other guides and itineraries to different parts of Greece.Follow Dave on social media for travel inspiration from Greece and beyond: