The most convenient way to travel from Santorini ferry port to Oia is to pre-book a taxi. A bus is far cheaper, but involves changing buses in Fira.
Athinios Santorini Port
Before I dive too far into this guide on how to get from Santorini ferry port to Oia, I will explain the actual location of the Santorini Port.
The Santorini ferry port is also known as Athinios Port, and is located south of the main town of Fira. All Greek ferries connecting with Santorini arrive at and depart from Athinios port.
The distance from Santorini ferry port to Oia is about 20kms. On a good day, the journey by car will take about half an hour. In peak season, the trip could be double that time.
It's important to known that cruise ships dock at an entirely different port in Santorini. Don't get confused between them!
This guide on the different ways to get from Santorini ferry port to Oia is for people arriving by Greek ferry. I'll write another guide in the future for cruise ship passengers!
Related: How to get around Santorini
Pre-booked taxi from Santorini ferry port to Oia
If you are looking for the easiest way to travel from the Santorini ferry port to Oia, then pre-booking a taxi is the way to go.
As Santorini island is very small, the numbers of taxis are low compared to the amount of visitors. This means that they are always in demand, and so the best solution for the Athinios ferry port to Oia route is to pre-book one.
There are two advantages of doing this:
1) The driver will be there to meet and greet you
2) You'll get to you hotel in Oia far quicker
The disadvantage is that it is the most expensive way of travel from the Santorini ferry port to Oia.
If you are traveling to Santorini by ferry in July and August, it's the best solution and solves a whole lot of stress.
The price of the pre-booked taxi ride from Santorini ferry port to Oia will depend exactly where in Oia you need taking to, but expect prices to be around 63 Euros.
For pre-booking a ride in Santorini, I recommend: Welcome Pickups
Regular Taxi from Santorini's Ferry Port to Oia
If you are lucky (very lucky) you might be able to get straight off the ferry and into one of the taxis that may be waiting. Negotiate the price with the driver and you'll be on your way – it should be cheaper than pre-booking by about 5 or 10 Euros depending on the time of year.
One of the advantages (if you don't mind) is that you might be asked to share the ride with another passenger or two, and then you can split the cost.
The main problem though, is that there are far too many people disembarking from the ferries for the number of taxis available. You might be left waiting a while, at which point you'll wish you had pre-booked or taken public transport!
Shuttle Buses from Santorni ferry port to Oia
There's a couple of private companies offering shuttle bus services from Santorini ferry port to Oia and other towns on the island. Prices vary depending on destination, but it'll usually work out much cheaper than a taxi for solo travelers. For couples, it would be about the same price or maybe a little less.
The downside of the shuttle bus services is that they will first drop people off in Fira before continuing onto Oia, so it would take longer than a taxi ride.
Take a look here for shuttle buses: Santorini Port Shuttles
Public Buses from Santorini Ferry Port to Oia
Taking the bus is by far the cheapest way of traveling from the ferry port in Santorini to Oia. Buses are timed more or less to be waiting for ferry arrivals at Santorini port, and can be found on the left as you get off the boat.
Unfortunately, there is no direct bus to Oia from the port of Santorini – you have to get a connecting bus in the island's capital Fira. You buy a bus ticket either as you board, or a ticket seller will walk up the aisle of the bus on departure.
Payment is in cash only, and you'll need to buy the two tickets for the different sections of the journey separately.
The bus trip from the port will take you to the bus station in Fira. If you thought the ferry port was chaotic, wait until you see this place! You can either ask at the booth, or tap a driver on the shoulder to find out when the next bus is going to Oia.
The total cost for the bus trip will be around 5 Euros, making it the cheapest option for getting to Oia from Santorini's ferry port. The travel time including getting the second bus can range from an hour to an hour and a half depending on how busy Santorini's traffic is when you visit.
You can find bus itineraries at: KTEL Santorini
Car Rentals
If you were considering a car rental in Santorini, then collecting the car when arriving at the ferry port could be a good idea.
Car rental companies operate at the ferry port, although it's advisable to have reserved your car in advance.
I recommend Discover Cars for rental cars in Santorini.
Related:
Santorini Athinios Ferry Port – Oia FAQ
Readers looking to travel from Santorini port to Oia after arriving by ferry often ask questions similar to:
How do I get from port to Oia?
There are different transportation options available from the Santorini Athinios Ferry Port to Oia. If you are in a hurry and have the budget, a pre-booked taxi ride would be your best bet. Otherwise, shuttle buses and public buses are cost-effective options. Renting a car is also an idea, and gives you more independence to explore the rest of Santorini.
What is the closest port to Oia Santorini?
There is only one ferry port in Santorini, the Athinios Port. Oia is about 20 km away from the ferry port, and it can easily be reached by public transport, taxis, and shuttle buses.
How much is a taxi from Santorini ferry port to Oia?
To give you an idea of what to expect, a taxi ride from Santorini's Athinios Ferry Port to Oia can cost anywhere between 25 and 60 Euros, depending on the time of year and the level of demand for taxis.
What port do the ferries arrive at in Santorini?
Santorini ferries arrive at the Athinios Port, which is the only ferry port on the island of Santorini. It serves as a gateway for passengers arriving by ferry from Athens, Crete and the Cycladic islands, making it a popular entry point for tourism.
Where can I buy ferry tickets for Greek ferries?
While Santorini ferry tickets can be bought at travel agencies in Greece, most people find it more convenient to check timetables and book tickets for a ferry ride online using Ferryhopper and Ferryscanner.
---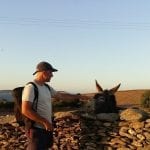 –
Dave Briggs
Dave is a
travel writer
based in Greece who regularly writes tips for people planning a trip to Santorini. In addition to writing this guide on how to travel between Santorini ferry port and Oia, he's written hundreds more travel guides to Santorini and other Greek destinations on this travel blog. Follow Dave on social media for more Greece travel secrets and ideas: