Travel information on how to get from Santorini to Folegandros by ferry. Includes schedules and routes of ferries from Santorini to Folegandros.
What's the best way to get to Folegandros from Santorini? Where can you book Santorini to Folegandros ferry tickets online?
Ferry from Santorini to Folegandros
The Cyclades islands of Greece are all interconnected by the extensive Greek ferry network. One popular route is from Santorini to the island of Folegandros.
Many people like to visit Folegandros after Santorini, as it has a totally different feel and nature. There are fewer crowds on Folegandros, and it's a much more relaxing island in general.
The best way to get from Santorini to Folgegandros is by ferry. Several different companies operate ferries from Santorini to Folegandros at different times of day.
For up to date travel information and to book tickets online, check: Ferryhopper
Note: If you are planning your island hopping itinerary in Greece months in advance, you may find that schedules have not been released on the dates you desire.
For example, if you are researching in November how to get to Folegandros from Santorini in June, it's highly unlikely that route information will be published yet.
If you find yourself in this position, use the site Open Seas, and search for your dates but in the previous year. This will give you an indication as to what ferries from Santorini to Folegandros may be sailing in the next year at that time.
Ferries to Folegandros
During the summer, you can expect at least two daily ferries from Santorini to arrive at Folegandros. On some days, there may be up to 3 ferries.
In the summer of 2021, Seajets provided one fast boat per day between the two islands. The journey time on these passenger catamarans was just 40 minutes.
On three days of the week they offered an additional ferry service to Folegandros per day.
Another ferry operator – Zante Ferries – also operated a slower boat in the Cyclades which connected Santorini and Folegandros three times a week. The travel time between the two islands on this slower boat was 2 hours and 55 minutes.
I advise to book your Santorini – Folegandros ferry tickets as far in advance as possible once you have a travel itinerary planned out. This way you'll avoid disappointment if ferries sell out, particularly in the busiest month of August.
Departing from Santorini
The ferry port of Santorini is also officially known Athinios Port. You may see it referred to also as Thera. All passenger ferries to and from Santorini depart from this port, including the ferry to Folegandros island.
It's advised you arrive at the Santorini port an hour before your ferry to Folegandros is due to depart. You'll find cafes and tavernas in the port area, which is a good place to get some shade and enjoy a coffee before boarding.
If you are collecting ferry tickets to Folegandros at the port in Santorini, make sure to do that as soon as you arrive there. The Santorini port is a small, busy and chaotic place, so you don't want to leave it until the last minute.
Note: If you've booked your Santorini Folegandros ferry ticket with Ferryhopper, you may have either an e-ticket or need to collect one at the port. Check your confirmation emails for further information.
Arriving in Folegandros
Your ferry from Santorini will arrive at Karavostasi, which is the port in Folegandros. If you've arranged for a hotel host to meet and greet you, they'll be waiting in the small area just as you get off the boat.
When it's time to leave Folegandros for another island or to sail from Folegandros to Athens, you'll also be leaving from this same port.
Things to do in Folegandros
Some of the highlights and attractions of Folegandros you'll want to experience include:
Walking around Chora, the picturesque main town
Going up to the Panagia church for stunning views of Chora and sunset
Visiting the village of Ano Meria
Exploring the hiking trails
Spending time at the beaches
For more information on what to do in Folegandros, take a look at my ultimate guide: Things to do in Folegandros
Hotels in Folegandros
The best areas to stay in Folegandros are at Karavostasis port and Chora. There are also a few rooms in Ano Meria and Agali.
Take a look at the map below for Folegandros accommodation. You can also look on Booking directly for Folegandros hotels.
If you have any other questions about taking the Santorini to Folegandros ferry, please leave a comment below and I'll do my best to answer them. You might also want to read my guide to Island Hopping in Greece.
If you're traveling from Athens, this guide on how to get from Athens to Folegandros by ferry is worth reading.
FAQ About Ferry Schedules for Santorini Folegandros
Readers planning to travel the Thira Folegandros ferry route often ask questions similar to:
How long is the ferry from Santorini to Folegandros?
The travel duration of the ferry trip from Santorini to Folegandros is between 50 minutes and 2 hours and 55 minutes depending on the ferry operator and vessel. There are daily ferry crossings in the high season, and ferries also sail on most days between these Cyclades islands during the low season.
How long is the ferry from Athens to Folegandros?
There are usually 5 weekly crossings sailing from the main port of Piraeus in Athens to Folegandros. The Folegandros ferries take around 6 hours.
Where can I buy ferry tickets for the Folegandros ferry?
The easiest place to buy ferry tickets for the Greek islands is on the Ferryhopper website. This booking engine has up to date schedules and gives the same price when booking online as buying a ticket in person at the ferry terminals.
Which ferry companies sail from Santorini to Folegandros?
Companies with a ferry schedule for the Santorini Folegandros route include Fast Ferries, SeaJets and Maistros Santorini.
What are the nearest islands to Santorini?
7 Cyclades islands to visit near Santorini include Mykonos, Ios, Thirassia, Naxos, Folegandros, Sikinos, and Anafi.
---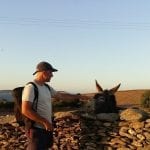 –
Dave Briggs
Dave is a travel writer from the UK, currently living in Greece. He created this travel blog back in 2005 to document his travel adventures around the world. In addition to these travel tips about getting between Santorini and Folegandros in the Cyclades group of islands, you'll find hundreds of other guides and itinerary suggestions on this site.Follow Dave on social media for travel and adventure inspiration: