During summer, there can be 3 ferries per day sailing from Athens to Folegandros island in Greece. Here's more about the Athens Folegandros ferry route.
Folegandros island in Greece
Folegandros has created quite a buzz in recent years as an upcoming destination in Greece. Many people who visit the island straight after Santorini far prefer Folegandros due to its different nature.
Folegandros is developing a reputation as a place to go and enjoy the beaches, and have memorable nights out eating meals in the social atmosphere of Chora, the main town.
The Greek island of Folegandros is the type of place you can enjoy a relaxing vacation, but also find plenty to do. There's some lovely hiking paths to beaches, the Chora is one of the prettiest in the Cyclades islands of Greece, and the sunset view from the Panagia church is amazing!
Related: Best Greek Islands For Beaches
How to get to Folegandros from Athens
The ferries to Folegandros leave from Piraeus port in Athens. During the summer months there can be 3 ferries per day sailing from Athens to Folegandros, whilst in the quieter winter months, the frequency may be reduced to 2 or 3 ferries per week.
There is more than one ferry operator running connections from Piraeus to Folegandros. In 2020, those operators were Zante Ferries, SeaJets, and Golden Star Ferries.
I recommend using Ferryhopper in order to find what times ships sail, and to easily book Folegandros ferry tickets online.
The travel times from Athens to Folegandros can vary as can ticket prices. A general rule of thumb, is that the quicker the boat, the more expensive the ferry ticket!
The quickest boats such as the SeaJets can take 4 hours and 15 minutes from Athens to Folegandros. The slower boats such as the Zante Ferries service takes around 8 hours or more.
As Folegandros does not have an airport, flying directly from Athens is not possible. Some people find it convenient to fly into neighbouring Santorini and then take a ferry from Santorini to Folegandros.
It really depends on how much time you want to spend traveling, and what connections are available.
Tips For Traveling To Folegandros
Booking is the best place to look for hotels in Folegandros.
---
Ferryhopper has the easiest platform to use for researching and booking ferry tickets to Folegandros online.
---
Be at your departure port one hour before your ferry to Folegandros is due to sail.
---
---
---
What to see in Folegandros
The best things to see and do in Folegandros include:
Stroll around Chora.
Walk up to Panagia church for sunset.
Explore the beaches in Folegandros
Enjoy a sociable evening in Folegandros Chora
Hike to Livadaki beach
I've a detailed guide here: Best things to do in Folegandros.
FAQ About Traveling To Folegandros
These are some questions people ask about how to get to Folegandros from Athens.
How do you get to Folegandros Greece?
You can get from Athens to Folegandros by ferry from Piraeus Port in Athens. In the summer, there are on average 3 daily ferries to Folegandros from Athens. Folegandros also has connections via ferry to other islands in the Greek Cyclades.
Can I fly to Folegandros island in Greece?
Folegandros does not have its own airport so you can not fly there. The closest airport is in neighbouring Santorini. Some international visitors may find it more convenient to first fly to Santorini, and then take a ferry from Santorini to Folegandros.
How long does the Athens to Folegandros ferry take?
The Athens Folegandros ferry route can take anywhere from 4 to 8 hours depending on which ferry service you use. Generally speaking, faster ferries are more expensive than slower ferries to Folegandros.
How can I book ferry tickets for Folegandros?
The best website to use for booking Folegandros ferry tickets online is Ferryhopper. It is a well laid out site, where you can see ferry schedules and up to date prices for tickets to Folegandros.
---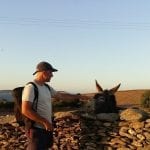 – Dave Briggs
As a travel writer living in Athens, Dave has been writing about Greece for the last five years. He's since produced hundreds of travel guides about Greece and beyond, and has a somewhat ambitious goal of visiting every Greek island (there's over 200!) and writing about them all.
Follow Dave on social media for travel inspiration from Greece and beyond: Facebook, Twitter, Pinterest, Instagram, YouTube.