During your time on the Greek island of Symi, you'll want to check out the beaches. This guide shows you the best beaches in Symi.
Symi Island Beach Guide
If you're spending any time on the Dodecanese island of Symi, you'll want to know where the best beaches are and how to get to them. After spending a week in Symi, I visited all of them, and have created this guide to help you out.
First though, I should describe the characteristics of the Symi beaches. Mostly, they are pebble beaches with little or no sand. This means that you might want to use (and probably pay for!) beach umbrellas and sunbeds in order to be comfortable.
Some of the beaches are within easy walking distance of the main Symi port town or Pedi. Others (and these are the most beautiful beaches in Symi!) can only be reached by the sea. This means taking a tour, a taxi boat, or kayaking – which is what we did. More on that later though!
Best Beaches In Symi
Below, I've listed the beaches of Symi in the order that I preferred them, starting with my favorite first. Note that these beaches may have more than one spelling!
Agios Georgios Dysalonas / Saint George Bay Beach
This pebble beach is arguably the most famous in Symi, and one of the most well known of the Dodecanese islands. The position of its bay makes the waters an unreal colour – it really needs to be seen to be believed!
Saint George Bay Beach on Symi is one that has to be reached by the sea. Most commonly, this is done a a boat trip from Symi Town port, and tours normally stop at a few other beaches along the way.
We got to visit Saint George Bay Beach slightly differently than most – by kayak! This was courtesy of Trekking Hellas Rhodes who specialize in all sorts of outdoor activities in Rhodes and Symi.
Arriving by kayak meant we could avoid the boat trippers and have the beach to ourselves to swim and relax. Get in contact with them to see if they run a trip when you visit!
Related: Kayaking Instagram Captions
Nanou Beach
According to some people, you can hike to Nanou Beach, but most people visit on a boat ride or water taxi. We approached by kayak!
This is very similar to Saint George Bay Beach, although the water colour is not quite as impressive.
In some years, there may be a small canteen open, and there are also some pine trees where you can find natural shade. This is another pebbly beach of Symi, but it's these pebbles that make the crystal water so clear!
Agios Nikolaos / Saint Nicholas Beach
It's not a long walk from Pedi bay to Saint Nicholas beach – it should take you 10 or 15 minutes.
The walk follows a path along the coastline and it's well marked. You'll get to see some wild herbs of Symi along the way – Oregano was in season when we went!
On arrival, you'll be greeted with the view of a nice beach which during high season has umbrellas and sunbeds for hire, along with a taverna for snacks and drinks.
Still, you should bring your own drinks just in case it's closed when you get there!
The swimming here looks excellent, and if you're staying in Pedi, it will probably be your Symi beach of choice.
Marathunda Beach / Marathounda Beach
If you're visiting the Panormitis Monastery in the south of Symi, make time in your road trip itinerary to check out the crystal clear waters at Marathounda. Taxi boats may also reach as far as here.
After 2 years of travel restrictions, it was unclear if the taverna that once stood there would open again in the summer months. Take food and drinks with you just in case.
This is a picturesque beach with pebbles, and a good place to soak up some sun and swim.
Nimborio Beach / Nimporio Beach
You can either take a water taxi or make a 30 minute walk from Symi town to reach this small bay. Its a thin stretch of beach, but quite relaxing!
Agia Marina
Take a water taxi, boat tour or even hike to this small beach. Like many beaches in Symi, expect lovely clear water – great for snorkelling.
Pedi Beach
I've seen this described as a nice sandy beach, but I honestly can't see what they were referring to. There are narrow stretches of shoreline, some of which have sunbeds and umbrellas.
If you are staying in the hotels opposite the bay of course you will go for a swim here – and it will be very nice too. If you're staying in another area of Symi though, I wouldn't make a special trip – unless it is to walk over to Saint Nicholas beach from here!
Nos Beach
Within walking distance of the main port town, go past the clock tower and towards Gialos. It's a popular beach due to its proximity with Symi town. You can expect sunbeds and umbrellas here.
Panormitis Beach
If you are taking a trip by car to the Archangel Michael Panormitis monastery, you might want to swim at the Panormitis beach.
There are facilities such as a small bakery, taverna and coffee shop next to the monastery.
A related note about visiting this monastery in Symi: We went in the off season, and the monastery was closed. Apparently they only open for the organized boat tours in the off season.
Toli Beach
If you have a rental car in Symi for a few days, drop by Toli beach and see what you think. It didn't really appeal to me, being little more than a narrow strip of shore. However, during the summer when there may be more people on the island, it could be a quiet beach to try.
FAQ About Symi Island and the beaches there
Readers who plan on visiting Symi as they island hop through the Greek islands of the Dodecanese often ask question similar to:
Are there sandy beaches on Symi?
The small island of Symi doesn't really have a long and sandy beach. Typically, they are pebble beaches, or beaches with small stones.
Do you need a car in Symi?
You don't really need a car to get around Symi, but it does give you more flexibility on where you choose to go and when.
How do you reach Agios Nikolaos beach in Symi?
You can get to Agios Nicholas on foot from Pedi Bay. There is a well kept path that takes between 10 and 15 minutes.
What outdoor activities can you do on the island of Symi?
Hiking is the main outdoor activity in Symi, but there's also the option of kayaking tours with Trekking Hellas Rhodes.
What are the highlights of visiting Symi Greece?
Apart from admiring the colourful houses on walks around the town, some of the highlights of visiting Symi Greece include swimming at some of the island's beautiful beaches, enjoying the stunning views, and hiking along some of the many trails.
You might also want to read:
---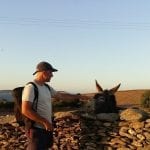 – Dave Briggs
Dave is a travel writer who's been living in Greece since 2015. He's spent many months island hopping in Greece researching blog posts such as this guide to the best beaches in Symi island. His goal is to visit every inhabited Greek island over the next few years!
Follow Dave on social media for travel inspiration from Greece and beyond: