There are two ferries per week sailing from Syros to Kea Island, and the Syros Kea ferry journey takes 4 hours.
How to get from Syros to Kea
Trying to reach Kea from some of the other islands in the Cyclades of Greece can be a bit of a problem as there are often no direct ferries.
This is not the case if you want to travel from Syros to Kea though. In fact people looking to travel from other islands to Kea may want to transit through Syros, so it's a useful connection to know about.
For example, if you are looking at taking a ferry from Milos to Kea, the chances are you will need to swap ferries in Syros.
Syros Kea Route
During the summer tourist season, you can expect around 2 ferries per week from Syros to Kea. The ferry company operating this crossing is Blue Star Ferries.
Using a slower conventional ferry, the travel time for the Syros to Kea ferry trip is 4 hours.
Fares for this direct route from Syros to Kea are pretty cheap, with tickets for passengers starting at 10 Euros.
Use Ferryscanner for booking tickets and to check the latest timetables.
Ferries to Kea from Syros in the winter
This timetable is more or less standard through the winter months as well, providing an essential connection for Kea island with Syros, which is the administrative center of the Cyclades.
Travel times during the winter months, when the seas are rougher, may be longer.
Use Ferryscanner to check available routes from Syros to Kea and other popular destinations in the Cyclades.
Keep in mind that timetables are only uploaded a couple of months in advance. If you're looking in November for boats sailing to Kea from Syros in August, you're unlikely to find any listed yet!
Kea Island Travel Tips
A few travel tips for visiting the island of Kea:
The ferry from Syros to Kea leaves from Ermoupoli port in Syros. Arriving ferries dock at Korissia port in Kea.
---
For accommodation in Kea, I suggest looking at Booking. They have a great range of places to stay in Kea and areas to consider staying include Otzias, Ioulida, and Korrisia. If you are traveling to Kea in the height of summer, I advise reserving apartments in Kea a month or so in advance.
---
Readers recommend visiting the following beaches in Kea: Kaliskia, Sikamia, Pisses, Xila, Koundouros, Spathi, and Kampi.
---
One of the best places to look at ferry schedules and to book tickets online is at Ferryhopper. Although I recommend you book your Syros to Kea ferry tickets in advance, especially during the busiest time of summer, some people prefer to use a local ticket agency in Greece.
---
---
---
How to get from Syros to Kea FAQ
Some commonly asked questions about traveling to Kea from Syros include:
How to get to Kea island from Syros?
The way to take a trip from Syros to Kea is by ferry. There are around 3 ferries per week sailing to Kea island from Syros.
Is there an airport on Kea?
The Greek island of Kea (Tzia) does not have an airport. The closest airport to the island is Athens International Airport.
How long is the ferry ride from Syros to Kea?
The ferries to Kea from Syros take between 2 hours and 25 minutes and 4 hours. Ferry operators on the Syros Kea route may include Bluestar Ferries and SeaJets.
Where can I buy tickets for the ferry to Kea?
The easiest way to get hold of Syros Kea ferry tickets in Greece is by using Ferryhopper. Although I recommend you book your Syros to Kea ferry tickets in advance, you might also go to a travel agency in Greece after you arrive.
Which ferry companies sail from Syros to Kea?
Currently, only one ferry company sails the Syros Kea route which is Blue Star Ferries. Other ferry companies operate crossings on a year by year basis, which will vary depending on anticipated demand.
---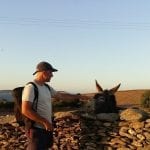 –
Dave Briggs
Dave is a
travel writer
based in Athens, Greece since 2015. In addition to writing this travel blog post about ferries from Syros to Kea, he's created many other Greek island travel guides. Follow Dave on social media for travel inspiration from Greece and beyond: