Side step the crowds, and visit Syros island in Greece – The Lady of the Cyclades. Here's the best things to do in Syros Greece.
Syros Travel Guide
Surrounded by heavy hitters such as Santorini, Mykonos and Milos, it's not surprising that Syros gets overlooked, especially by first time visitors to Greece.
In a way it's a good thing, because it's only after you've visited some of the other Cyclades Greek islands that you realise what a hidden gem Syros is.
It's often described as being Regal, perhaps because the blue-domed churches that tower over the Ermoupoli's buildings seem like crowns.
The endless marble and neoclassical architecture gives the island, and particularly Ermoupoli an almost aristocratic feel. It's not surprising the tourist office dubs Syros The Lady of the Cyclades.
Syros might not be the most famous or visited island in Greece, but it's certainly one of the most memorable.
In this travel blog I'll share my experiences in Syros Greece so you can discover more about this fantastic destination in Greece.
Why I visited Syros
Truth be told, I found myself on Syros island more or less by accident. I'd spent some time on Mykonos, and originally my next Greek island hopping destination was to be Santorini.
Then, I found out that all the mid-week ferries from Mykonos to Santorini were cancelled that week. Oh dear!
A quick look at the map and what connections were available saw me getting hold of some ferry tickets to the island of Syros. A few hours later, I arrived!
Where to stay in Syros
It seemed that there were three logical areas to stay when on the island. The first would be in Ermoupoli itself (the main town), another would be in Ano Syros (the upper town), and the last would be by one of the beaches.
Although visiting the Syros beaches was something I wanted to do, it wouldn't be the focus of my time on the island. So, I opted to stay just on the outskirts of Ermoupoli.
As I had a car, I chose somewhere with nearby parking, and having a vehicle would also make it easier to visit some of the points of interest on the island later.
I've included a map of Syros below which shows where you can find accommodation and hotels. There's a wide choice such as family friendly hotels with a swimming pool, boutique accommodation, and budget choices ideal for backpackers and islands hoppers.
I've also a guide here to hotels in Syros.


Top things to do in Syros
I planned to spend three nights in Syros, so there was no way I could expect to see all that it had to offer.
Instead, I made a condensed list of the main things to do in Syros I should be able to manage. These included:
See a sunset on one of the beaches in Syros
Walk around Ano Syros (Upper Syros)
Visit the Archaeological Museum in Ermoupoli
Check out the Vaporia neighbourhood
Admire the neoclassical buildings in Ermoupoli
Visit the Apollon Theatre
See the famous churches (and probably be confused by their names)
That seemed more than enough to be getting on with, and I was pretty sure I would stumble across other things as I walked around!
Finding a sunset beach
We arrived on an afternoon ferry, and once settled into the apartment we we staying at, it felt natural to take a drive and check out one of the beaches.
It was about 17.00 when we left, but the summer days are long in Greece, and sunset wouldn't be until about 20.30. This would give plenty of time to find a beach, take a swim, read a book and wait for the sunset.
We ended up at Delfini beach, which was a good call I think. A very peaceful place to watch the sun go down. I even made a new friend!
First Full Day in Syros
We didn't start the day with an exact itinerary, but the general idea was to spend a few hours wandering around Ermoupoli sightseeing in the morning/early afternoon, and then head to a beach later in the afternoon.
Ermoupolis city
Ermoupolis (sometimes written Hermoupolis), is the largest settlement on the island. It is also the capital of the Cyclades islands and the South Aegean region.
Founded in the 1820s, it became an important commercial and industrial center in Greece, which goes to explain how some of that wealth was transferred into the aesthetics of the city in the form of the. Town Hall, plazas, neoclassical buildings and wide streets.
Oh, and marble. It's everywhere! Marble-paved sidewalks, marble buildings, marble churches. You get the picture.
By the way, if the name of the city sounds familiar, it is because it is named after the Greek deity Hermes.
Miaouli Square
Our apartment was about a ten minute walk away from Miaouli Square in Ermoupoli. This is a central point, and all of the important places of interest are within comfortable walking distance from here.
Miaouli Square is about as far removed from your typical Cycladic architecture that can be imagined, it's sheer size and open space being a rarity. It's also got a line of palm trees!
The square or plaza itself is named after Andreas Miaoulis, a hero of the Greek War of Independence. His statue can be found in front of the dominating Town Hall.
The important public buildings can be found located close to this central square, including the Archaeological Museum and city hall.
Whilst the Archaeological Museum is attached to the back of the Town Hall, we didn't visit on this occasion as it was closed at the time. Planning to return tomorrow instead, we then strolled on to…
Agios Nikolaos
The huge, dominating Agios Nikolaos (Church of Saint Nicholas), is an Orthodox church that once inside reminded me very much of a cathedral.
It's stunning both inside and out, and one of the three 'big' churches of Syros. Saint Nicholas is the patron saint of sailors, as well as the city. You'll find more than one church on the island named after him. None are as magnificent as this though!
Vaporia
The next area we visited off from Miaouli was Vaporia. This means 'ship' in Greek, and has historic connections with the maritime trading past.
Today, the area is well known for its architectural splendour, which includes mansions, archways, and neoclassical buildings.
From here, you can also get down to sea level at a curious town 'beach' which had wonderful clear waters.
Asteria Beach
What it lacks in sand, it makes up for twice as much in stunning views! Asteria beach is a curious little stone platform complete with umbrellas, from where you can swim in the clear waters of the bay.
It's also one of the best spots to get photos of the Hermoupolis coastline with all those stunning neo-classical waterside houses.
Waterfront Area
Walking back up the stairs from Asteria Beach, we then headed past the square and to the waterfront area.
Here, restaurants face out to the harbour, a ware house runs down one side, and a shipyard is way over to the right.
There's also another view to the sea facing building of Vaporia from here, which is another photo opportunity!
Lunch at Stin Ithaki Tou Ai
All that walking around builds up an appetite, so it was time to find somewhere for lunch!
Between the waterfront and the square we stumbled upon Stin Ithaki Tou Ai taverna, which served traditional Greek food. Very tasty cuisine, and we possibly ate a bit too much!! If you want to enjoy a good meal I recommend it.
Sunset beach number 2
It was 15.00 by the time we got into the car to head towards another sunset beach on the other side of the island.
We stopped by a few on the way which didn't really appeal to us, including the famous Galissas Beach, Finikas and a couple others.
We finally settled on Komito beach, where we spent the last few hours of daylight soaking up some rays, taking a swim, and waiting for the sun to set once more.
Day 2 in Syros
After finally settling that our next destination would be Naxos, seeing which ferry companies traveled there, and booking our Sea Jets ferry tickets online, we finally rolled out the apartment at 11.00.
We had decided to go back to the closed museums in Ermoupolis from the day before, and headed to the main plaza once more.
Archaeological Museum Syros
This museum has exhibits which display artifacts found on the island, including from the significant Chalandriani archaeological site as well as Kastri.
It was a place I was looking forward to seeing, as I'd seen some intriguing pictures of 'frying pans' found at the site.
The museum was small, and took less than a quarter of an hour to see. The frying pans were there, along with other exhibits, and the story behind how the museum was created. Turned out, it must have been one of the oldest museums in Greece!
Apollon Theater
Originally built in the 19th century, the Apollon theatre was renovated in the 90s, and reopened again in 2000. Whilst we weren't fortunate enough to see a play or opera there, you could feel the ambiance all the same!
The boxes are splendid, as is the decor. I hope the photo of the theater does it justice.
Perhaps we'll return one day to see some of the artists performing at the Festival of the Aegean at the Apollo theater!
A drive around Syros Island
After lunch, we had some time to play with, as we'd been informed that climbing up the many stairs of Ano Syros during the heat of the day was harder work than it was worth.
Instead, we postponed our visit to the upper town for later on in the afternoon, and took a drive to parts of the island we hadn't yet see.
We followed the coastline along, drove to the village of Episkopio, and then headed to the northern part of the island. This has a much more wild feel to it, at stark contrast with the south!
Before arriving at Ano Syros, we dropped by the second of the 'big churches' called Church of the Resurrection of Christ which is on a neighbouring hill.
Ano Syros
This is a hill town, with a Catholic Church at the very top, and a settlement seemingly cascading down from it. It's also a mini labyrinth with hundreds of stairs. We were very glad not to have visited earlier in the heat of the day.
Wandering around the narrow streets, we stopped by two museums, one dedicated to the famous Rembetiko musician Markos Vamvakaris, and another containing interesting tools from everyday life from a hundred years ago.
We of course also walked up to the church (Agios Giorgios / Saint George)! The views over the town as we trekked up were definitely worth the effort!
And that, bar a late dinner, more or less concluded our stay in Syros. The next day, we would take the ferry to Naxos. Before I finish this post though, here's a few notes about the beaches on the island.
Best Beaches in Syros
Syros island may not have the world beating beautiful beaches of Mykonos or Milos, but it doesn't mean you can't go for a swim!
There's a choice of organized beaches complete with umbrellas and sometimes sunbeds (without the Mykonian price tag), as well as the unorganized beaches which I personally love the best.
Here's some information on the main Syros beaches.
Delfini Beach
My pick of the beaches in Syros simply because it is a great place to enjoy the sunset. Partially rocky, partially sandy, there is even a small island you can swim out to.
Facilities include a beach canteen with a selection of wallet friendly snacks such as burgers and toasties, and some umbrellas on one side.
It's laid back and friendly (when we visited in June), but you'll need your own wheels to get out to it.
Kini Beach
This is considered to be one of the main beaches on the island, but it wasn't really our cup of tea. We drove out to Kini, took a look at the umbrellas, and then decided to head to Delfini instead.
If you prefer this type of beach, with its accompanying music and crowds, you can stay in the area at Kini as there is accommodation available.
Galissas Beach
Arguably the most popular beach resort on the island, Galissas is about 5kms away from Ermoupolis. It's a family-friendly, sandy beach but fully organized.
To be honest, this setting wasn't really us at all, but if you like your beaches with sun-beds, umbrellas and plenty of other people, go here first.
How to get to Syros
Syros island does have an airport, with flights connecting it to Athens and Thessaloniki. At this stage, there are no international flights, or flights to other islands.
Most people tend to reach Syros by ferry. The main port of Syros is located in Ermoupoli, and it has connections with Athens as well as islands in the Cyclades group include Paros, Anafi, Naxos, Santorini, Mykonos, and more.
Ferry schedules can change from year to year, but as the capital of the Cyclades islands, Syros is connected to most of the larger islands in the chain.
You can find a complete list of neighboring islands near Syros here: Ferry connections to and from Syros
When it comes to booking ferry transport, I find that Ferryhopper is a good way to both look at ferry connections, and book an e-ticket online.
Athens to Syros Ferry
One of the most popular ways to get to Syros, is by taking the ferry from Piraeus port in Athens.
The Piraeus Syros route is normally covered by two ferry operators, which are SeaJets and Blue Star Ferries.
Find out more here: Ferryhopper
At the time of writing, there were no direct ferry routes from Rafina to Syros. If you did decide to leave from Rafina, you would need to change ferry at Tinos or Mykonos.
This wouldn't be great if you wanted to get to the island directly, but would be a great excuse to visit Tinos. It's one of my favourite islands, and perhaps advisable to go there before it gets 'too big'!
More here: Taking the ferry from Athens to Syros
Mykonos to Syros Ferry
I took the Mykonos – Syros ferry myself, which was a relatively quick ride of 1 hour and 15 minutes on the Blue Star Paros vessel.
Apparently, the Seajets WorldChampion Jet is even quicker at 25 minutes! It's normally twice the price though.
Santorini to Syros Ferry
You can also travel to Syros from Santorini island. It can be quite a long journey, depending on which ferry is used.
More information here: How to get the Santorini to Syros ferry.
Getting around Syros
As with most Greek islands, it's really handy to have your own vehicle if you want to get to those out of the way places. We had our own car in order to get around, but rentals are available.
If your plan is to stick in Ermoupoli and even explore Ano Syros, you won't need a car at all. If you do want to reach traditional villages and different beaches around the island you can take public buses at very affordable prices.
I heard there is a free bus that takes people to some parts of the city including Ano Syros. As I didn't use it, I can't vouch for its timetable or effectiveness.
FAQ About Syros Island in Greece
Readers planning to enjoy and ideal vacation in Syros often ask questions similar to:
What is Syros Greece known for?
Syros is the administrative center of the Cyclades Islands, and its Neo-classical architecture is renowned. The main town of Ermoupoli was briefly the Greek capital, and the island has been ruled by Romans, Arabs, Franks, and Venetians over the centuries.
Is Syros Greece expensive?
Syros is very affordable when compared to nearby Mykonos and Paros, with even luxury hotels offering good value. Traditional tavernas abound, which means that eating out is a wallet friendly, family friendly affair.
Is Syros a party island?
The island offers nightlife in the form of bars, some clubs and cultural events. Syros wouldn't be described as a party island destination though in the same way that Ios and Mykonos would.
How do you get to Syros Greece?
You can reach Syros by air with direct flights from Athens, and by sea whether on Greek ferries or cruise ships.
What Greek Islands are near Syros?
The closest Greek islands to Syros include Tinos, Mykonos, Kythnos, and Paros.
Is Syros quiet?
Syros is a relatively quiet Greek island in the summer, as it is not really a beach destination. While it doesn't attract the same amount of visitors as Santorini or Mykonos, August is the busiest month in Syros.
Pin this travel guide about Syros for later
If you are a Pinterest user, please add the image below to one of your Greek islands pinterest boards. That way you and other people will be able to find this Cycladic islands travel blog post again later.
---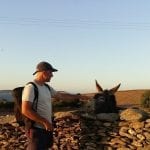 – Dave Briggs
Dave is a travel writer living in Greece since 2015. He's creates insightful travel guides here on Dave's Travel Pages to help other travelers plan a perfect vacation to destinations in Greece such as this one about Syros. Explore this site for more travel blog posts, road trips guide, and other itineraries to Greece, Europe and beyond.
Follow Dave on social media for travel inspiration from Greece and beyond: