If you're planning to go Greek island hopping in the Cyclades, the island of Syros may play a part in your plans as it has ferry connections with many other islands.
Greek Island of Syros
Although many visitors to Greece have never heard of the island of Syros, it is one of the most important in the Cyclades. This is due to the island's main town Ermoupoli being the capital and administrative center for all the Cyclades islands.
As a result, if you're planning an extended Greek island hopping adventure around the Cyclades chain, it's worth knowing that Syros is connected by ferry to most of the other nearby islands.
Why is this important you may ask?
Well, imagine you are trying to get from one island to another, but can't find a direct ferry. Now you know you have the option to see if you can travel via Syros. You'd get one ferry to Syros, and then another to your final destination.
Sometimes, that will mean just waiting at the port in Syros for an hour or two until your next ferry arrives. Other times, it might mean staying overnight in Syros.
I've found this useful myself many times when island hopping in Greece. I'm sure you will to, which is why I created this travel guide to onward travel and ferry connections from Syros to other islands close by.
If you'd like to find out more about the island of Syros itself and what to see and do, take a look at my article here: Things to do in Syros, Greece.
Ferries from Syros to other Greek islands in the Cyclades
Whilst the closest island to Syros is Tinos, you can to take the journey to all the other destinations in the Cyclades island group by ferry. The most popular Cycladic islands to visit after Syros are Tinos, Mykonos, Andros, and Kythnos.
During the the busy summer months there will be more frequent ferries from Syros to Tinos, Mykonos, Andros, and Kythnos and the other Cycladic islands than in the off-season.
You'll also find much faster boats which are operated by Seajets. These do come at a premium price though, so anyone Greek island hopping on a budget might want to plan their travel itineraries around the slower, less frequent but cheaper boats.
I recommend using Ferryhopper as a place to both plan and book ferry tickets from Syros online. Be aware, that ferry schedules may only be uploaded a couple of months in advance.
If you are researching your trip in November for the following August, don't be surprised if ferries from Syros aren't showing on the booking platforms yet! For an indication of frequency, you could look at a previous year's timetable at openseas.gr.
All departing and arriving ferries dock at the main Ermoupoli Port in Syros.
Can I fly from Syros to other Greek islands?
Even though Syros has an airport, flying between Syros and other Greek islands in the Cyclades is not something you can do.
The airport in Syros currently only connects with Athens.
Island Hopping From Syros in Greece
Here's my dedicated travel guides on getting from Syros to other destinations in the Cyclades:
Note: As a rule, the faster boats are generally more expensive when it comes to ferry ticket prices. If you want to check schedules and book tickets for the ferry online, check out Ferryhopper.
Syros Island Hopping Tips
A few travel tips when taking ferries from Syros:
---
---
---
---
---
---
Syros Ferries FAQ
A few of the questions readers ask about traveling to other Greek islands in the Cyclades from Syros include:
How can we get to other Greek islands in the Cyclades from Syros?
Syros is well connected to most of the other islands in the Greek Cyclades by ferry. During the summer, the frequency of ferries from Syros to the other islands is greater than outside the tourist season.
Does Syros have an airport?
Although Syros has an airport, it is not currently possible to fly from Syros to another Greek island. Syros airport only connect with Athens.
Is Syros a nice island?
The island of Syros is famous for its architecture and neo-classical buildings. It is often described as regal looking, because of the crown like appearance of its colored churches and other structures.
How do I buy ferry tickets to other Greek islands in the Cyclades?
Ferryhopper is perhaps the easiest site to use when it comes to booking Ferry tickets online. Although I think it's better to book your Syros to other Greek islands in the Cyclades ferry tickets in advance, you might also go to a travel agency in Greece after you arrive.
If you're planning a Greek island hopping trip, the port on Syros Island is an important destination. With connections to many other Cycladic islands, it's easy to get around and explore all of these beautiful destinations.
If you want more information about what there is to see and do while visiting Syros or any of its onward ferry connections, don't hesitate to reach out! We'll be happy to answer any questions and provide personalized recommendations for where you should go next during your journey through the Cyclades group.
---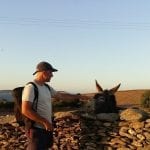 –
Dave Briggs
Dave is a
travel writer
who has been based in Greece since 2015. As well as writing this guide about ferries from Syros to other Greek islands in the Cyclades, he's written many more travel blog posts about destinations in Greece. Follow Dave on social media for travel inspiration from Greece and beyond: