So, you are planning a Greek vacation and you can't decide between Mykonos or Crete? Both islands are lovely, but they are very different from each other. Here's some information to help you choose.
Mykonos vs Crete – An overview
Greece has well over 200 inhabited islands. Besides Santorini, few are as famous as either Mykonos or Crete.
These two islands have been popular with foreign tourists for many decades. In addition, they are often included in Greek island cruises. Surely there must be a reason?
In fact, there are plenty of reasons to visit both Crete and Mykonos. To begin with, they both have extraordinary beaches. However, these two popular travel destinations are not as similar to one another as you'd think.
The first, immediately noticeable difference, is their size on the map. Crete is almost 100 times larger than Mykonos – 97.5 to be precise!
With a permanent population of around 650,000 people, there is life year-round, especially around the bigger towns. In contrast, Mykonos is a much more seasonal destination, with tourism peaking in July and August.
Another important difference is their location. While Mykonos is in the Cyclades group, Crete is a standalone island to the south of mainland Greece. This means that it's not always easy to include it in a Greek island-hopping trip, though there are plenty of direct connections with Santorini.
Let's look at these two Greek islands in detail.
Mykonos highlights – What is there to do in Mykonos?
The infamous Mykonos is a pretty small island in the Cyclades group. To give you an indication of its size, you could comfortably drive around the whole island in just one day.
This tiny dot on the map is one of the first Greek destinations that became popular with foreign tourists.
People have been visiting since the late 1950s, long before a proper port was built. Celebrities from all over the world have travelled here, and many of them have become return visitors.
Mykonos is best known for its wild party life and the dozens of clubs and beach bars. People who are looking for parties will have a wide choice of places to visit – at prices to match the island's reputation. But that's not all – there are plenty of reasons to visit Mykonos.
One of the highlights in Mykonos is its impressive main town, Chora, which stands out for its traditional Cycladic architecture. The white-washed alleyways, churches, windmills and the iconic Little Venice area are all synonyms with Mykonos.
In addition, Mykonos island has some of the best beaches in Greece. Most of them are sandy, with crystal clear, transparent water.
Generally speaking, you will have to be prepared for expensive umbrellas and loungers, loud bars and crowds. However, it's possible to find natural beaches with fewer people, especially if you visit outside peak tourist season.
Finally, a popular half-day trip from Mykonos is a visit to the archaeological site of Delos. A short boat ride will take you to one of the most impressive ancient sites in Greece.
In a nutshell, Mykonos is a pretty, iconic, but also overdeveloped and overpriced island. People who aren't interested in the party scene might find it overwhelming and busy. Still, it's got a quiet side, that you can discover if you set out to explore.
Check out my Mykonos Travel Guides here:
Highlights of Crete – What to do in Crete
Crete is Greece's biggest island. As anyone who's visited can confirm, it would take you several weeks – or months – to explore it fully. Thousands of tourists return year after year, as one trip to Crete will only be enough to scratch the surface.
Crete literally has it all.
To begin with, there are several picturesque towns and traditional villages to discover. From Chania, Heraklion and Rethymno, to Agios Nikolaos, Paleochora, Anogia and Choudetsi, each of them has its own character and charm.
Expect to see a mix of cobbled streets and stone houses alongside tiny cafes, traditional restaurants and picturesque marinas.
Many people visit Crete for its long and rich history. Anywhere you go in Crete, you are never too far from an ancient site such as Knossos, Festos, Spinalonga and Matala. In addition, there are Venetian castles and Ottoman structures all around the island, as well as some excellent museums.
In terms of natural beauty, Crete is one of the most surprisingly diverse areas in Greece. With amazing wild beaches, impressive mountains, deep gorges, caves and rivers, it's a paradise for nature lovers.
And how about nightlife? You will ask. While Crete cannot collectively be termed as a "party island", you will find that there is plenty of nightlife in many resort areas.
At the same time, Crete has largely kept its authenticity. You will inevitably come across a traditional Greek fiesta going on until the early morning hours.
This will typically involve plenty of glorious food and Cretan raki, along with spontaneous singing and dancing. You can experience the famous Greek hospitality at its best!
This is only a brief overview of what Crete can offer. The only small issue? You will need to have plenty of time.
Check out my Crete Travel Guides here:
Mykonos vs Crete – A Comparison
As you can see, the two islands are really different to each other. While comparing Mykonos and Santorini is pretty straightforward, the dilemma Mykonos vs Crete is a whole different story.
Still, let's give it a go. Here are some suggestions to help you decide between Mykonos and Crete.
Sightseeing – Crete has a wide selection of picturesque towns and villages. However, you won't find the iconic Cycladic architecture with the white-washed houses and blue-domed churches.
Ancient history and culture – Crete is very hard to beat. There are plenty of ancient sites, like Knossos and Festos, but also medieval and ottoman history. At the same time, Ancient Delos which is a UNESCO World Heritage Site, is a short boat ride from Mykonos, is also a must!
Beaches – Both islands have truly amazing beaches. The main difference is that Crete has literally hundreds of them, and driving from one beach to another could take you several hours. As an example, driving between two of the most famous beaches in Crete, Elafonisi and Vai, would take you about 6 hours!! In Mykonos, most beaches would be a maximum of a 30 minute drive apart, or even walking distance from each other.
Parties and nightlife – Mykonos is world famous for the crazy parties, some of which might cost an arm and a leg to attend. Still, there are plenty of party areas in Crete, like for example Malia, Hersonissos, Stalis and Elounda. Bonus: they won't break the bank.
Food – There are several prestigious, awarded restaurants in Mykonos. While there are also affordable places to eat around the island, you'll have to look hard for them. If you are after tasty, authentic Greek food, Crete is *maybe* the best place in Greece.
Sailing tours – There are plenty of sailing tours in both islands.
Mykonos vs Crete – Suitable for different people?
Most people who've visited Crete will tell you that "it's got something for everyone". This is true, simply because it's so big and it combines sightseeing and culture with nightlife and stunning nature.
Let's see how the two islands compare in terms of types of traveller.
Honeymoon / romantic destination – While some couples loved the lively atmosphere in Mykonos, everyone is different. If you prefer quiet destinations, Crete offers better options, though you'd have to choose carefully where to stay. But if you don't really want to go out and explore, Mykonos might be better as is more compact – plus, there are hundreds of high-end hotels and rooms.
Travelling with friends – Again, this will depend on the type of traveller you are. While some people want the buzz, Crete is more down-to-earth and authentic.
Travelling with family – Undoubtedly Crete, which offers a wide choice of family activities apart from the glorious beaches. Again, certain areas will be more suitable for families than others.
Travelling on a budget – Generally speaking, Mykonos is overpriced by any standards especially when it comes to accommodation. Budget travellers will definitely prefer Crete, which is in fact one of the most affordable areas to travel in the whole of Greece. Bonus – As hospitality is still going strong in Crete, you never know – you may be invited in some stranger's house for a glass of raki and a meal… Cretans are famously friendly and outgoing, even by Greek standards!
Off-season travel – If you want to explore either island in the off-season, you should definitely look into Crete, as there is so much to do at any time of year. With that said, if you are visiting Greece in early spring or autumn, it will be a unique chance to see Mykonos without the crowds.
Part of an island-hopping trip – People who are travelling around the Greek islands and only have 2-3 days to spend on either Mykonos or Crete, might be better off going to Mykonos. This is mostly because Crete is so big, that you will not even be able to scratch the surface. It's best to allow for at least a week – or two if you can – in order to get a feel of the island.
Related: Best time to go to Greece
Mykonos vs Crete – Final thoughts
From all the above, you can see that there is no one-size-fits-all answer to the question "Mykonos or Crete". It depends on how much time (and money!) you have, your preferences, and whether you like wild nature and exploring.
Go to Mykonos if you only have only a couple of days, if you just want to get a feel of a famous Cycladic island, or if it's always been high on your list.
Go to Crete if you have enough time to explore a huge island that is likely to become your new favourite Greek destination.
(Yes, I'm biased! But I still enjoyed visiting Mykonos in June 2020).
If you've been to both, let me know what you thought of them – I'm curious to read your opinion! You can get more travel tips about Mykonos, Crete and other Greek islands when you sign up for my newsletter.
---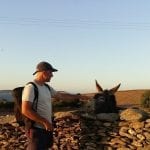 –
Dave Briggs
Dave is a
travel writer
based in Athens, Greece since 2015. In addition to writing this travel blog post about Mykonos vs Crete, he's created many other Greek island travel guides. Follow Dave on social media for travel inspiration from Greece and beyond: