There are currently no direct ferries connecting Milos and Kea island in Greece. To travel between Milos and Kea, you'd need to go via a third island such as Syros or Tinos.
How to get from Milos to Kea
Not all Greek islands in the Cyclades connect directly with one another, and that is the case with Milos and Kea. It's a shame, because when looking at the map, you'd think a ferry from Milos would have to go via Kea in order to get back to the ports in Athens.
The reason is that Kea is only really connected with Lavrio port in Athens. As a consequence, only a limited number of ferries from other islands will head this way, as Lavrio is a small, very minor port when compared to Piraeus or Rafina.
It doesn't mean it's impossible to travel from Milos to Kea though. It just means you'll have to go via a third island first, and swap ferries there.
Ferries from Milos to Kea via Syros and Tinos
If you ever need to go via a third island in the Cyclades to reach a destination, it always pays to look at going via Syros first. Syros is the capital island of the Cyclades, and has ferry connections with pretty much every other island in the chain (well, more or less!).
This is the case with Kea. So, an obvious route to take would be to get a ferry from Milos to Syros, and then swap boats for another ferry from Syros to Kea.
An alternative option, would be to take a ferry from Milos to Tinos, swap vessels, and then take another ferry from Tinos to Kea.
You should note that just because it is possible to get ferries from Tinos and Syros to Kea, it doesn't mean they will line up perfectly with your other ferry trip. There may be some waiting time involved, and perhaps you may even need to stay a night on either Syros or Tinos.
Check routes for your next trip in the Cyclades islands at: Ferryscanner
Kea Island Travel Tips
A few travel tips for visiting Kea island:
---
---
---
---
Milos Kea Ferry Route FAQ
Questions about about traveling to Kea from Milos include:
How do you get to Kea from Milos?
In order to sail by ferry from Milos to Kea you would need to go via another island first such as Syros or Tinos. There are no direct ferries sailing to the island of Kea from Milos.
Is there an airport on Kea?
The Greek island of Kea does not have an airport. The nearest airport to Kea is Athens International Airport.
How long is the ferry crossing from Milos to Kea?
With no direct ferries going to Kea from Milos, it is hard to calculate the exact travel time. If connections line up perfectly, it could be 6 hours or less. Same day travel times of 14 hours are not unheard of if you need to wait a few hours between ferries. In the worst case, you may need to stay over night on Syros or Tinos.
Where do you get ferry tickets to Kea?
Ferryhopper is perhaps the easiest site to use when it comes to booking Ferry tickets online. Although I suggest you book your Milos to Kea ferry tickets in advance, you might also prefer to use a travel agency in Greece when you have arrived.
No Milos Kea direct ferries
Summing up – There are no direct ferries between the Cyclades islands Milos and Kea. If you're looking at ferry travel from Milos to Kea, be prepared for a few connections and possible overnight stays on either Syros or Tinos.
---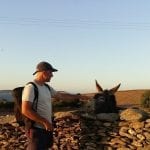 –
Dave Briggs
Dave is a
travel writer
based in Athens, Greece since 2015. In addition to writing this blog post about how to travel from Milos to Kea, he's also written hundreds more travel guides to Greek destinations. Follow Dave on social media for travel inspiration from Greece and beyond: