Ermoupoli is the elegant capital of Syros island in Greece. This travel guide on what to do in Ermoupoli will help you plan the perfect sightseeing itinerary!
Ermoupoli is the main town on the Greek island of Syros, and is famous for its regal looking buildings and neoclassical architecture. Whether you're visiting Ermoupoli for just a day on a cruise ship, or staying for a week, this look at things to do in Ermoupoli will help you plan what to see and do.
Visit Ermoupoli – Capital of the Cyclades
The beautiful town of Ermoupoli is not only the capital of Syros, but also the administrative capital of all the Cycladic islands of Greece.
Founded during the Greek Revolution in the 1820s, it was for a time the main industrial and commercial center of the fledgling Greek state.
As Greece developed, Ermoupoli's importance declined, but not before numerous neoclassical buildings were designed and built.
Today, visitors marvel at the town's buildings and aesthetics as they walk the streets of Ermoupoli. It has a very different look and feel to other towns in the Cyclades Greek islands. Take your time wandering around the main square and streets – you'll enjoy it!
Things to see in Ermoupoli
Ermoupoli is a fascinating warren of tiny lanes and twisting alleyways. Here's just some of the things to see and places you should visit while spending time in Ermoupoli in Syros during your vacation:
Miaouli Square
This historic marble square is the heart of not only Emoupoli but also Syros. Surrounded by palm trees, you'll find cafes and shops, as well as easy access to some of the most prominent buildings in the town.
From this main square, the Town Hall, Archaeological Museums and other places of note can all be seen. Make some time for a coffee around here to really soak up the atmosphere!
The Town Hall of Ermoupoli
The Town Hall or Municipal Palace towers over Miaouli Square, with a 15 metre staircase leading up to the building's main door.
The foyer and internal courtyards have some painting and sculptures. You may be able to walk around inside, although some offices such as law courts, registry offices and public service offices may be off-limits.
The Archaeological Museum of Syros in Ermoupoli
Part of the same building as the Town Hall, you'll find the entrance to the Archaeological museum around the back.
It is one of Greece's oldest museums, having been established in 1834. The museum houses artefacts dating back to the 3rd millennium BC as well as other valuables such as an Egyptian statuette from 730BC and Cycladic figurines and vases.
You won't need long to visit the archaeological museum, but it's definitely worth adding it to your Ermoupoli sightseeing itinerary.
Apollo Theater
The Apollo Theater, which stands adjacent to the museum, is a must-see in Ermoupoli.
It was designed in the 1860s by Italian architect Pietro Sampo and was modeled, in part, on La Scala di Milano with four layers of boxes and an ornate ceiling painting adding a note of luxury to the compact main hall.
The Aegean Festival is held at the Apollon Theater for artistic and cultural performances.
Agios Nikolaos / St Nicholas Church
Northeast, you arrive at Ermoupouli's spectacular main church, known locally as Agios Nikolaos of the Rich.
The frescoes and icons were painted by some of the finest hagiographers of Syros and the region, and its centerpiece icon of St Nicholas was silver-plated in Moscow in 1852. You'll be impressed with how intricately carved the pulpit and iconostasis are.
Vaporia in Ermoupoli
Vaporia is the most prominent area of Ermoupoli, and it is the residential legacy of Syros' glory years. It features high-ceiling captains' mansions with woodcut doors, wooden floors, and marble balconies overlooking the sea, giving the impression that the structures are floating.
As a result of this name, which means boat, Vaporia is known as "the boat district." Make sure to take plenty of photos in this area – it's a real highlight of sightseeing in Ermoupoli!
Take a Swim
Although Ermoupoli does not have any natural beaches, there are quite a few concrete platforms an areas where you can take a swim in the clear waters of the Aegean.
There's nothing quite like floating in the water looking up at al those magnificent buildings and spires. Syros really is inspiring!
Gallery of the Cyclades
Located in one of the converted 1830s warehouses, built so that cargo could be unloaded directly onto land, is the Gallery of the Cyclades.
A small but informative display of Cyclades history and the role of Syros in the revolution. There is also has a small theatre here in the brick-built warehouse.
Ferry Port of Ermoupoli
If you are arriving or departing by ferry in Syros, take some time to enjoy the views and atmosphere of the port area. There's always a lot going on, and watching the Greek ferry ships dock is always an experience!
Ermoupoli is one of the most important ferry ports in the Cyclades Islands of Greece, and has many connections to destinations in the Cyclades group as well as other places in Greece.
If you'd like to find out more about destinations you can reach from Syros, take a look at my guide to ferries from Syros.
Restaurants in Ermoupoli
If you like food, then you are really going to like Ermoupoli! From the cafes near the city hall, to traditional tavernas tucked down quiet side-streets, there are plenty of local places to eat at.
Some of the best places to eat in Ermoupoli include:
Amvix Restaurant (Ermoupoli, harbor front)
Meze Mazi Restaurant (Ermoupoli)
Kouzina Restaurant (Ermoupoli)
Syros Island Greece
Extending your stay in Syros? Here's a few travel tips and other points to consider:
If you're staying in Syros for just a night or two, the best location to stay is in or around Ermoupoli
If you are planning a trip for July or August, keep in mind that hotels sell out quickly. Book a few months in advance if possible using Booking.
Syros does have an airport, but it only has connections with Athens
Most people arrive and depart from Syros by ferry. Use Ferryhopper for timetables, schedules, and to book ferry tickets online.
You may see Ermoupoli referred to as Ermoupolis and Hermoupolis – it's all the same place!
Check out my full travel blog on the best things to do in Syros.
---
Where to stay in Syros
Want to treat yourself during your stay on this lovely island? Here's a look at some of the best hotels in Syros all with great reviews, including a couple in Ermoupoli.
The best hotel near Syros Port. A 19th-century mansion has been converted into a luxurious boutique hotel. Swimming is available right from in front of the hotel. Many restaurants are within a 10-minute walk, and the ferry terminal is only ten minutes away.
More here: Hotel Ploes – Ermoupoli
The Best Luxury Hotel in Syros With a View, Private Patio, and Jaccuzi Charming boutique hotel in the heart of town, with a 10-minute walk to the ferry terminal. Within walking distance are several shops and eateries.
More here: 1901 Hermoupolis – Ermoupoli
The best beach resort in Syros with a pool and waterslide for the whole family. A big kid-friendly pool with water slide, a smaller kiddy pool, and an indoor playground are available. Suites and family rooms can accommodate four to six people. From the ferry port, you can reach it in 18 minutes by taxi or bus.
More here: Dolphin Bay Family Beach Resort – Galissas Beach
Syros Ermoupoli FAQ
Readers who want to spend time in Ermoupoli and Syros often ask questions similar to:
Is Ermoupoli worth visiting?
Yes, absolutely! Ermoupoli is a lovely town with plenty to see and do. It's also a convenient base for exploring the rest of Syros.
Is Syros worth visiting?
Syros is a very interesting island, famous for its unique architecture. It's certainly worth spending a couple o days in Syros as part of a Greek island hopping trip.
Where is Ermoupoli town square?
Ermoupoli town square is located in the center of town near Syros town hall (city hall).
How can I get to Syros?
You can travel by plane from Athens to Syros. You can also take a ferry from Athens and many of the surrounding Greek islands in the Cyclades group.
---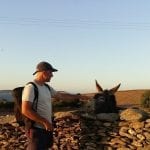 –
Dave Briggs
Dave is a
travel writer
who has been living in Greece and writing about the country since 2015. As well as creating this travel guide to Ermoupoli in Syros, he's also written many more travel blogs about destinations in Greece and around the world. Follow Dave on social media for travel inspiration from Greece and beyond:
The Greek island of Syros is a fascinating place to visit in the Cycladic islands, and by spending time in Ermoupoli you'll see many of the top attractions. Have you got anything to add to these suggested Ermoupoli things to do? Leave a comment below!