Discover the best things to do in Heraklion in Crete, and start planning an unforgettable trip. This Heraklion travel guide shows you how to visit Knossos, walk along Venetian castle walls, where to try the local food and more!
What to do in Heraklion
Heraklion is the largest city on the Greek island of Crete, and an entry point for most visitors to the island.
With a busy port connecting Heraklion with other parts of Greece, and an international airport, people arrive from all over the world on a daily basis to take their vacations in Crete.
Whether you plan to base yourself in Heraklion for your entire vacation, or just want to spend a night or two before moving on to a road trip around Crete, there's plenty to see and do.
Things to see in Heraklion in a day or two
The island of Crete has a lot to offer, and so it can be tempting to skip over sightseeing in Heraklion itself. This is a shame, as there's lots of interesting things to discover in Heraklion.
It has a fascinating history stretching back thousands of years, as you can see from our first choice of attractions in Heraklion.
1. Knossos Archaeological Site
The Palace of Knossos is the most famous archaeological site in Crete. If you're interested in Ancient Greek mythology then this impressive structure should definitely be on your sightseeing itinerary for Heraklion.
Legend says that the palace was built by King Minos, and it must have been one of the most impressive buildings in Minoan Crete. Whilst no one really knows for sure, many believe that Knossos palace is the one mentioned in the myth of the Minotaur. Some people even think that the palace is the labyrinth itself!
Knossos is a Minoan complex, built by a civilisation that pre-dated what we have come to know as the ancient Greeks. Minoan history, who they were, and what happened to them is something of a mystery. In fact, we don't really know what they called themselves – It's only us that refer to them as Minoans!
What we do know, is they were one of the most powerful and influential bronze age cultures, and had established trade routes throughout the Mediterranean Sea.
Then, all of a sudden, the Minoan civilisation collapsed. The reason is unclear, with many suggesting natural disasters such as earthquakes. The memory of the civilisation slipped into myth and legend until Knossos was discovered in 1878.
Today, the site of Knossos in Crete is a controversial one. This is due to some reconstruction efforts which may have done more harm than good.
No visit to Heraklion would be complete without seeing the Palace of Knossos and you should include it in your Heraklion sightseeing itinerary.
Find out more here about the Palace of Knossos. In order to appreciate the history and significance of the palace, you might like to take a guided tour.
2. Heraklion Archaeological Museum
The Heraklion Archaeological Museum is one of the most important museums in Greece, if not Europe. It houses many of the artefacts found at Knossos and other Minoan sites in Crete including this famous and undecipherable clay disc shown below.
If you decide to visit Knossos without a guide, I would suggest it's a great idea to visit the Archaeological Museum of Heraklion first. This way, you will get a better understanding of the civilisation and Crete's history.
Containing exhibits such as fertility Goddesses, symbolical axe heads, and colourful vases, one of the most curious pieces from the ancient sites of Crete displayed in the museum, is the Phaistos Disc.
This circular object was found at the archaeological site of Phaistos, home of another Minoan palace. The disc appears to be covered in writing, which remains undecipherable to this day. Perhaps if we ever do work out what it says, we will learn more about life in Minoan times!
Opening hours of the museum may vary depending on season. During the summer months, the archaeological museum is open from 08.00 – 20.00.
3. Take a scenic walk around Heraklion Old Town
The pedestrian streets inside the old city section of Heraklion are perfect for aimless wanderings. With boutique shops, local stores, and interesting architecture there's no better place to give your legs some exercise.
By Taxiarchos228 – Own work, FAL, Link
Surrounding the old town are the Venetian city walls. These too are worth accessing, as once at the top, you have amazing views down over the city and out onto the port.
One of the points of interest you may come across when walking the walls, is the tombstone of Nikos Kazantzakis. He was perhaps the most influential writer in Crete and even Greece, most famous for Zorba the Greek.
This page has more details on walking the walls in Heraklion.
4. Heraklion Fortress (Koules)
Koules is a Venetian Castle, of a type known as 'a castle of the sea'. Built in the 16th century at the entrance to the old port, this impressive fortress formed part of the defensive network at Heraklion.
Today, the fortress has been restored and opened to the public. Climbing to the top, you will have some of the best views out over Heraklion. It's one of the top attractions in the city, and a great photo spot.
5. Heraklion Market

By © Hans Hillewaert, CC BY-SA 3.0, Link
The Heraklion central market is a bustling place, where you'll find fruit and veg sellers, butchers, fishmongers, olives, cheese, and a few random tourist stalls thrown in for good measure.
Whether you actually need to buy anything or not, you should visit here for a half hour or so as part of your Heraklion sightseeing itinerary.
Located 1866 Street, between the Meidani and Kornarou Square, this is a good place to get a feel for the authentic side of Cretan life. You'll also see why the food in Crete tastes so good!
6. Take a food tour in Heraklion
Talking of the food in Crete…
When people ask me what to do in Heraklion, I always recommend a food tour. I find that these are a great way to combine sightseeing, and taste the local cuisine.
There are a number of Heraklion tours you can choose from, ranging from group food tours to private food tours. Tickle your tastebuds, and join this Foodies Feast Tour in Heraklion.
Even if you don't take a food tour, at least make sure you sample some of the local delicacies on offer in Heraklion!
7. Check out the beaches in Heraklion

I've seen many guides on things to do in Heraklion feature beaches such as Matala. I'm really not sure why, as Matala is over an hour away by car! There are, however, closer beaches to Heraklion itself.
The best beaches near Heraklion include Ammoudara beach which is just 5 km away from Heraklion, and Palaiokastro beach 8 kms away. The latter is a good choice for families, as it's sheltered from northern winds and there are no beach bars pumping out loud music.
8. Boat trips from Heraklion
There's several choices of boat tours from Heraklion you might take. It's even possible to take a day tour to Santorini by boat, although I think that would make for a long day!
9. Natural History Museum of Crete
If you're taking a vacation with kids, this might be a nice place to visit for a few hours. Visit the Natural History Museum of Crete to explore some of the ecosystems unique to Crete and see animals that thrive in this climate. There's also an earthquake simulator inside the museum!
10. Historical Museum of Crete
As we've seen, when it comes to things to do in Heraklion, there's nor shortage of museums to visit! The Crete Historical Museum is another one to add to you itinerary.
This one is housed in an impressive building which is inspired by neoclassical architecture and built in the early 1900s. The historical museum of Crete contains exhibitions which detail the extensive history of the island from the early Christian times of the Byzantine era through to Ottoman rule and beyond.
You can find it around a 10 minute walk away from the Old Harbor.
11. Agios Titos Church
This is one of the most impressive churches on Crete. The church is dedicated to Agios Titos (Saint Titus), a disciple of Apostle Paul and first Bishop of Crete. It has been rebuilt and repaired many times over the centuries since it was first constructed in the 10th century.
If it's open when you are walking around the top attractions of Heraklion, pop inside to take a look at the chandeliers and interior. If not, sit back and enjoy the view of it from one of the surrounding cafes with a coffee!
12. Lion's Square
If you're looking for a photo opportunity as you wander around the city, you'll stumble across the Lion's Square sooner or later. This is where you'll find the Fontana Morosini, an ornate Venetian fountain with four lions with water gushing from their mouths.
The Fontana Morosini is found in Eleftheriou Venizelou Square, but the locals call it Lions Square or Lion for short.
13. Day Trips from Heraklion
Some of the best things to do in Heraklion can be, well, a little outside the city itself. It's a good place from which to take day trips to other parts of the island.
Popular day trip tours that will help you experience the real Crete include:
Where to stay in Heraklion
There are a number of Heraklion hotels to choose from in the city center and surrounding area. Choice include luxury hotels, budget hotels, and everything in between!
Some of the most popular include:
Atrion Hotel Heraklion – Elegant accommodation positioned near the promenade, and just a short walk from Heraklion centre. Recommended for its great location. For more details, check here – Atrion Hotel Heraklion
Kastro Hotel Heraklion – Another hotel that is recommended for its excellent location and facilities, guests comment happily on the friendly staff and lovely breakfast. For more details, check here – Kastro Hotel Heraklion
Olympic Hotel Heraklion – Offering good value for money, the Olympic Hotel is located in the heart of the city at Kornarou Square. For more details, check here – Olympic Hotel Heraklion
El Greco Hotel Heraklion – With 90 rooms, this hotel is clean, functional, and good value for money. For more details, check here – El Greco Hotel Heraklion
Castello Hotel Heraklion – With open plan family rooms, the Castello could be a good choice for families looking for hotels in Heraklion. For more details, check here – Castello Hotel Heraklion
Atlantis Hotel Heraklion – The Aquila Atlantis Hotel is a lovely 5 star hotel in Heraklion, with a pool that has views our over the harbour. Ready to treat yourself? For more details, check here – Atlantis Hotel Heraklion
Irini Hotel Heraklion – Modern rooms, friendly staff, and a supermarket over the road make the Irini a good choice for couples. For more details, check here – Irini Hotel Heraklion
Astoria Hotel Heraklion – Located next to the archaeological museum in Heraklion, the Capsis Astoria is one of the most well known hotels in the city, and has a lovely rooftop pool. For more details, check here – Astoria Hotel Heraklion
FAQ About Things to do in Heraklion
Here are some of the most frequently asked questions visitors have when planning things to do in Heraklion.
Is Heraklion worth visiting?
There are plenty of things to do in Heraklion, and so the city is definitely worth visiting. With the famous site of Knossos close by, museums, art exhibitions, and lots of places to eat, Heraklion is a good place to stay and then explore more of thee surrounding area.
Which is better Chania or Heraklion?
Chania is often thought to be the prettier town of the two, but undoubtedly Heraklion has more things to see, especially with top attractions such as the Palace of Knossos.
What is there to do in Heraklion at night?
Dine out at one of the many bars and restaurants, have cocktails with friends, visit a nightclub to dance the night away or catch live music. Whatever your interests are there are plenty of activities for you to enjoy.
Is there a beach in Heraklion?
Despite what you might read, Heraklion has no beach itself due to the various structures, walls and fortifications. You can find beaches to the east and west of the city.
More Crete Travel Guides
You may find the following travel guides about Crete useful in your trip planning.
Would you like even more travel information about Greece? Sign up for my free Greece travel guides below.
The Best Things To Do In Heraklion
Did you find this guide one what to do when visiting Heraklion useful? Please pin this guide on places to visit in Heraklion for later.
---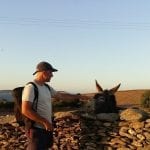 –
Dave Briggs
Dave is a travel writer from the UK who's been living in Greece since 2015. As well as creating this guide on the best things to do in Heraklion, he's written many more articles about top attractions in Crete and Greece on this travel blog. Follow Dave on social media for travel inspiration from Greece and beyond: