Visit Knossos in Crete and see where the myth of the Minotaur and Labyrinth was born. Here's some travel tips for how to make the most of your time when visiting Knossos.
Visiting The Palace of Knossos in Crete
The Palace of Knossos is one of the most popular places to visit on the Greek island of Crete. Continuously inhabited from 7000 BC to the Roman times, it is most well known for its Minoan palace.
Knossos Palace is a place where myth, legend, and historical fact have become intermingled. Was the palace of Knossos home of King Minos? How much truth is there in the legend of the labyrinth? Could the labyrinth in fact have been the palace of Knossos itself?
The site is so large and confusing, there might actually be an element of truth in that last statement! I have learned over the years that you shouldn't discount myths and legends. There is always an element of truth hidden in there somewhere.
If you're planning a trip to Crete, Knossos is definitely the most important archaeological site you can visit on the island. This travel guide has been written to give you a few key insights and tips before you go.
Where is Knossos?
The archaeological site of Knossos is located about 5kms outside of Heraklion, the capital of Crete. Depending on where you are staying in Heraklion, you can either get to Knossos with your own vehicle, a public bus, walk, or take a guided tour.
If you are planning on staying in another area of Crete such as Chania, a guided tour will probably be your best option when it comes to visiting the Palace of Knossos. Not only will you get your transport organized, but you'll also have the benefit of a tour guide who will explain the ancient complex of Knossos in more detail.
** Skip the line guided Knossos tour – Recommended!! **
Do I need to take a Knossos Tour?
You can either take a Knossos guided tour, or walk around the site yourself. Both options have their pros and cons.
The advantage of taking a tour for your Knossos visit, is that you don't need to worry about transport, and a knowledgeable guide will show you around the site.
There are endless options for organized tours to the palace of Knossos. Most hotels in northern Crete will have information on tours which will include the site, and the Knossos museum in Heraklion.
Here's some examples of Knossos tours:
Self guided Knossos tours
You can reach Knossos by public transport, taxi, or your own vehicle. There is lots of space to park near the site itself. This way, you can spend as long as you want at the site, and not feel rushed by a tour guide.
There are plenty of informative boards to read as you walk around. You can also over-hear the odd tour guide if you are smart enough!
Here's some tips and information you might find useful if planning to see the archaeological site of Knossos by yourself.
Knossos Palace visitors guide
You will want to brush up on your ancient Greek mythology, in particular the legends associated with King Minos and the Labyrinth. (I recommend trying to get hold of a copy of this book if you can – The Greek Myths by Robert Graves. I have many different books about Greek mythology, and this is my favourite).
You'll also want an understanding of the Minoan civilization so you can better appreciate the Knossos site.
Pick your time of year well – Take your time, and enjoy the site in pleasant temperatures during the spring and autumn months.
Pick your time of day well – My key tip to visit Knossos, is to go early. The tour buses tend to arrive at around 9.00 am, so if you can get there before then, you will have an hour of peace. The second best option is to go later on, when the tours have all left. Note – Opening hours vary depending on the time of year. The summer opening hours are between 08.00 and 20.00.
Buy a combined ticket – You can now buy a combined ticket which covers entrance to Knossos as well as the museum in Heraklion. I will write about the museum in a later article, but this is another place you HAVE to visit.
Allow at least two hours to see the site.
Take water, a hat, and sunblock.
Visit the Heraklion Archaeological Museum – OK, so this museum is not on the site itself. Visiting it is essential if you want to get a better understanding of the Palace of Knossos though. You will need to allow at least another 2 hours to visit the museum, and I will go into more detail about this in another article.
Stay in Heraklion – The capital of the island is the best place to stay when visiting the Palace of Knossos. Check out these places to stay in Heraklion.
Visiting Knossos Palace – Opening Hours
Below is the most recent information for the Knossos Palace hours of opening. Things can and do change though. If in doubt, ask at your hotel before planning your day!
1 November to 31 March: 08.00-15.00 every day
From 1st to 29th of April: 08:00-18:00 every day.
From 30th of April until November: 08:00 – 20:00.
There are also some free admittance days for the Knossos archaeological site:
6 March (in memory of Melina Mercouri)
18 April (International Monuments Day)
18 May (International Museums Day)
The last weekend of September annually (European Heritage Days)
28 October
Every first Sunday from November 1st to March 31st
Now some of my thoughts from spending time in Knossos Crete.
Myth and Legend in Knossos
Knossos has long been associated with Greek Myths and Legends. Perhaps the most famous mythological creature from ancient Greece – the Minotaur – was said to have lived here.
Certainly the site is strongly associated with several key symbols, such as bulls and double-headed axes. Was there really a Minotaur though?
I personally found the link between Knossos and Bulls to be quite curious. It reminded me a lot of some Hindu temples in India, and some people draw links with Bulls in mythology and The Age of Taurus.
I also think the people of ancient Knossos might have had a festival similar to the Running of the Bulls in Pamplona, Spain. One of the famous Knossos frescoes might back my theory up.
Knossos Frescoes
As you walk around, keep your eyes peeled for the cup bearer fresco, grand staircase, royal apartments, throne room, and the most famous fresco, the bull fresco.
I suppose this is why I like exploring ancient sites such as the Palace of Knossos. It is a chance for the imagination to take over, as I picture what life might have been like over 4000 years ago.
You will probably need a little imagination too, as the site is sprawls away in all directions!
Sir Arthur Evans
Arguably, another person also used their imagination a little too much during their time at Knossos. This was Sir Arthur Evans, who was responsible for the majority of excavations and restorations carried out during the early 1900's.
Whilst he preserved and brought to light many aspects of Minoan civilisation, his methods and practices were not of the same standard as they are today.
Knossos Reconstruction
The resulting concrete restorations with their bright colours are certainly iconic, but I wonder how 'real' they are.
The Knossos reconstruction is also a source of controversy for many archaeologists. If you have visited the site, leave a comment below to let me know your thoughts!
Palace of Knossos Facts
Location: Heraklion, Crete, Greece
Area first settled: 7000 BC
Date of Minoan Palace: 1900 BC
Abandoned: 1380–1100 BC
Greek Mythology Connections: Built by Daedalus. King Minos Palace. Theseus and Minotaur. Ariadne.
Minoan Palace of Knossos on Crete
If you found this guide on the palace at Knossos Crete useful, please share it on social media using the buttons in the bottom right hand corner of the screen.
Planning a trip to Greece? Sign up for my free travel guides to Greece below!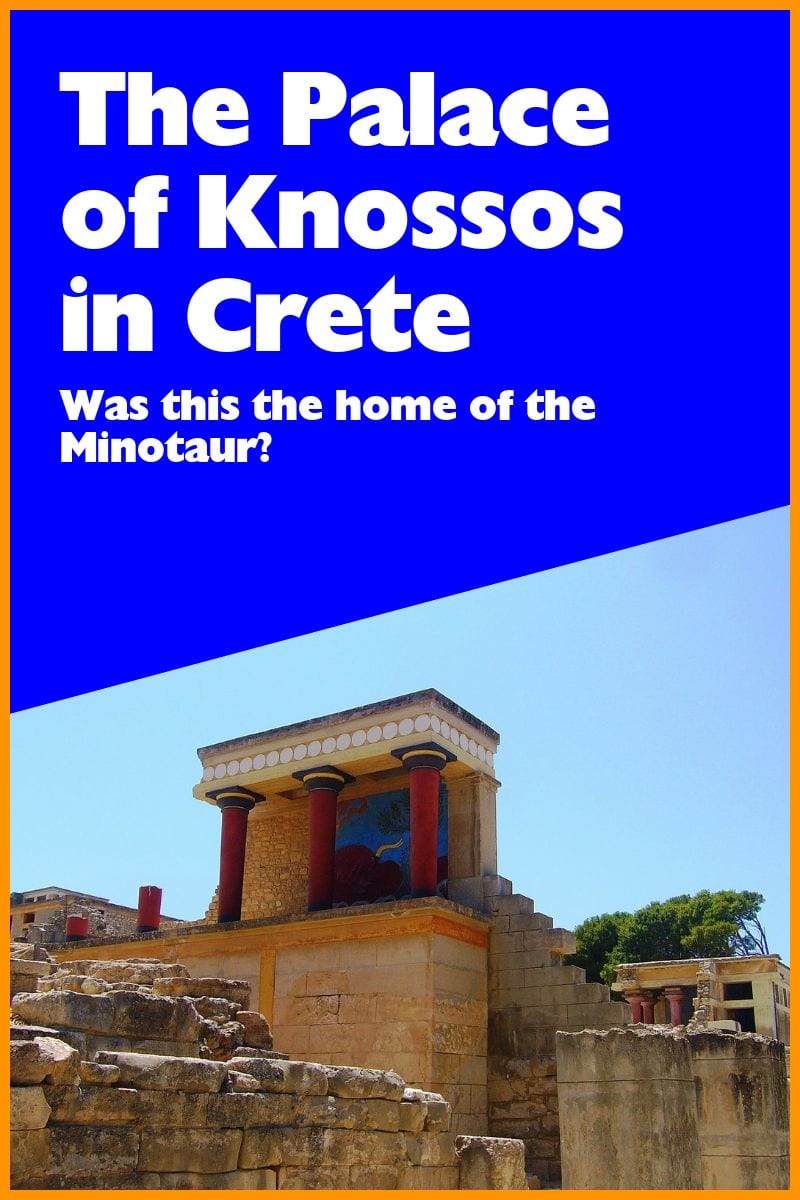 FAQ About Knossos
Here are some of the most frequently asked questions about the ancient site of Knossos on the island of Crete.
Where in Crete is Knossos?
The Palace of Knossos is located about 5 kilometres away from the modern-day city of Heraklion near the north coast of Crete.
Who discovered Knossos in Crete?
Although Sir Arthur Evans is the name most associated with the site, Knossos in Crete was discovered in 1878 by Minos Kalokairinos.
Is there a labyrinth at Knossos?
According to mythology, the labyrinth was said to have been underneath the Palace of Knossos in Crete. No evidence of it exists, although some people think that the huge palace of Knossos and town surrounding it would have been so maze like that the legend may have started there.
What is the Palace of Knossos famous for?
Knossos is the most important palace of a civilization that we refer to today as Minoan. According to Greek mythology, the legendary King Minos ruled in Knossos, and the complex is also connected wit the myth of the Labyrinth and the Minotaur, as well as the story of Daidalos and Icarus.
More Articles About Crete
Crete is the largest Greek island with a fascinating history and lots to see and do.
As well as visiting the Palace in Knossos, you might also like to choose some of these other things to do in Crete.
If you are based in Heraklion, these day trips from Heraklion are a great way to see Crete.
If you are planning to spend longer on the island, why not try a road trip around Crete?
Arriving by air to Crete? Here's my guide to transfers from Heraklion airport.
---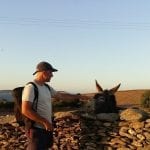 –
Dave Briggs
Dave is a
travel writer
based in Greece As well as creating this guide to visiting Knossos Crete, he's also written hundreds more travel guides to Greek destinations. Follow Dave on social media for travel inspiration from Greece and beyond: