There are 4 ferries per day sailing from Tinos to Andros island in Greece. Most Tinos Andros ferries take 1 hour and 35 minutes to make the crossing.
Ferries from Tinos island in Greece
Tinos is one of the Cycladic islands, and is located between Mykonos and Andros. You can reach many of the Cyclades islands by ferry from Tinos, and a popular next island to visit is Andros.
For example, if you started your Greek island hopping trip in Mykonos, and want to go back to Athens, stops at Tinos and Andros make a lot of sense. Also, there are many Tinos to Andros ferry services to choose from, making it an easy trip to plan.
You'll love Andros. It is the second largest island in the Cyclades group, and has a chic style to it. If you don't know much about either island, why not check out my guidebook to Andros and Tinos now available on Amazon!
As neither island has an airport, the only way to travel from Tinos to Andros is by ferry.
Check timetables and prices for all the ferry companies sailing the Tinos to Andros ferry route at Ferryscanner.
Tinos Andros Ferry Route
During the the busiest months of summer, there can be 4 or 5 ferry connections a day between Tinos and Andros.
The high speed ferries from Tinos going to Andros take around 1 hour and 35 minutes. Slower, conventional ferries sailing to Andros from Tinos island take around 2 hours.
It should come as no surprise that the slower crossing )operated by the Blue Star Ferries ferry company) has cheaper ticket prices at 7.50 per passenger. This conventional ferry only sails once a week though.
The SeaJets, Golden Star Ferries, and Fast Ferries ferry companies operate quicker services on this direct route from Tinos to Andros. They sail every day of the week during the high season, and aren't much more expensive with fares of 19.00 Euro for passengers.
The easiest way to compare prices, see which ferry companies are sailing on the day you want to travel, and book ferry tickets online is by using Ferryscanner.
Tinos To Andros Ferry Operators
During the high season, you can make trips between Tinos and Andros Greek islands on a number of different ferry companies.
These ferries to Andros from Tinos are operated by Blue Star Ferries, Fast Ferries, Golden Star Ferries, and SeaJets.
As it's only a short distance between the two Greek islands you won't find much difference between them. You'll probably end up booking your ticket based on which crossing from the ferry schedule is more convenient for you.
Andros Island Travel Tips
If you're putting together an itinerary for when you visit Greece, you might find these travel tips for going to the island of Andros useful:
Ferries sail from the island's ferry port in Tinos Town in Tinos. Aim to be at the port at least a half hour before your departure is scheduled.
---
Arriving ferries dock at Gavrio port at the destination of Andros.
---
Having your own transport is the best way to get around Andros and reach some of the villages. You can hire cars in the port town but I recommend booking these in advance, especially during the high season.
---
The best areas to stay in a hotel in Andros include Korthi, Chora, Batsi, and Agios Petros. If you are traveling to Andros in the tourist season, I advise reserving hotels in Andros a month or so in advance. I've a guide here on where to stay in Andros.
---
Readers recommend visiting the following beaches in Andros: Achla, Vlychada, Fellos, Grias to Pidima, Chrissi Ammos, Korthi, and Zorkos. If you want to paln your sightseeing itinerary to explore Andros, read my Andros Island Travel Guide.
---
One of the best places to look at ferry schedules and check the price for tickets is at Ferryhopper. If your departure date is in July or August, booking your ticket a few weeks in advance might be a good idea. You don't want it to sell out!
---
---
---
How to take a trip from Tinos to Andros FAQ
Readers sometimes ask these question about traveling to Andros from Tinos include:
How do I get to Andros from Tinos?
The only way to make a trip from Tinos to Andros is to use a ferry. You can expect 4 ferries a day to sail to Andros from Tinos.
Is there an airport on Andros?
There isn't an airport in the Cyclades island of Andros, so the only way to make the journey from Tinos to Andros is to use a ferry.
How long is the ferry crossing from Tinos to Andros?
The ferries to the Greek island of Andros from Tinos take between 1 hour and 35 minutes and 2 hours. Ferry operators on the Tinos Andros route may include Blue Star Ferries, Fast Ferries, Golden Star Ferries, and SeaJets.
How do I buy ferry tickets to Andros?
The best place to look at Greek ferries online is Ferryhopper. I think it's better that you book your Tinos to Andros ferry tickets in advance, you could also use a local travel agency in Greece.
For those of you who have been considering a trip to Andros, but don't know how to get there from Tinos or if it's worth the effort, this article has plenty of information that should help.
Have any questions on the ferry route Tinos to Andros? Leave a comment below and I'll get back to you!
---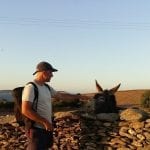 –
Dave Briggs
Dave is a
travel writer
based in Athens, Greece. In addition to writing this travel blog post about ferries from Tinos to Andros, he's written many more guides about travel and historical sites in Greece on this blog. Follow Dave on social media for travel inspiration from Greece and around the world: