The only way to get to Tinos from Athens is by ferry. This travel guide shows you how to take the Rafina to Tinos ferry, and why it's a better option than Piraeus to Tinos.
Tinos Island Greece
The Greek island of Tinos is about a 2 hour ferry ride away from Athens, depending on which boat and port you take. This means it's possible to go to Tinos island for a short break, or to visit as a starting point on a Greek island hopping trip.
Whatever your reason for visiting Tinos, this amazing Greek island has tons to offer. From stunning villages to beautiful, quiet beaches, it turned out to be one of our favourite Greek islands so far.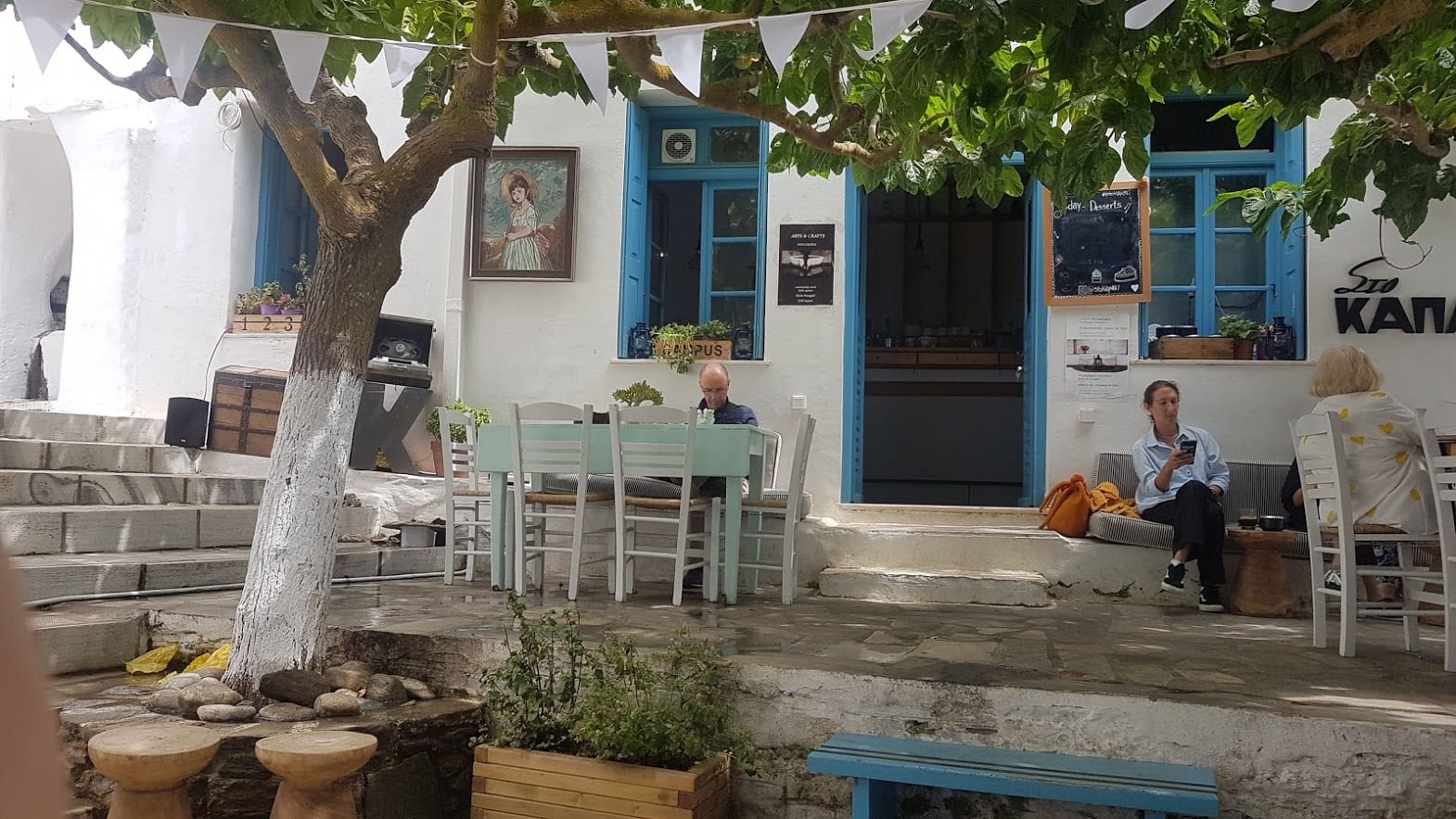 This guide will show you how to get from Athens to Tinos via both Rafina and Piraeus. You should note that if you plan to arrive in Greece at Athens airport, and want to go straight to Tinos, then Rafina port will be your best option.
Most boats depart early in the morning, but there are also some evening options.
** Travel Guide to Andros and Tinos now available on Amazon! **
Rafina – Tinos Ferry
Rafina port isn't nearly as large as Piraeus, and as such is a much easier port to navigate through. It's closer to the airport than Piraeus, and also marginally closer to Tinos island. If you are looking for the best option on how to get to Tinos, the best option is to catch a boat from Rafina port.
There are several ferries and highspeed ferries departing on a daily basis, though there will typically be fewer options in winter.
Depending on the type of ferry you choose, you can get to Tinos in as little as 2 hours. Larger ferries will typically take between 3.5 and 4 hours from Athens to Tinos.
The larger ferries can also carry vehicles, if you have your own. It will, however, be more cost effective for most visitors to travel as a foot passenger, and then hire a vehicle on the island.
We have repeatedly travelled on the Aqua Blue ferry, operated by Seajets, which is marginally the least expensive option. It's a large ferry where you are unlikely to get seasick even with the strongest of winds. Superferry and the bright red Theologos P are also great to travel on.
Pro-tip: If you are travelling during the windy Meltemi season of July, August and early September, we would strongly suggest avoiding the faster, smaller ferries, as the sea can get pretty rough.
Getting to Rafina port is fairly straightforward. For more information, check out this article: Rafina Port in Athens
Book ferry tickets online easily with Bookaway: Rafina to Tinos Island Tickets
Tickets also available through Ferryhopper.
Piraeus – Tinos Ferry
While it is possible to get to Tinos from Piraeus, the main Athens port, you will see that there are not nearly as many options as there are from Rafina port.
For 2019, Blue Star Paros leaves Piraeus at 7.30 daily, calling at Syros and Tinos on its way to Mykonos. While it's a nice ferry to travel on, it takes 4.5 hours to get to Tinos. If time is an issue, or if you want to leave in the evening, take a boat from Rafina instead.
This article provides more information on Piraeus port.
Book tickets online via: Ferryhopper
How to get to Tinos from Santorini
If you have already visited cosmopolitan Santorini, you will definitely love Tinos, which is quieter and wilder. Tinos is rarely included in visitor's itineraries from Santorini, even though there are direct ferries connecting the two islands.
You can take either the Superferry, which is a large, slow ferry, or the Superrunner, which will take you from Santorini to Tinos in just 3.5 hours.
Book tickets online via: Ferryhopper
How to get to Tinos from Mykonos
Tinos and Mykonos are very well connected, with ferries running several times a day. Travel time is 20-35 minutes, so if you were looking to visit another island after Mykonos, definitely look into Tinos.
Book tickets online via: Ferryhopper
How to get to Tinos from other islands
There are direct ferries from Tinos to several other Greek islands, such as Andros, Syros, Paros and Naxos. If you are Greek island hopping, try to include Tinos in your itinerary – you will discover an authentic, picturesque place with fewer foreign tourists than other Greek islands.
How to get to Tinos – Your experience
Have you been to Tinos, and how did you get there? Let us know in the comments!
You might also be interested in: